Description
This Stelpro(R) Prima baseboard is an elegant, compact heater with modern lines and reinforced panel. The safe and innovative housing design features well-concealed elements for easy cleaning and maintenance. Housing is equipped with small 1/4" openings to prevent direct access to elements. This model has a 500/375 W intensity, and comes with a 5-year limited warranty and a lifetime limited warranty on element. Prima baseboards are part of the ORORA program from Stelpro letting you choose from a wide choice of colours. See Stelpro's official website for details.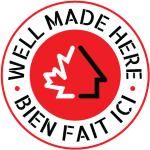 Plinthe stelpro prima 500 Watts. Le mur devient très chaud passé 20 Celsius. Installé par électricien dans chambre de bain. Est-ce normal ?
Ma plinthe Steelpro Prima 1000 chauffe aussi beaucoup mon mur ( inquiétant) et fait jaunir la peinture jusqu'à hauteur de la fenêtre. Je l'ai retournée, repeint le mur et installé la nouvelle du même modèle… même problème! Le thermostat de cette pièce est à 20 C seulement.
Date published: 2022-03-28
S.V.P. Quelle est la hauteur de cette plinthe Stelpro, 500 W de 22 1/4 de long ? Merci.
Bonjour, La hauteur de notre plinthe Prima est de 7 1/16 pouces. Ceci est la même pour tout nos modèles. Par contre la longueur varie en fonction du wattage requis. N'hesitez pas a communiquer avec notre service a la clientèle pour tout autre renseignements. 1-844-783-5776
Date published: 2021-07-30
Nous avons acheté 3 plinthes prima, et elles font du bruit (toc, ding, etc.) vraiment souvent, au point où ça me réveille. Est-ce normal? Est-ce qu'elles font ce bruit seulement les premiers jours suivant leur installation?
Souvent quand les plinthes sont vissés trop fermement ils sont bruyantes dévisser un peu et voir le changement.
Date published: 2021-03-09
Quelle est la consommation en électricité du Prima 550W ? Est-ce plus énergivore qu'un convecteur 500W ? Merci !
La consommation électrique dépend de votre durée d'utilisation. Vous allez consommez 0.5 KW/ heure. Vérifier le prix de votre 1KW/ heure dans votre facture d'Hydro ! Merci,
Date published: 2021-01-07
Ma plinthe stelpro prima dégage tellement de chaleur que le mur au dessus à une hauteur allant jusqu'à 4 pieds  est assez  chaud  pour qu'un enfant puisse se brûler la main en l'apposant sur le mur. En la changeant, est-ce que ceci sera pareil ?
L'appareil Prima que vous avez installé est une plinthe de haute densité (325W/pi linéaire). Cela signifie qu'il devient plus chaud qu'un plinthe de densité standard (250W/pi linéaire). Le remplacement de l'appareil par un appareil identique ne résoudra pas ce problème. Les températures maximales de fonctionnement des produits de chauffage Stelpro sont certifiées CSA. SVP, appelez la ligne technique Stelpro à 1-844-783-5776 pour plus d'informations.
Date published: 2020-10-26
Does this product require a thermostat?
Can these be painted? If so, what kind of paint? Can I spray Tremclad rust paint?
Stelpro(R) Prima Electric Baseboard - 22 1/4" - 500 W - White
is rated out of
5
by
1
.
Rated

4

out of

5
by
pogobill
from
Nice slim profile unit.
Bought two of these for the bathrooms. One is wired to the original wall thermostat, the other has the Stelpro Integrated Electronic Single-Pole Thermostat that I purchased and installed separately. They give a nice soft warming heat and look great! Install according to instructions.
Date published: 2021-01-13