Description
This high-end 1000 W Stelpro electronic convector from the Orléans(TM) series is ideal for living rooms, kitchens, bedrooms, offices, basements, businesses or conference rooms. Convectors from the unique Orléans(TM) design are 30% slimmer and their temperature rise 25% faster. This white convector is the high model, that works on 240 V, and comes with a 5-year warranty.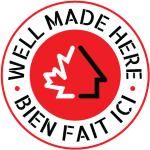 Product specifications
Aluminum extrusion, X-shaped one-piece to generate maximum heat
Without built-in thermostat
Epoxy-polyester powdercoat
Est-ce possible d'installer ce modèle de convecteur dans une salle de bains?  Est-ce aussi possible de l'installer encastré dans un mur?  Merci
Oui, cette unité peut être installée dans une salle de bain. Non, l'unité ne peut pas être installée encastrée.
Date published: 2021-03-02