Description
The Stelpro OASIS bathroom fan heater will provide you with the comfort you desire while remaining discrete ultra-quiet. Easy to install, it features a highly accurate electronic thermostat, a « heat boost » mode, an integrated timer and an optimum heat output, which allows you to easily and rapidly control the comfort of your rooms. It's the perfect little device to heat small rooms like a vestibule or hallway. Fabricated of high-performance polymer with a satin finish painted steel, its refined look will blend in with any decor. This product is covered by a 5-year warranty, 3-year warranty on electronic components.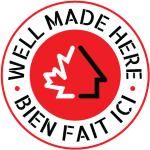 Ecological Attributes
This convector has a built-in electronic thermostat, which is less sensitive to temperature differences for improved comfort and up to 10% in energy savings.
Product specifications
Thermostat/Timer (0-10-20-30-60 min)
Is it possible to turn off the fan except in boost mode? It's beside my bedroom and the noise annoys me at night.
Unfortunately, there is no way to turn off the fan when the unit is on. Regards,
Date published: 2022-02-15
Bonjour, J'ai de la difficulté a enlever le mode 'boost' j'appuie 3 secondes sur le bouton mais sans succès. Savez-vous comment le désactiver car c'est tres bruyant, merci
Bonjour, merci pour votre reponse, jai toujours le guide d'utilisateur mais meme si j'appuie sur le bouton boost ca ne change rien, avez vous un courriel pour que je puisse vous envoyer mes info's, peut etre par téléphone ce serait plus facile Merci beaucoup
Date published: 2021-04-27
Oasis Fan Heater - 2000 W - 240 V - White
is rated out of
5
by
32
.
Rated

5

out of

5
by
Beauceron Exigeant
from
Polyvalent & efficace
Nous avons opté pour ce modèle esthétiquement attrayant comme chauffage d'appoint dans un bureau ET AUSSI dans la salle-à-manger. C'est un appareil silencieux et en mode pleine puissance à minuterie, il réchauffe rapidement ces deux pièces de grandes dimensions. Il faut toutefois prendre garde et prévenir l'obstruction de l'entrée d'air à la longue, par la poussière. L'accès pour le nettoyage de cette "fente" est difficile et les brosses d'aspirateurs sont trop grosses. Nous utilisons quant à nous une petite brosse à tige flexible, en broches tressées, et c'est très efficace. Le manufacturier devrait d'ailleurs fournir une brosse semblable pour éviter que nous ayions à imaginer ou à "patenter" nous-mêmes pareil outil.
Date published: 2020-04-29
Rated

5

out of

5
by
Ryck
from
Tres efficae
Même à bas régime il est aussi efficace que mon ancien 1500w. Il maintien la température d'une pièce au sous sol 28'x12' sans difficulté, même si ce serait mieux d'en avoir 2 pour avoir une meilleur distribution de la chaleur. Très silencieux et panneau de commandes bien conçu. L'entretien est aisé (une seule vis à retirer). Acheté récemment, reste à voir pour la fiabilité à long terme.
Date published: 2020-10-23
Rated

1

out of

5
by
Plusjamais
from
Très déçu
Il n'aura même pas résisté un an... on va regarder pour un produit plus fiable.
Date published: 2021-02-03
Rated

1

out of

5
by
ImsorryiboughtSTELPRO
from
Works good for 3-4 months
Worked awesome for 3.5 months then the heating element broke, took 2 weeks for the company to respong to me and still haven't gotten a replacement unti, STAY AWAY from the brand STELPRO (local company but i don't care, value your customer or go out of business)
Date published: 2021-02-11
Rated

5

out of

5
by
Dann
from
Très satisfait
Facile d' installation , performant et silencieux
Date published: 2019-12-03
Rated

2

out of

5
by
Elmi
from
Décevant
Fonctionnerait bien mais pas durable En 3 ans c'est mon deuxième appareil qui cesse de fonctionner. L'élément chauffant ne fonctionne plus. C'est dommage car il est très beau, l'air circulait bien mais malheureusement, la durabilité n'est pas là. Décevant, car on espérait avec le prix, avoir une meilleure qualité.
Date published: 2021-12-08
Rated

5

out of

5
by
Town & Country
from
Très performant
Fonctionne a merveille,il est facile a installer et la minuterie est super pratique
Date published: 2019-01-25
Rated

5

out of

5
by
Pierre M
from
Efficace et silencieux
Je recherchais un chauffage d'appoint pour ma salle de bain. Elle est dotée d'un plancher chauffant mais pour que la pièce soit chaude il manquait quelque chose. Les Aéroconvecteur de génération antérieures était efficace mais bruyant. Celui-ci avec thermostat intégré fonctionne silencieusement à faible débit et permet d'augmenter rapidement la température au besoin. Nous sommes très satisfait. Je pense que l'utilisation dans une pièce trop grande est la source de problèmes de longévité tel que lue dans certains commentaires.
Date published: 2022-02-25