Description
A quiet unit with a discreet design and high efficiency, the Stelpro Mirage electronic convector features a shallow cabinet and a front panel made entirely from 20-gauge steel. The cabinet's height improves the chimney effect, promoting better convective motion. The convector comes with a lower air intake and an upper air discharge. Two stainless steel tubular sheathed elements insulated with nylon sleeves reducing expansion and contraction noises. Its modern and elegant look suits virtually any room. 2000/1500 W model with built-in thermostat.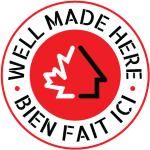 Product specifications
Residential and commercial
5-year limited warranty, 3-year limited warranty on electronic components
How do you control the temperature? Is the thermostat on the unit? It states in the specs that it does not have an automatic shut off. What does this mean?
Can this be mounted vertically as well as horizontally?