Description
Ideal for any room of the house, especially difficult to heat spots, this 176.3' heating cable is compatible with most floor coverings and makes more space available for furniture and interior decor elements. Silent, economical, safe. Easy to install (cable spacer or uncoupling membrane installation). Flexible, easy-to-handle cable. Provides optimal comfort by heating from the floor up. Complete kit, including: heating cable, glue sticks, cable spacers and installation guide. This product is backed by a 25-year limited warranty.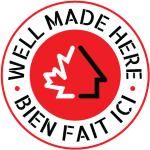 Product specifications
Heating cable, glue sticks, cable spacers, installation guide
Bonjour, je refait mon sous sol en béton et je voudrais installer le plancher chauffant sur une superficie de 250p2. Combien de fil chauffant aurais je besoin? Et avec ça, il me faut un thermostat? Et le fil est il va raccordé directement au panneau?
Bonjour, Nous avons un modèle de câbles (câbles modèles SECM) conçu pour être installé sous une dalle de béton de 4 po à 6 po (10 cm à 15 cm) ou sous une chape de béton de 1,5 po à 4 po (4 cm à 10 cm). Voici ce dont vous avez besoin : 250p² = 231p² (suit au dégagement basé sur 4 murs extérieurs) = 1 x SECM2W2750S229 (cables) + 1 x STCNPW5 (thermostat). Pour ce qui est de votre question de branchement, vous devrez communiquer avec un électricien certifié conformément au code électrique et au code du bâtiment. N'hésitez pas à communiquer avec nous par téléphone pour toute question au 1-844-STELPRO (783-5776) (demandé pour le soutien technique). Cordialement,
Date published: 2021-04-06