Description
Ideal for any room of the house, especially difficult to heat spots, this 888' heating cable is compatible with most floor coverings and makes more space available for furniture and interior decor elements. Silent, economical, safe. Easy to install (cable spacer or uncoupling membrane installation). Flexible, easy-to-handle cable. Provides optimal comfort by heating from the floor up. Complete kit, including: heating cable, glue sticks, cable spacers and installation guide. This product is backed by a 25-year limited warranty.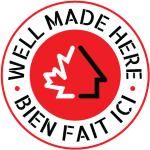 Product specifications
Heating cable, glue sticks, cable spacers, installation guide
Couvre combien en pied carré 
Le SCU2W3400S279 couvre 279 pi carré a 3 pouce d'espacement.
Date published: 2020-09-24