Description
Made for tough jobs, the Skil 1/2" Hammer Drill has a powerful 7-amp, 120-volt motor for great performance. This hammer drill includes a detachable side-assist handle for steady control and a 1/2" keyed chuck that can accommodate bits with larger shank sizes. Lightweight and user-friendly, this rotary hammer features a two-finger locking trigger to control your drilling speed at all times.
Powerful 7-amp motor for tough applications
1/2-inch keyed chuck to accept large diameter bits designed for woodworking and cutting
Side-assist handle for controlled, accurate drilling
Side-assist handle provides controlled, accurate drilling
6-ft cord
1-year base warranty
51,000-BPM provides the power needed for tough applications
Product specifications
Base Warranty Labor(Months)
Base Warranty Parts(Months)
Frequently bought together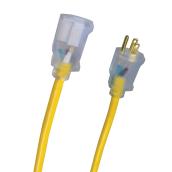 WOODS
Woods 12/3 Extension Cord 25' Yellow
Format 12/3 25'
Details
Article #74045239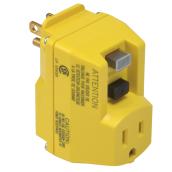 YELLOW JACKET
Single Outlet Portable GFCI Adapter - 1800 W - 15 A
Details
Article #32045050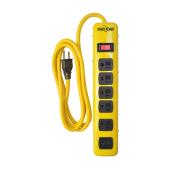 YELLOW JACKET
6-Outlet Power Bar with Surge Protection - 6' - Yellow
Format 1.8M
Details
Article #32045053
Hammer Drill - 7.0 A
is rated out of
5
by
113
.
Rated

1

out of

5
by
DarrenG
from
ABSOLUTE JUNK - DO NOT BUY
Bought this May 14th, 2016. Drilled 10-12 holes in concrete/brick to hang hose reel and plant hooks etc. Worked great - nice and quick! Brought it out to use a second time on May 27th, 2017 (1 year, 13 days after purchase) - drilled two holes and died. Original store it was purchased at cannot offer a warranty - as it's a 1 year "repair only" warranty through Skil. Called Skil directly, no exceptions made - no warranty as it's over 1 year. That was after checking with a supervisor. RIDICULOUS! This drill was used to drill about 14 or so holes over a 1 year span and died. Complete waste of money - won't buy a SKIL product ever again.
Date published: 2017-05-30
Rated

4

out of

5
by
William
from
Good product
[This review was collected as part of a promotion.] I've only used it once but it was pretty awesome. I used it to mount a camera outside my door at home. I mounted it into concrete. It seems very powerful and it went clean through the concrete with no problems. It does have some weight to it but not too bad. It was very loud while doing the actual drilling but I don't think that was the product so much as it was the nature of the work I was doing. It takes a minute or so to change bits because of the key procedure but if you're just doing hobby work or small projects it's no big deal. I'm not an experienced hammer drill user so take my review as needed.
Date published: 2019-02-04
Rated

5

out of

5
by
thenextguyinline
from
Great tool for the price!
Just bought it on Friday the 13th, so I was prepared for disappointment, however, I was not because it is a Skil Tool! I have another Skil corded drill but it is not a hammer drill. I needed a hammer drill to anchor two 4x4 posts into concrete to install a gate. The fact that it can hammer drill and regular drill is a big plus. It went through the concrete sidewalk like a hot knife through butter. You have to really hang on using the hammer drill, but it is a HAMMER DRILL after all. Great addition to my shop tools. It was slightly more than an off brand inferior hammer drill so to get this one was an easy decision to make.
Date published: 2017-01-14
Rated

4

out of

5
by
HandyDAN
from
Very Fast And easy
I have peviously used a porter cable hammer drill of similar style to drill concrete blocks for hanging things on the walls. The porter cable has a slower but more jackhammer like feel. The Skil feels like it is hammering so fast that it vibrates the stuff out of the hole with sonic waves (not quite but you get the idea) Super smooth and a lot easier to get the holes the right depth and prevent travel prior to sinking in. I definately prefer the Skill. My use this time was to drill into concrete slab foundation and put in tapcon screws to hold down threshholds and transition strips. It worked very well. even blasting through a tough spot (which i believe would have defeated the porter cable equivalent) which I assume was a piece of slag, or a rock. Make sure you drill between 1/4 and 1/2 in deeper than your screw goes and spin the bit in and out to clean out the hole of dust or you'll snap your screws off (oops on one of them!).
Date published: 2014-02-11
Rated

5

out of

5
by
Lou
from
Awesome!!!
Last minute purchase to get ready for Hurricane Irma. Had to drill holes in concrete and in cinder blocks. This tool worked like champ!!! Put up over 20 plywood panel to get ready for Irma. The tool did NOT let me down. First time ever buying a Skil tool since it was slim picking since everything was flying off the shelves. I do highly recommended for DIY.
Date published: 2017-09-17
Rated

4

out of

5
by
ferg
from
great drill
would have given this 5 stars but Lowe's advert says it has a built in bubble level (which is why I bought this one#... IT DOES NOT HAVE A BUBBLE LEVEL. Otherwise, it is perfect. Just finished drilling 18 half inch holes through my concrete driveway #4" deep); this drill went through it like butter. Didn't see any sparks as others have reported on these reviews, and chuck holds round bits securely as some claim it slips. All drills require using the chuck key on no less than two of the positions; tightening from only one of the key holes will not fully tighten on bit.
Date published: 2014-06-25
Rated

5

out of

5
by
Iceman
from
Good Value
Performed better than expected for the price. Needed a hammer drill to set a few wedge bolts to secure a gazebo. Good power and drilled effortlessly into the concrete pad for the gazebo.
Date published: 2015-07-19
Rated

1

out of

5
by
Berg
from
Poor performance
After only 5 holes drilled using hammer drill function, motor sounded like it was crushing gravel. Took it back and bought a DeWalt. Chuck would not remain locked around shaft of auger bit. You get what you pay for.
Date published: 2015-07-06