Description
Include the Senco electric screw gun in subflooring and drywall projects for efficient fastening. With a speed of 5,000 RPM, this torque screw gun delivers high-speed driving for demanding installations. The EZ load feature ensures prompt loading. It also features Senco's patented feed system to fit into tight spaces. The auto feed screw gun comes with a 1-year limited warranty.
Belt hook and comfortable rubber hand grip
Variable speed trigger with lock and reverse
Quick slide button bit change
Tool-free screw length adjustment
Patent pending corner fit feed system and 0-5000 RPM high speed motor
Product specifications
Lifestyle-in-use images; nails are not included
DS235-AC Auto feed screw system
Frequently bought together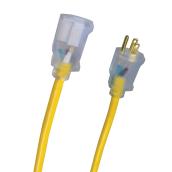 WOODS
Woods 12/3 Extension Cord 25' Yellow
Format 12/3 25'
Details
Article #74045239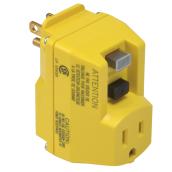 YELLOW JACKET
Single Outlet Portable GFCI Adapter - 1800 W - 15 A
Details
Article #32045050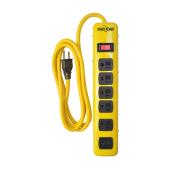 YELLOW JACKET
6-Outlet Power Bar with Surge Protection - 6' - Yellow
Format 1.8M
Details
Article #32045053
are you getting these back in stock?
Senco 2-in Corded Auto-Feed Screw Driver - 6-Amp Motor - 5000 RPM - Quick Change - Variable Speed
is rated out of
5
by
15
.
Rated

5

out of

5
by
StapleDude
from
Buy one Now!
This thing is the best hing since sliced bread. In fact if you have sliced bread this thing will put a screw in every piece quicker than you can open a bread tie. Seriously, this thing is extremely quick, accurate, and works flawlessly. Backer board or wall board has never been easier to secure. One of the biggest time saver tools I've purchased to date!
Date published: 2014-04-25
Rated

5

out of

5
by
tillamooktim
from
Excellent value for this tool @ lowes
Professional Contractor here, have done drywall work for 40+ years. This tool makes the application of drywall screws fast and easy. A little practice is all it takes to get a good screw set, even a novice will find this tool easy to use. Looked all over the internet and found that lowes had the best price on this tool. Prior to this I had the battery operated screw gun by senco, it also preformed excellently. I just don't do enough drywall work anymore to warrant getting new batteries. I have owned senco tools for a lifetime and even bought senco tools from friends that retired. I have one staple gun that is over 60 years old and I can still get parts for it and it still functions like new. Senco is a name you can trust.
Date published: 2014-12-25
Rated

4

out of

5
by
b2thea
from
better than rigid
I first bought the home depot rigid equivalent and soon returned it. It was $30 cheaper, but the bit kept falling out. This is a much better tool and the bit stays in. Haven't had it too long, but good so far.
Date published: 2014-02-08
Rated

5

out of

5
by
Cameron
from
One of the best tools I have purchased
I decided to hang the drywall my new home myself to save a few thousand dollars. I was able to hook this screw gun to my belt with the attached clip, pick up a full 12' sheet and hold it against the wall with one hand and screw a couple drywall screws with the other hand to hold it to the wall. Trying and do this with a drill and a drywall bit is hard. This thing made it too easy. I timed myself for the fun of it and I could hang a 12' sheet of 1/2" drywall, and put 4 rows of screws every 16" in under 2 minutes. This gun has the occasional mis-feed, but usually it was due to me not holding the gun straight or installing a screw in an awkward corner of a wall. I would say one screw out of every 40 did this. The bit lasted about 1000 screws and then I had to replace it. A 2-pack of new bits is only $8. This works great with plywood as well as drywall. It can use 1"-2" screws and you can adjust the depth of each. It is the best $130 I have spent on a tool in years. A tip I discovered is to hold the trigger down and let it spin the whole time when you are using it, just move to next screw hole and go. Fun to use!!!
Date published: 2014-08-18
Rated

5

out of

5
by
EEEE
from
Fast
If you need equipment to place multiple screws quickly, this is a good choice. Read the instruction for setup. Practice on about 10 screws, you should have the technique. Buy plenty of screws, this goes through screws quickly.
Date published: 2013-11-02
Rated

1

out of

5
by
TucsonJim
from
What a waste of money and time!
I have a large drywall job, and thought this tool would be just the ticket to ease the workload. Boy was I wrong. Every screw I'd put in would be either too deep, or not deep enough. I'd adjust and try again, adjust and try again, over and over. After about every 10 screws or so, the screw length setting would change and the drill would jam. After about 50 screws, the bit broke. I purchased a new bit and tried again. No matter how much fiddling and adjusting I did, this thing did not work as advertised. I finally settled on my old trusty cordless drill and an apron full of screws. Back to Lowes for a refund.
Date published: 2014-05-03
Rated

5

out of

5
by
Paintguy22
from
Great product
My father let me borrow his Rigid screw gun that he purchased at Home Depot. No matter how it was adjusted it would simply not drive the screw in far enough. I hesitated buying this because I saw reviews stating similar problems. I've done almost half of my basement now and I am amazed at how good this thing is. There is plenty of room to make adjustments for the depth and the feed system works great. I would recommend spending the money on this gun, it will save a ton of time.
Date published: 2014-12-14
Rated

5

out of

5
by
golf2xs
from
excellent results
purchased this product to install hardi-backer board as a base to install 18*18 tile in a foyer and kitchen. Product works as advertised allowing this part of the project to get accomplished much faster than using a conventional drill. Similar to others, keep the trigger squeezed and keep pushing screws until you are finished. I will be using this to renovate two shower enclosures including installing backer board and expect the same results. Great tool!
Date published: 2015-01-22