Samsung Ice Maker French Door Refrigerator 18 cu. ft. Stainless Steel
Article #22945309
Model #RF18A5101SR/AA
Format 17.6CFT 33"
This item is not currently available for immediate purchase, but can be ordered by visiting the selected store.
Description
Level up your kitchen design with this built-in look for a seamless fit. The smooth and streamlined exterior design features beautiful flat doors and easy-to-open recessed handles that blend seamlessly into your cabinetry, adding function and style to your kitchen. The SmartThings App on your smartphone allows you to control the temperature and monitor your refrigerator remotely. Spend less time cleaning thanks to a finish that withstands everyday smudges. Quickly freeze or chill your food with the Power Freeze or Power Cool options.
Useful information
DELIVERY AND INSTALLATION
Our experts are dedicated to ensuring your new appliance is delivered with the utmost care.
Learn More
PROTECTION PLAN
Enjoy exclusive privileges.
Learn More
RETURNS AND REFUNDS
We stand behind every product we sell.
Learn More
Credit available
Frequently bought together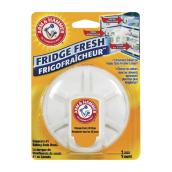 ARM & HAMMER
"Fridge Fresh" Refrigerator Air Filter
Details
Article #53975000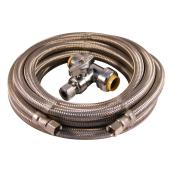 AQUA-DYNAMIC
Ice Maker Connector Kit
Format 1/2x1/2x1/4" 10'
Details
Article #01735520
Samsung Ice Maker French Door Refrigerator 18 cu. ft. Stainless Steel
is rated out of
5
by
463
.
Rated

1

out of

5
by
Sandy
from
FAULTY FRIDGE
FRIDGE DOESNT WORK! Cooling system is shot and the parts are back ordered. This brand new fridge will work great as a pantry but don't expect this fridge to stay cool. There is a problem with the motherboard that can not be fixed as a new part is not available, they have no inventory to exchange the fridge and you will spend days exchanging phone calls that end up nowhere. Please do yourself a favor and DO NOT BUY THIS FRIDGE! So many headaches because of this fridge, even the repair man states Samsung refrigerators have so many issues. Save your money, save your time, save your food...don't repeat our mistake!
Date published: 2021-06-30
Rated

1

out of

5
by
MikeC
from
45 days old and has cooling issue
just like others have pointed out here as well, i had all of my food thawed out and ruined twice. i really do think this is related to software issue because wi-fi anomalies seem to be related to it not cooling. this smart fridge is so dumb it doesn't even warn about the temperature being too high. for others having this issue, its just like any computer if you unplug it and plug it back in it starts working again. support has been good, and will have first service appointment soon. if they can't figure it out i'm just going to have to put this on a lamp timer to hard reset it everyday. also, the non-fingerprint finish is in fact thee most un-fingerprint resistant surface i have ever touched.
Date published: 2021-07-14
Rated

1

out of

5
by
Not Happy
from
Samsung quality has gone down the tubes!
[This review was collected as part of a promotion.] I must preface this review by saying that this is my second Samsung refrigerator. The first worked like a charm and lasted 10 years. I expected the same quality again. I have had this new refrigerator for less than months. It arbitrarily turns itself completely off, but the light is still on and the temperature reading says all is well. In the meantime, my food is thawing and being ruined. This has happed 6 times now. I am waiting on a repair person. The soonest I could get one was a 2 week wait. All I can say is that I will never buy Samsung again.
Date published: 2021-07-14
Rated

5

out of

5
by
Queen Catia
from
Ice Cold Perfection
this refrigerator is everything we dreamed of and more. it is keeping everything cold in the fridge without frosting anything over like our last one did. the freezer is keeping everything properly frozen. we love the dual icemaker. love that it makes perfect ice cubes and perfect ice chips. also love the flex options. the controls are easy to use, easy to understand, and give us a sense of comfort. this refrigerator is stunning and works even better than we had hoped for. the doors are easy to open and they shut soundly. the autofill water pitcher makes delicious, cold filtered water. we really love this fridge!
Date published: 2021-09-24
Rated

5

out of

5
by
Muriel
from
4-door heaven!
[This review was collected as part of a promotion.] I knew my back wouldn't stand up to bending over and rooting through freezer drawers, so when we needed to replace our old fridge and I saw this four-door, I was sold. I love the drawers and slide-out shelves in the two lower freezer sections (the flex-zone is nice, but it will always just be a freezer for me.) I don't need "chippies" (the second ice option), so I turned them off and commandeered that drawer for more storage space. The split half-shelf in the fridge has come in handy, as has having the entire fridge area be above waist level…I didn't realize how badly I wanted that convenience until I had it!! I do miss having a deli drawer, but plastic storage bins more than make up for it. A great benefit has been the even cooling: I can finally store anything in the very back of the fridge and IT WON'T FREEZE!!! Complaints: 1) I'd have liked more shelf-level options in the fridge. 2) It would have been nice to have been able to opt out of the in-door water pitcher so that door storage space could be maximized. 3) The split shelves were so hard to disconnect when we wanted to adjust them, that we were afraid they'd break; so, we called the installation tech to come back the day after delivery to do it for us. He showed us how to party finesse/partly force the shelves apart, but that really shouldn't have been necessary. 4) The sides and top of this fridge have the same black textured surface as my old fridge – great for hiding fingerprints – but the doors for this Samsung were only available in stainless steel. I'd ask why, but I know SS and other smooth surfaces are the current fashion…but it's a boldface lie to say ANY stainless-steel hides fingerprints!! Plus, the black stainless steel isn't as black as my other kitchen appliances (I'd call it charcoal) so it doesn't quite match. These are minor complaints having nothing to do with performance! I know I'll be wiping fingerprints off the doors of this fridge every day until I die, but I don't care – I love it and am so happy to have found it when I needed to replace the old one.
Date published: 2022-01-18
Rated

4

out of

5
by
Texans
from
Loving it so far!
[This review was collected as part of a promotion.] We've only had the fridge a couple weeks but it's been great. Pros: sleek design, freezer is super easy to organize and bigger than I thought (we used to have a drawer style freezer and much prefer this), the water pitcher is actually super convenient, and the fridge is magnetic which is a small plus but fun. Cons: the article that convinced me to buy the fridge said it had Sonics ice - but it doesn't. They have "ice bites" which are just smaller ice cubes. It was weird getting used to ice in the freezer, and a few ice spills trying to get it out into cups, but overall easy enough to get used to.
Date published: 2021-09-27
Rated

1

out of

5
by
josephxsxn
from
Freezer and Ice maker are bad
as many others have said it will just decide to stop cooling/freezing; in my case the problem has been the freezer specifically. the unit is less then a year old and i have had to defrost the freezer once already to get it working again, saddly as of today i worry ill be defrosting it a second time. we lost everything in the freezer the first time and just never used it again the second time luckly. the ice maker is the worst design i have ever seen. you will knock ice behind the drawers when you open the freezer every time assuming the ice tray is full. the ice will all pile up and then upon opening it will hit the icemaker and get pushed behind.
Date published: 2021-12-21
Rated

4

out of

5
by
JayMix
from
Good fridge, noticeable drawbacks
[This review was collected as part of a promotion.] After finally upgrading our fridge from a Kenmore we were excited to finally get our Samsung fridge. We love the freezer on the bottom and not having to kneel to get into the fridge any more. The only mark against it is the left-hand door. There is a kind of catch that flips and locks when pushed, but you have to push the door closed. I just think opening and closing a fridge door should be effortless. The door is constantly being left ajar and the fridge has a chime that goes off after 2 min. Kind of annoying. Other than that, this is an excellent fridge. I would still recommend it.
Date published: 2021-06-28