Description
The forgiving stain with no overlapping marks. SamaN's stains are water-based solutions perfectly stabilized. It is thus possible to mix several colors to obtain an infinite of shades as you would with watercolour paints. Benefits: No need for a conditioner. Needs just one coat. Exceptional coverage (8 oz. cover up to 50 sq.ft.). Ready to use. Non-flammable . Really safe for both user and environment.
Needs just one coat
No need for conditioner
Does not leave any overlapping marks
Does not raise the wood grain
Odorless
40 Pre-mixed colors
Can be intermixed to create your own color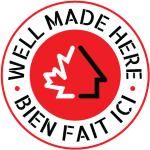 Product specifications
For Use On Hardwood Floors
Manufacturer Color/finish
Stain and Polyurethane in One
La teinture Saman est elle opaque?