Description
This interior latex paint is a versatile option for decorating your home or business. Made using a process that produces only one quarter the amount of greenhouse gasses as other formulas, the ECOLOGO-certified product is very eco-friendly. The acrylic latex paint has a low VOC count, which means far fewer fumes. This can contains 3.78 litres of velvet-finish paint, which has a medium sheen and is most often used in living rooms and similar spaces.The interior latex paint is in Moonlight, a white shade that coordinates well with most colour schemes. This paint line is also available in select other colours to suit all styles.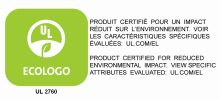 Ecological Attributes
This paint is ECOLOGO® certified (UL 2760: Surface Coatings - Recycled Water-borne): it contains a minimum of 50% recycled paint and less volatile organic compounds (VOCs) than conventional products.

The use of recycled materials decreases the environmental impacts associated with extraction of raw materials and landfilling. Moreover, by reducing the level of harmful substances in your home, you improve the quality of air and decrease the adverse impacts on human health.
Frequently bought together
Eco Recycled Interior Paint - Moonlight - 3.78 Litres
is rated out of
5
by
13
.
Rated

5

out of

5
by
Carol007
from
Beautiful finish
I bought these particular paints when they were on sale for 13.99 so i grabbed 3 cans. . 2 cans did the whole kitchen, the bathroom and my bedroom. And i coated them very generously. It really makes the house feel clean and fresh...it's slightly off white, a really lovely shade. I did the living room and entrance a soft beige only about 5 years ago and now i'm thinking i am going to continue to paint the whole house in this shade. The finish is as stated on the can it's velvety with no streaks. . I don't see any difference between this and the much more expensive brands of paint. You won't be disappointed.
Date published: 2019-03-21
Rated

5

out of

5
by
Sterna
from
Agréablement surprise
J'ai décidé de tenter ma chance avec de la peinture recyclée Rona et je suis ravie. Elle a une belle texture donc s'apprête facilement, et elle couvre bien avec 2 couches. J'avais préalablement mis un très bon apprêt (Binjamin Moore). Claire de lune est la couleur typique "blanc cassé". On m'avait qu'elle sent bizarre; je confirme qu'elle n'a aucune odeur particulière ou désagréable. Je recommande fortement.
Date published: 2018-10-16
Rated

5

out of

5
by
The Bene
from
Best paint I've ever used.
I bought this paint years ago because of the price. Now, unless there isn't the exact colour I want, i would use this paint over ANY other paint. Coverage is better, dries faster and cleans up effortlessly. It really is the perfect paint.
Date published: 2019-08-18
Rated

5

out of

5
by
Scott
from
This paint smells a little bit but it odor leaves
Great stuff--1 coat did the job. I bought 3 gallons would buy again
Date published: 2019-01-18
Rated

5

out of

5
by
Wall-e
from
Great coverages
We are verry impressed Had to cover olive green walls and we did not use any other primer, after 1 coat you could not see the green ,second coat did the job. Colour used was pebble grey.
Date published: 2019-02-02
Rated

4

out of

5
by
2john
from
Good budget Paint in workshop or storage areas etc
Painted inside of garage over a white primer on drywall. One coat worked well with a few patches to recoat where paint wasn't double rolled enough. Slight odor was all gone in a week.
Date published: 2018-11-13
Rated

5

out of

5
by
yura
from
Repainted room. Works very well. Very happy.
I bought this to add 2 fresh coats to repaint one of the bedrooms in my home. It had a specific smell, but it was gone 2 weeks later. Very happy with the outcome.
Date published: 2019-01-29
Rated

5

out of

5
by
Sloshedgerbill
from
Good price and coverage
We used the grey a while ago.. I've bought cheap paint before and regretted as it took 3 coats to look alright . This stuff coverd nicely in 2 coats. Just make sure to stir it well.We were worried about variance in colour from gallon to gallon so mixed 4 gallons together in a 5 gallon bucket then poured them back in. The 4 gallons cost about $10 more then 1 gallon from dulux we have been using lately . Highly rrecommend. Will be buying more
Date published: 2020-01-01