Description
Enjoy an endless supply of hot water with the RUCS75iN, our Super-High Efficiency condensing natural gas tankless water heater from Rinnail. Only the size of a small suitcase, the RUCS75iN is compact, easy-to-install and perfect for indoor locations
Energy Factor of 0.93/Uniform Energy Factor of 0.90
Save time with hot water whenever and wherever you need it, any size home, even for simultaneous uses at multiple fixtures
Save energy and reduce utility costs by operating only when hot water is needed
Maximum output, minimum space, suitable for installation in non-traditional spaces such as crawl spaces and attics
Residential warranty: limited 12-year on heat exchanger, 5-year on parts, 1-year on labor (5-year optional on labor); commercial warranty: limited 5-year on heat exchanger, 5-year on parts, 1-year on labor (2-year optional on labor)
Complies with South Coast Air Quality Management District 14 ng/J or 20 ppm NOx emission levels
160,000 BTU output
Product specifications
Remote Wireless Thermostat
Base Warranty Labor (months)
Base Warranty Parts (months)
Electronics Warranty Labor (months)
Electronics Warranty Parts (months)
Maximum Gallons Per Minute
Major Appliances Supplied Simultaneously
Frequently bought together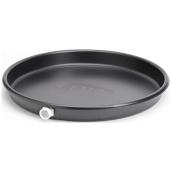 OATEY
Oatey Water Heater Pan - Plastic - Black - 24-in dia
Format 40GA 24"
Details
Article #11205155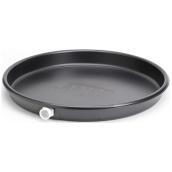 OATEY
Oatey Water Heater Pan - Plastic - Black - 26-in dia
Format 60GA 26"
Details
Article #11205156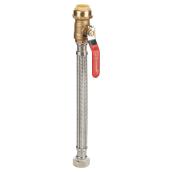 AQUA-DYNAMIC
Connector-Water Heater - 3/4" x 12" - FIP x Push Valve
Format 3/4"x12"-1/PK
Details
Article #01735485
Rinnai High Efficiency Tankless Water Heater - 160k Btu 7.5gpm
is rated out of
5
by
236
.
Rated

5

out of

5
by
CSP
from
Very Happy Customer in NC
I purchased this unit to replace a 16 year old regular gas hot water heater in the attic. I purchased the unit at Lowes and then called Rinnai for a plumber recommendation, they recommended Robertson Plumbing in Greensboro. Quick install, great price and works like a charm. Limitless hot water. I am very happy with Lowes, Rinnai and the plumber they recommended. Installed in my crawl space. May I say again the plumber did a great job. After $200.00 Piedmont Natural Gas rebate and $300.00 Federal tax credit the unit cost the same as a replacement Regular hot water heater in my attic. Thanks to Lowes, Rinnai, and Floyd Robertson Plumbing.
Date published: 2016-09-18
Rated

5

out of

5
by
David
from
8 years and still going strong
I bought my Rinnai when they where pretty new to the US market. A friend that is a mechanical engineer that I trust had been researching them for some time and settled on the Rinnai for multiple reasons at the time. Figuring he had done more than I could have done, I bought one. This unit is the best thing I installed in our house. We have never had to service it and we run out of water pressure before this will run out of hot water as I have never had that issue with this heater. That was not the case with the tank that was installed previously. Not sure of the issues that a few have had but mine has been flawless and I would buy it again in a minute.
Date published: 2016-06-30
Rated

5

out of

5
by
James
from
Best thing since my new Water Softener
My 17yr old Enviro-Temp LIFETIME Warranty 50 gal Electric Water Heater finally started leaking. I could have replaced for free with the warranty and almost did, due to the convenience factor. Checked my old Energy Rating and looked at the new ones, after adjusting the Per KW from .08 to now .11, the energy used is almost the same. So I decided to do the swap to tankless, and I am so glad I did. There must have been something wrong with my old one, because it would spike my electrical usage to 0.32 cents in 15 min. Now the max spike I get is 0.10. Long process to install, had to move to an outter wall, vented with sch 40 pvc.
Date published: 2017-04-02
Rated

5

out of

5
by
MasterPlumber
from
Unit is only as good as your installer!
As a lowes installer I say and I will say again "do not install this unless you are a licensed plumber with the proper training. This is a 6 hour install with 2 men to be installed properly, it requires a complete relocation of your water heater & most often a dedicated 1 1/4 gas line to properly work. If the right installer is used, you will love this water heater! If you install yourself or use a untrained installer, well, you are wasting your money & time. Plan on a additional $1000 in parts & $600 in labor to have this installed. When installed by a professional You will really enjoy the endless hot water & lower energy bills..
Date published: 2016-09-16
Rated

5

out of

5
by
Eddy
from
Recent Purchase
I recently purchased a Rinnai tankless water heater that did not get hot enough for use throughout the house. The farther away the use the colder the water. The tank was set to a high of 120 degrees and could not go any higher. I talked to a friend plumber who said to go on line and look at what others had to say or did to improve the performance of the water heater. I found someone that said they opened up the front panel of the heater and turned the dip switches 5 & 6 to the on position and was able to increase the temperature to 140 degrees. I did the same thing and now the hot water from the farthest away from the heater gets so hot that I can not hold my hand under the water once it gets hot. I think this will take care of the problem of hot water throughout the house.
Date published: 2016-04-12
Rated

3

out of

5
by
Saddened
from
Two years then the dreaded code 11 fail
As a general contractor I have installed a few of these for clients over the years. Then I got one for myself. I have a large soak tub I use a lot and it worked great for a couple of years. Then it stopped. Got a code 11 in the controller window. Searching the manufacturer's manual I found 15 things that could cause a code 11. So, do I schedule a parade of techs to diagnose it? Or chuck the $900 and look for one that will last. As a professional, I try to do my due diligence to assure myself and my clients of a good product. This kind of unexpected failure of an expensive product is very frustrating.
Date published: 2017-06-20
Rated

1

out of

5
by
rwils176
from
first one purchased failed after 3 hours after being installed. First of all the vent necessary to install it took a week to get. Then when the thermal fuse opened no one had one in stock. after calling the 888 number the part had to ordered by a plumbing company. was told it would take another week for the part to come in. meanwhile I have already been without hot water for 2 weeks. Lowes was sympathetic and allowed me to return the unit for another one. The new one works great. The plumbing company now wants me to pay for the part + shipping for the part they ordered. They claim Rinnai will not accept the part back.
Date published: 2016-08-22
Rated

4

out of

5
by
Samiam
from
Made Especially for Lowe's READ BELOW !!!!!
I have a well therefore the water pressure in my home is not the greatest. I had to decrease the temp of this Rinnai unit in order for the heater to work (previously in order for the burner to light I had to run the hot water in the bathroom sink whenever I took a shower or wanted hot water in the kitchen). We were told that this is unique to the Rinnai made for Lowe's and that the other units do not have this problem. If I had know this I would still have purchased this Rinnai hot water heater; but, I would not have bought it from Lowe's. This product is made especially for "Lowe's" and requires a higher water pressure. This information was provided by a Rinnai customer service representative. Jan 2018
Date published: 2018-01-23