Description
Enjoy an endless supply of hot water with the RUCS65iN, our Super-High Efficiency condensing natural gas tankless water heaters from Rinnai. Only the size of a small suitcase, the RUCS65iN is compact, easy-to-install and perfect for indoor locations.
Energy Factor of 0.93/Uniform Energy Factor of 0.85
Save time with hot water whenever and wherever you need it, any size home, even for simultaneous uses at multiple fixtures
Save energy and reduce utility costs by operating only when hot water is needed
Maximum output, minimum space, suitable for installation in non-traditional spaces such as crawl spaces and attics
Residential warranty: limited 12-year on heat exchanger, 5-year on parts, 1-year on labor (5-year optional on labor); commercial warranty: limited 5-year on heat exchanger, 5-year on parts, 1-year on labor (2-year optional on labor)
Complies with South Coast Air Quality Management District 14 ng/J or 20 ppm NOx emission levels
130,000 BTU output
Product specifications
Remote Wireless Thermostat
Base Warranty Labor (months)
Base Warranty Parts (months)
Electronics Warranty Labor (months)
Electronics Warranty Parts (months)
Maximum Gallons Per Minute
Major Appliances Supplied Simultaneously
Frequently bought together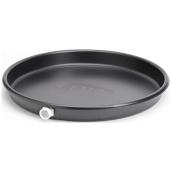 OATEY
Oatey Water Heater Pan - Plastic - Black - 24-in dia
Format 40GA 24"
Details
Article #11205155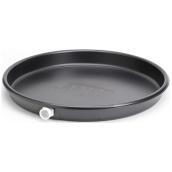 OATEY
Oatey Water Heater Pan - Plastic - Black - 26-in dia
Format 60GA 26"
Details
Article #11205156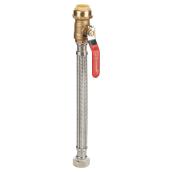 AQUA-DYNAMIC
Connector-Water Heater - 3/4" x 12" - FIP x Push Valve
Format 3/4"x12"-1/PK
Details
Article #01735485
Can I use a 1/2" supply water line? Or does it have to be 3/4"
Rinnai High Efficiency Tankless Water Heater - 130k BTU - 6.5gpm
is rated out of
5
by
42
.
Rated

2

out of

5
by
Jason7435
from
Wastes Water
I purchased a new home and this tankless water heater came with it. As soon as I can afford to replace it I will. The default setting is 140 degrees. I do not have children in the house and like my water a lot hotter than that. Changing the temperature of the water is difficult at best. It requires you to change the dipswitch settings in the right combination. The problem is that if you change it from 140 degrees it will not give you a consistent temperature. Also, it takes forever to get hot water so you end up running a lot of water down the drain. In Arizona wasting water is a sin. Sure you never run out of hot water, but if you're single or frugal this isn't an issue.
Date published: 2018-07-02
Rated

5

out of

5
by
FireGuy4214
from
Great unit
I purchased the RUCS65IN 3/21 and installed it myself. The unit is very well designed and it takes up a very small amount of space. The warranty is outstanding. The No clearance spacing for unit mounting was a plus and I chose the condensing design for better flame use. By going with condensing allowed for venting without concern of spacing as well. My install is on a basement wall and direct vents through the joist spacing above the concrete foundation. The heater has provided gray service for the past 6 months since installing.
Date published: 2021-10-01
Rated

5

out of

5
by
ZJ5460
from
Innovation, Quality and Support After the Sale
Rinnai lives up to their reputation for quality in my experience. The model that I have chosen replaces an earlier vintage tankless that has served me well for over 18 years, but now that manufacturer has left the US market and parts have become an issue. It really emphasizes that parts and support are essential for a product like a tankless water heater, which combines constantly evolving technology with the expectation of long-term reliability. Rinnai does innovate with their products, and still they don't forget how long a water heater (or any other heater) is expected to last in our home. When all the details of a proper installation are followed, I have every confidence that my new Rinnai tankless will last as long as my last water heater did- or hopefully, even longer!
Date published: 2022-11-23
Rated

3

out of

5
by
AlHickory8438
from
Some issues.
From time-to-time, the water in the shower will just go suddenly ice-cold. Not pleasant at all! It will not come back hot for about 3 or more minutes. My installer, a very experienced plumber who has installed dozens of these is baffled. He's been on the phone with Rinnai tech support many times. I don't think this is a common problem. We really want to resolve this issue. It only started happening after about 6 months. Prior to that, it worked perfectly.
Date published: 2020-07-24
Rated

4

out of

5
by
bc235907
from
Great product....Get professional advice and insta
The tankless models come in many variations, I selected and bought my own without getting expert advice. The unit I purchased does great throughout the (Circa 1900) house except for two faucets that have always suffered from low flow...one being the kitchen sink...which now take even longer to get hot. No complaints about the Rinnai unit but I think I should have spent more for a unit that supports the re-circulation feature.
Date published: 2021-10-01
Rated

5

out of

5
by
AustinConform5922
from
Rinnai RUCS65iN
My unit has been operational for approximately 2-1/2 month. The unit is mounted inside the house with combustion intake and exhaust air provided via external venting. The unit is operating flawlessly. One aspect is the water temperature is surprisingly consistent regardless of other activity in the house be it either additional hot or cold water demand.
Date published: 2019-10-21
Rated

4

out of

5
by
Tom9937
from
Second purchase
Works great but pricey. Need to service regularly, which I did annually. Not difficult but must be done. This is our second Rinnai and am disappointed the first only lasted 8 years before the heat exchanger cracked. Rather than replace the part which Rinnai did cover, we opted to purchase a whole new unit.
Date published: 2018-12-07
Rated

5

out of

5
by
HappyHomeowner0983
from
Great Quality and Efficiency
Like all tankless water heaters, it takes a bit of time for the hot water to come through when turning on the faucet for the first time when it hasn't been used for a while. I haven't found that to ever take more than 20 seconds or so with my Rinnai, so I'm very pleased! So far, it's been very reliable.
Date published: 2021-01-13