Description
Driveway sealer. 17 L. Super rubberized. Entrepreneur grade. Latex base. Long lasting. This asphalt protector contains more rubber and latex than ordinary tar protectors, but is still much more pliant and resistant to cracks and oxidization.
Frequently bought together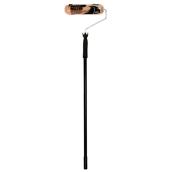 BENNETT
Bennett Driveway Roller - Sealer Applicator - Smooth Finish - 9.5-in L
Details
Article #87105045
RESISTOSEAL
Rubberized Crack Filler
Format 300ML
Details
Article #7416051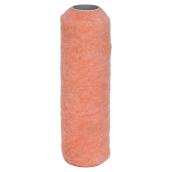 RESISTOSEAL
Resistoseal Asphalt Replacement Roller - Long Bristles - Pink - 9 1/2-in L
Format 19MM
Details
Article #74165166
Pouvoir couvrant du Resistoseal ?
De 250 à 600pi2/17L selon l'info de la photo du seau Sealer Entrepreneur
Date published: 2021-04-25
We used the 4 year (Resistoseal)  driveway sealer on our driveway.  We can see areas that we do not like. How long do we have to wait to do a second coat?
"Entrepreneur" Driveway Sealer
is rated out of
5
by
10
.
Rated

5

out of

5
by
Old Allan
from
Smells bad but works Amazing
Bought 23 Pails on July 27 Because last product i used took 20 pails and was a pain to put on. This resito sealer is very very easy to apply and is a real nice black natural color....not gross. My driveway is double wide and 60' long and yet because it covers so well and is so easy to apply i was done in 4 hours and only used 9 pails.
Date published: 2020-07-29
Rated

1

out of

5
by
drivewaysealer
from
not good, quite disappointed
i bought the 4 year resisto sealer and found that one of the older reviews was the most accurate where the user said this was too watery/runny. the product is too watery and runny. the coverage was poor and i could see the old asphalt and other damage on the driveway i was sealing. since it was so runny, the single coat didn't really seal much and it didn't use much at all since it just didn't coat well enough. i could tell right away the amount of solids in the pail was very high as it was too easy to mix. i ended up recoating the driveway with the rustoleum product which is way better. i would not recommend this product.
Date published: 2021-09-20
Rated

4

out of

5
by
RiverPlate
from
Good product but coverage is very small
It says that covers between 200 and 600 square feet. The realty is 200 unless, you have a marble asphalt without pores (which is impossible :) ) Other than that, the product looks great
Date published: 2021-08-04
Rated

5

out of

5
by
Extracheese
from
Excellent Product
I bought this driveway sealer and used it today on my driveway. It does excellent job and my driveway looks good.
Date published: 2020-07-26
Rated

5

out of

5
by
Villageois
from
Protecteur d'asphalte Resistoseal
Il y a quelques années, l'on m'avait donné un 5 galons de protecteur provenant d'un magasin spécialisé en pièces d'autos. Ce fut un désastre. Depuis que j'utilise Resistoseal, les résultats sont excellents. Beau fini protecteur qui sèche assez rapidement pour replacer l'auto dans l'entrée avant la fin de la journée du traitement. Resisto signifie pour moi RÉSISTER!
Date published: 2021-08-13
Rated

1

out of

5
by
jkkr
from
Don't waste you money
I just bought it today and apply it on my driveway. very poor application and too watery. First it not going to fill minor crack in the driveway and will wipe out after 2 or 3 rainfall. i used one coat and still 3/4 of bucket left on 4 car driveway, Going back to store to return it. It is totally garbage product. i understand it is low on price and also store supposed not to sell garbage products . That's why they hire expert to check the products and sell in their stores. I am not a expert but i am a user too.
Date published: 2021-08-15
Rated

5

out of

5
by
Klodelang
from
Good product
I bought it last week already used it, perfect job,easy to use as usually ,always use thecsame kind and model
Date published: 2021-05-04
Rated

3

out of

5
by
KJ Singh
from
Not a great product
Okay to use only when existing condition of the driveway is good, otherwise you will get frustrated.
Date published: 2021-07-27