Description
Make smooth, precise cuts with the Porter Cable stationary band saw. It handles wood of varying width and thickness and makes straight and angled cuts. A die-cast aluminum table provides a large surface and tilts up to 45°. The Porter Cable 2.5-amp band saw also includes a mitre gauge for cutting up to 60° angles.
Product specifications
1/8"-3/8" (0.31 cm - 0.95 cm) width, 59 1/4"-59 1/2" (150.49 cm - 151.13 cm)
9" (22.86 cm) throat depth
Up to 3 1/2" thick and work pieces up to 9" diameter
For use with different types of wood
Mitre gauge allows for accurate cutting at different angles up to 60° left or right
12 5/16" x 11 7/8" (31.27 cm x 30.16 cm)
Frequently bought together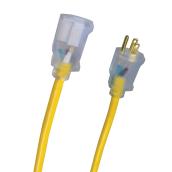 WOODS
12/3 Extension Cord - 25' - Red
Format 12/3 25'
Details
Article #74045239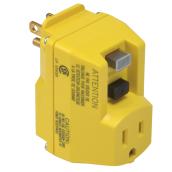 YELLOW JACKET
Single Outlet Portable GFCI Adapter - 1800 W - 15 A
Details
Article #32045050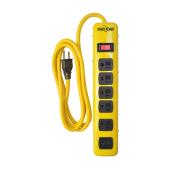 YELLOW JACKET
6-Outlet Power Bar with Surge Protection - 6' - Yellow
Format 1.8M
Details
Article #32045053
You may also like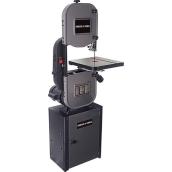 PORTER-CABLE
Porter-Cable 13.625-in 10-Amp Stationary Band Saw
Format 13 5/8"x10AM
Details
Article #32016480
Up to what thickness can u cut with this band saw?
3" is maximum.
Date published: 2021-02-05
What is the spec for spare blade for this Band saw. Part # Model.
59-1/2" blade.
Date published: 2019-05-29
Does anyone else have an issue with registering the bandsaw? www.portercable.com/prodregister comes back as not found. I also don't see this saw on the porter cable website. Do we even have a warranty? Any help appreciated.
Does this come with a fence?
Hi where can you get a new blade for this model?...
Will it cut 1/8 inch diamondplate aluminum with the right blade
With metal cutting blades will thus band saw cut handles off forks and knives?
Porter-Cable Stationary Band Saw - 9-in Throat Depth - 60° Cutting Angle - 2.5-A Induction Motor
is rated out of
5
by
105
.
Rated

5

out of

5
by
TJersey
from
perfect for small projects
I am relatively new to woodworking and am focused on making small items such as jewelry boxes. For detail cutting on smaller pieces this saw is perfect. I find I am already using this much more than I thought I would. Other reviews say this saw is underpowered and I could see that if you are trying to rip or resaw wood more than a few inches thick. But for what I do (small cuts) this is perfect. Does not take allot of room on my bench, quiet and worked fine right out of the box. If I get into bigger projects I may eventually move up to a bigger, more powerful band saw. But if you are new to woodworking, focussed on smaller projects or just want to learn how to use a band saw without making a big investment, this is a great first saw.
Date published: 2017-12-30
Rated

4

out of

5
by
khwoodworking
from
good saw for the price
I didn't have great expectations for the saw, but it has powered through some pretty hard materials. I will say one thing up front its a great saw for the beginner. The motor clearly needs help on heavy loads so don't push the work piece to hard. Also, always have a sharp blade ready, once the blade it dull it will show quickly on this saw. It is great saw for the starter and on that is easy to learn and maintain. its compact size makes it easy to pick up and go to a job site.
Date published: 2017-08-08
Rated

3

out of

5
by
RDP
from
PORTER-CABLE 9-in 2.5-Amp Stationary Band Saw
Under powered with a 1/3hp motor, strains and almost stalls cutting through a 2" thick piece of briar with original blade. It did cut thin stripes under a 1" thickness well. I purchased an extra blade of better quality and we'll see if that improves it. It does cut fairly straight and smooth if one goes slow enough through 2" stock. My Ryobi cut much better without strain but, is made of Plastic and pot metal and is why I had to purchase a new bandsaw (wore out). I would not recommend this for cutting large stock but, seems to be fine for thinner wood. Seeing I need a bandsaw to continue I won't be returning it unless it dies within the 90 days but, will look into getting at least a 1/2hp motor to go on it.
Date published: 2017-09-15
Rated

1

out of

5
by
Jensen3
from
Is this Porter-Cable's quality?
I thought Porter-Cable made quality tools. The blade adjustment frame and slide are bent so I'm not sure I'll be able to get a blade back on after I remove it. The blade tension doesn't appear to change when I turn the knob. The table is square to the blade side to side but not front to back, don't see a way to adjust that. One of the blade guide tightening screws is stripped. Portercable.com doesn't recognize the model number so I can't register the warranty. Oh, and they must have been embarrassed by this build because they didn't even put the name badge on the front. I'm really close to just returning it.
Date published: 2021-09-10
Rated

5

out of

5
by
Mike
from
It works
I've read the reviews, and I'm convinced that some people should not own tools. With that being said, it's a small budget saw, for small occasional use. Use the right blade for the job and center it on the wheels, that's why the window is there, go slow and let the saw cut at it's speed, don't try to force it and you'll be fine, I promise.
Date published: 2018-02-12
Rated

5

out of

5
by
Roy
from
Love it!
I see bad reviews for this saw but honestly I love mine! I picked this up at lowes for some chairs I was making and have had excellent luck with mine. The key is getting really great blades to match the project you are working on. I purchased 2 Lenox and 2 timberwolf blades of different sizes and tooth and now the saw works brilliantly! Easy to setup, changes blades, clean and use in general. Great smaller bandsaw!
Date published: 2017-04-16
Rated

1

out of

5
by
Patrick
from
Far and away the worst I have used...
Title says it all really. Bought this as I have loads of other great porter cable tools. Read the reviews and bought upgrade blades prior to delivery, installed and tuned the lot prior to first cuts, very disappointed. Bogs down horribly on even 1" yellow pine, and forget accuracy... Tried multiple blades, very disappointed as was only going to use this for small jobs like knife scales. Nevermind worst band saw by a mile, probably the worst saw I have ever used, and that's even with having used an upended jigsaw for cuts in the past. Save your money. Wish I had... now to try and return this...
Date published: 2018-03-08
Rated

5

out of

5
by
A
from
DIY HOBBIST
[This review was collected as part of a promotion.] I bought this about a month ago ( late Sept 2018 ) and am using it to cut plywood 15/32 in thickness.I clamp three thicknesses together, so am cutting approx 1 1/2 of plywood & it does a great cut for me. I read the poor reviews & have a hard time with them as I took it out of the box, did the simple direct Attachments and started cutting. I did not have to make any adjustments to factory specs. Great for me and my use and price. P.S. I use my shop vac to suck out the wood dust. I bought a rubber 2 1/2 Cap, clamped it on the discharge port...then cut a hole in the rubber cap just a shade smaller than the shop vac hose. I does a great job of keeping the dust out of the saw. I run both electrical cords thru same switch controlled outlet. Happy with this purchase. Picture of my product.
Date published: 2018-10-23