Description
Shape and shave wood carpentry projects professionally with a Porter-Cable hand planer. Three chamfer grooves allow for various edge-chamfering possibilities. This electric hand planer features ten depth levels for precise operation. The 120-volt motor achieves 16,500 RPMs, and the dual dust-extraction ports maintain workstation tidiness.
Heavy-duty 6-amp motor provides smooth cutting in hard materials
16,500 RPM for smooth material removal
Dual side dust extraction allows for extraction on either side of the tool
Overmolded depth knob with 10 positive steps allows for better planer control and multiple depth control settings
Product specifications
Base Warranty Labor(Months)
Base Warranty Parts(Months)
Battery Warranty Labor(Months)
Battery Warranty Parts(Months)
File/Certification Number
Key Feature For Advertising / Signage #1
Key Feature For Advertising / Signage #2
Dual side dust collection
Maximum Depth Of Cut (in)
PC60THP PORTER-CABLE 6 Amp 1-Blade Planer
Motor Warranty Labor(Months)
Motor Warranty Parts(Months)
Special Warranty Labor(Months)
Special Warranty Parts(Months)
Frequently bought together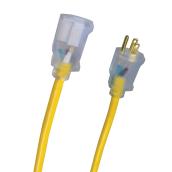 WOODS
Woods 12/3 Extension Cord 25' Yellow
Format 12/3 25'
Details
Article #74045239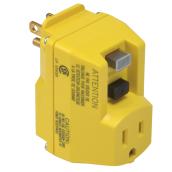 YELLOW JACKET
Single Outlet Portable GFCI Adapter - 1800 W - 15 A
Details
Article #32045050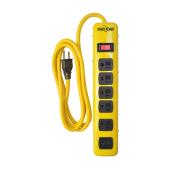 YELLOW JACKET
6-Outlet Power Bar with Surge Protection - 6' - Yellow
Format 1.8M
Details
Article #32045053
Porter-Cable Corded Hand Planer with Bag - 6-Amp Motor - 16500 RPM - Dual-Side Dust Extraction - 5/64-in Cutting Depth
is rated out of
5
by
111
.
Rated

5

out of

5
by
bcmark
from
What a bargain!
While working on a renovation project at our church,we ran into an issue getting a clean edge next to our heart pine flooring for gluing down commercial carpet. We were stumped on how to solve what could be a monumental problem, when I thought of a hand planer I had, but seldom used. Naturally it was at the site of another project, out of town, so we ran to Lowes and decided to try this Porter-Cable unit due to the price. Not only did it do an amazing job of solving our problem, but blows away my other unit which retails at double this price. Comes with a nice soft carry bag and an adjustable guide. You will not be disappointed!!!
Date published: 2016-10-06
Rated

5

out of

5
by
SERVICEDUDE
from
it did the job!
I used this to plane down serious grooves that had worn into an old bridge plank, 12" X 10 feet of solid oak, cut at a sawmill, and was in use on the bridge from 1970 until 2007, at which time we threw it under the bridge as we had no other use for it. We were looking for a rustic shelf for our cabin. November 2013, I pulled the bridge plank out, it was slightly warped, with 1/4 in grooves worn into the face of the board. I set the Porter Cable planer for the maximum depth, and after a few passes, I had the grooves planed down to solid lumber. Once down to solid lumber, I reduced the plane depth to smooth out the entire board. The planer worked flawlessly.
Date published: 2013-11-18
Rated

5

out of

5
by
RonJ
from
Super Buy!
I have been looking for a planer, but didn't want to invest over a hundred bucks..this Porter Cable that Lowe's has is terrific in performance and price. Like others, I shopped it out - Lowe's price couldn't be touched. The planer is simple to operate; of course the Operation Manual leaves much to be desired. U-Tube has some great videos on planer use, if anyone is so inclined. No where in the book does it say about the size for replacement blades..they are 3.25" and the Bosch and Dewalt will work in it. Thanks Lowe's for having this on sale - just when I needed one.
Date published: 2014-12-06
Rated

5

out of

5
by
daveh50
from
PC Hand Power Planer
I am by trade a professional wood turner. I do on occasions need a hand power planer. My 15 or so year old DeWalt died on me so I went looking for another. Bought this one and am totally pleased. I had some 24x20 dried pecan slabs that needed leveling for a home project and it performed beautifully. And, it is fairly quiet for a planer. Still use ear protectors if you have them for prolonged use. I only work with hard woods so it will be interesting to see what it does with some osage orange. Great planer at a great value.
Date published: 2016-11-02
Rated

5

out of

5
by
Duchess
from
Best Investment
I have been doing a lot of rehab work with wooden furniture and was looking at hand planers. I ventured into the electric planers and saw this one under $70. So I figured I'd try it out...WOW! I finished what would have taken me at least 4 hours by hand in 15 minutes. Easy to use, guide was very handy and my new hand made counter top is AWESOME!!!
Date published: 2015-10-19
Rated

5

out of

5
by
MRFIXIT
from
Love this planer
Got this planer to do the touch up work on a "joined" table top made of solid oak. It fully deserves it's PORTER CABLE name. It did an absolutely beautiful job of finishing the top and I will only need to do minimal sanding now. It is built solidly, runs smoothly and much quieter than I expected. If you need a powered hand planer you will not be disappointed in this model. Especially for the price!
Date published: 2013-12-30
Rated

4

out of

5
by
Donald
from
Nice Planer
I bought this planer to see if it would plane blocks for a butcher block table. I didn't want to spend a lot of money on a bench top planer. This planer produces a great surface finish. It does take a while to get use to using it properly without being heavy handed at lead-in and lead-out of work piece. Practice on scrap. Lowes product descripition states this is a one blade planer, but it has two blades.
Date published: 2015-06-21
Rated

4

out of

5
by
Home-Remodeler
from
Good Planer
Overall, I'm very happy with the planer for the price. After comparing it to some of the others that were twice as expensive, I struggled to see why they were much better. I previously had a Ryobi which burned up. This one appears to be a better quality unit, it feels more solid.
Date published: 2014-05-16