Description
The Onsen 7L Portable Tankless water heater allows you to enjoy a hot shower outside anytime, anywhere. Ideal for heating late spring / early fall water temperatures of 45°F / 7°C and warmer, it turns cold water into instant hot water on demand and has an electronic ignition activated by water pressure and flow. Featuring a premium shower head, digital screen and included 12V battery clips, the Onsen 7L runs on a standard propane tank and is perfect for hunting camps, off-grid cabins, camping, boating, pet grooming, horse trailers, stables or simply rinsing off by the pool.
Working in combination with the Onsen 3.0 Diaphragm RV / Marine 12V Water Pump, the Onsen 7L will provide the comfort of instant, pressurized, hot water in any off-grid situation. The addition of the Onsen 1.0L Accumulator Tank ensures even water flow by acting as a pressure buffer for the pump and thus provides better control of hot water temperatures.
Outdoor use only
50,000 BTU
Includes gas regulator and hose for standard barbecue propane tank
Gas and water control knobs for temperature adjustment
Ignition powered by two "D" cell batteries or 12V battery connection
Digital screen displaying outgoing water temperature and battery life
1/2" NPT water fittings
1-L Onsen accumulator tank
Product specifications
Base Warranty Parts (months)
Electronics Warranty Parts (months)
Major Appliances Supplied Simultaneously
Maximum Gallons Per Minute
Remote Wireless Thermostat
Frequently bought together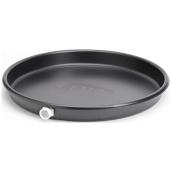 OATEY
Oatey Water Heater Pan - Plastic - Black - 24-in dia
Format 40GA 24"
Details
Article #11205155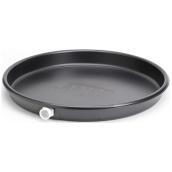 OATEY
Oatey Water Heater Pan - Plastic - Black - 26-in dia
Format 60GA 26"
Details
Article #11205156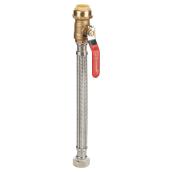 AQUA-DYNAMIC
Connector-Water Heater - 3/4" x 12" - FIP x Push Valve
Format 3/4"x12"-1/PK
Details
Article #01735485