Description
Rejuvenate your pavers with this Techniseal paver protector. It forms an ultra-durable protective film. Suitable for patios and walkways, it comes in an 18.93-L can. The wet look concrete paver protector enhances the appearance of pavers and previously sealed surfaces.
Enhances the original colour of pavers
Forms an ultra-durable protective film, solvent base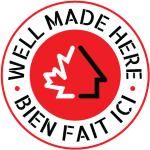 Product specifications
Number Of Coats Recommended
j aimerais l'appliquer avec un pulvérisateur...
C'est tout à fait possible ! Pour ce faire, nous recommandons d'utiliser un pulvérisateur à pompe (manuel) de basse pression (maximum 50 psi). Évidemment, il est primordial de s'assurer que le modèle choisi est conçu de matériaux résistants aux produits chimiques.
Date published: 2021-05-14
combien de pieds carré cela couvre le 18, 93 litre