Description
Junction box. 5 1/2 in. Made of plastic. Loomex Clamps. Flange and 4 hinged cable entry tabs are covered with 100% airtight foam gasket. Easy access to bottom-mounted ground screw. Internal screw bosses for all devices.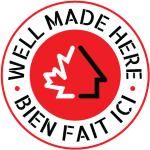 Is this suitable for ceiling fan 35lbs?
Could this box support the weight of a ceiling fan?