Description
Enjoy the summer season with this sturdy stainless steel grill that lets you prepare many delicious meals and has high durability for many years of use. Enjoy multiple cooking options with its 4 stainless steel main burners, its side burner and its ceramic burner. This barbecue is designed to provide a maximum cooking power of 72,000 BTU (each burner can reach 12,000 BTU). The stainless steel seamless weld lid delivers flavour rich cooking has a built-in window for easy viewing and features a built-in thermometer. Enjoy your barbecue at any time of the day with the LED-lit control knobs.
4 Stainless steel main burners, 1 stainless steel side burner and 1 stainless steel ceramic sear side burner with 72,000 BTU to deliver powerful heat and performance
723-sq in of total cooking area offers plenty of grilling space; 513-sq in of primary cooking area and 210-sq in of warming rack area
Porcelain coated, cast iron cooking grates designed for even cooking, stainless flame tamers insure even heat delivering great flavors, electronic ignition system for easy burner starts
Built-in center mounted thermometer monitors temperature inside the grill
Rear access, easy to clean galvanized sheet grease tray with a removable catch pan, stainless steel painted enclosed steel cabinet
2 Stainless steel side shelves with tool hooks for easy access for your tools
Enclosed cart hides your LP tank, tank not included
4 Heavy duty front locking swivel casters
Protect your investment with a Monument Grill cover model number 98475 (sold separately)
Product specifications
Base Warranty Labor(Months)
Base Warranty Parts(Months)
Burner Warranty Labor(Months)
Burner Warranty Parts(Months)
Porcelain-coated cast iron
Infra-Red Warranty Labor(Months)
Infra-Red Warranty Parts(Months)
Special Warranty Labor(Months)
Special Warranty Parts(Months)
Manufacturer Color/finish
4 Burner, SS Clear View SB + SSB
Natural Gas Conversion Kit Included
Natural Gas Or Convertible To Ng
Primary Cooking Area(cm2)
Primary Cooking Area(in2)
Frequently bought together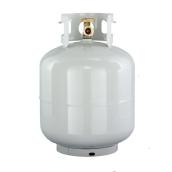 WORTHINGTON
Worthington Empty Tank for Propane Gas - Steel - 20 lb
Format 20LB
Details
Article #1718026
According to the manual on monument grills' there's an 8 year warranty on burners. However it says that only applies if the grill is only used in the United States. Is there a Canadian inclusion somewhere? Or are Canadians exempt from warranty?
All BBQ's sold through Canadian stores come with a warranty on the whole product, replacement parts, and repairs. We also offer a extended Protection Plan to ensure any covered issue can be taken care of for our customers.
Date published: 2022-09-12
Does the bbq require electricity for any components to work?
What are the dimensions of the box the barbecue comes in?
Does anybody know if this BBQ can take generic parts (ex. heat plate, grill, etc)? New BBQs are great but in the end, they all generally need replacement parts, esp heat plates that rust out easily even if the BBQ is covered most of the time.
I saw in one comment one buyer converted the grill to use NG using a kit. Is it really safe to do? If so where can I get the conversion kit?
how ca i mount a bracket for a rotisserie wilh only about 1 inch clearence between burner lid and hood ??
Can this bbq use natural gas? Thanks
Monument Grills Propane Gas BBQ - 6 Burners - 72,000 BTU - Stainless Steel
is rated out of
5
by
206
.
Rated

5

out of

5
by
Bob
from
Well thought out grill--love the features.
[This review was collected as part of a promotion.] This grill was incredibly easy to put together...just follow the steps. Instead of having to find "screw A-Z" most of the steps just had the screws/bolts already in place and you just had to unscrew it partially, and slip a part in. With four burners on high and the lid closed, it was up to over 600 degrees in the grill in no time at all. The gas burner on the right puts out a good flame...as good as on my stove, and the sear burner on the left puts out a lot of short range heat quickly. The wheels all lock to hold the grill steady. Look forward to using it over the next few years.
Date published: 2019-11-24
Rated

5

out of

5
by
Kolby
from
Hey Grill, Hey!
I could not be happier with this grill OR with Monument in general! I bought this grill from Lowe's for a Fathers Day Gift to myself. Assembly was easy enough and I was able to do alone. The grill works fantastic, evenly heated, lights are super cool, and I love the clear view lid. After a storm got ahold of the grill (silly me forgot to lock the wheels) it got pretty banged up, I reached out to Monument and they helped me get it back in tip top shape by connecting me with the parts manufacturer and even replacing the lid that had been severely damaged. I've since purchased multiple accessories and I think I'll be a Monument customer for life!
Date published: 2020-07-20
Rated

5

out of

5
by
Andrew
from
Monument Clearview 4-burner grill
This is the best grill I have ever purchased! During my visual comparison at Lowe's, I found that Monument grills were as sound as other more expensive grills. The features offered by Monument are as impressive as any other that Lowe's carries. I am pretty handy at reading assembly instructions and the actual assembly takes 2 hours. Don't rush and go step by step. I have cooked twice on the grill and found that the grill heats up extremely fast and maintains the heat well. I cooked chicken breasts one day and ribeye steaks another. Both with excellent results! Searing feature worked great!! Great grill with a more affordable price!!
Date published: 2020-06-10
Rated

3

out of

5
by
TranarT
from
The grill itself is good.
Dealing with Monument for warranty conceens however? What a joke. Our grill came out of the packaging with a large dent in the lid and one of the grates broken. No biggie, I do warranty on vehicles for a living so I take a lot of pictures showing the condition of the packaging, the damage before it's even removed from the box, and the damage from multiple angles and lighting. Email this to their warranty department, do a couple back and forths with someone and then get completely ghosted by the company. Really not impressed, I do like the grill for the price point but I'll be avoiding this brand in the future.
Date published: 2021-08-25
Rated

5

out of

5
by
Jeff
from
Great Grill!
Just switched from a Char Broil grill to Monument and I'll never go back! The ease of use, even heat, side burner and sear burner make this grill a pleasure to use. The stainless steel construction makes it easy to clean and the LED-lighted dials makes seeing your heat settings so much easier after dark. I also really like the viewing window on the front so you can easily see if you're getting any flare-ups during cooking and stop them before it burns the food. I would definitely recommend this grill to anyone looking to have a great grilling experience.
Date published: 2022-05-31
Rated

5

out of

5
by
cleveridge
from
Great gas grill at a great value!!
I assembled this grill and the instructions could be better however the assembly was easy and all parts went together perfectly. There was even a bag of additional fasteners in the event one was left out during the packaging process or if you lose or misplace one. The grill controls make it easy to adjust the temperature and to maintain it. Every item I've grilled has been great. The clearview window is a huge benefit, you can keep an eye on your meat/vegetables and avoid losing heat by opening the lid to check on the meat/vegetables. All in all this is a great grill at a great price.
Date published: 2020-11-28
Rated

5

out of

5
by
Limey
from
AWESOME BBQ
I Did a lot of research as my $165 Superstore BBQ was rusting away into obscurity! I really wanted a Napolean or Webber BBQ but could not see me spending thousands to get one sadly :-( I hung around to see if there were any Black Friday or Cyber Monday deals but these big names simply were not offering any deals so i decided to look at the $500 to $700 range and this BBQ popped up with awesome reviews! I had to set this up outside in -23 temps but it went together amazingly easy! Have not tried the sear burner yet but it gets up to temp really fast and cooked my New Years steaks beautifully! I am really happy with this beautiful BBQ and the glass screen allows you to see inside without opening the lid to check on the food :-) I would highly recommend this BBQ
Date published: 2021-01-02
Rated

4

out of

5
by
firsttimegriller
from
Decent Product
This gas grill gets the job done and is a nice size to feed your family. It also looks great on the back porch. The burners heat evenly and the food comes out looking and tasting great. The reason why this did not get 5 stars from me is because you can not control the temperature of the grill. Once the top is closed, the grill heats up to 400 degrees easily on its lowest setting with all burners on, so you have to keep an eye out on your food. This is my first gas grill so it's a bit of a learning curve. Cleaning the grill has proven to be complicated as my wife sliced her finger while trying to clean the inside of the grill due to the sharpness of the edges. We are currently looking into more efficient ways to clean the inside. Hopes this helps!
Date published: 2020-07-04