Description
Cap off your look with the perfect crown moulding by Metrie. It comes primed and ready to install and is an easy way to add character to any room. A great way to save time, this crown moulding can even make your ceilings seem higher! Install it over any fireplace mantle, architrave, or the heading above a door or window. You can also encase it at the top of a column. This crown moulding is made of MDF, a lightweight material that looks like wood but has better humidity resistance. Dimensions: 8 ft. x 3 5/16 in. x 1/2 in.
Used to soften the transition from wall to ceiling while adding a distinctive look and charm to your room
Flat, smooth surface that is uniform, dense and free of knots or grain patterns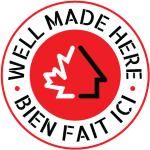 Product specifications
Finishing nails or brad nails
Manufacturer Color/finish
MDF Pre-Painted Crown Mold 15mm x 3-5/16 x 8'
Frequently bought together
What does x mean, not flexible, paintable ect.?