Description
Complement your living area design with this Metrie interior door. Its raised-panel profile and textured lines add a classic appeal to any decor. The primed internal door has a base coating that takes on additional coats. Paint or stain its smooth exterior to match room theme colours. Made tough, this hardboard door is durable. Its honeycomb core withstands direct impact to support installation in busy areas. The 6-panel interior door has a classic look that gives any living area traditional undertones. With a light build, this hollow-core door offers high workability for fast and simple DIY installation. Its composite construction resists warps and cracks to limit structural defects. Crafted from recycled wood, it's eco-friendly to enhance sustainable use. The door comes with a 1-year limited warranty.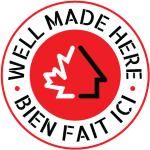 Frequently bought together
Can I cut 2 inches off the height.