Description
Metrie's painted MDF Complete(R) shiplap adds the finishing touch to your interior decorative projects in very few steps. The boards are pre-painted so you can quickly complete your DIY projects. Measuring 0.5 in x 5.5-in x 8-ft, it is suitable for walls as well as ceilings, since it can be installed vertically or horizontally. The shiplap perfectly complements bedrooms, bathrooms, hallways, kitchens, and any room with a classic or modern style.
Transform a space without the hassle of painting
Metrie Complete premium, pre-painted, MDF wood composite
For indoor use only
Pre-painted solution that saves homeowners time and money, while offering a high-end looking result
No paint prep, or paint to clean upujust install and you?re done
Pair this product with the Metrie Complete packaged finishing kit (includes a wax stick, scraper and buffing pad) and Metrie Complete color matched caulking
Use alone or combine with other Metrie pre-painted MDF wood composite products to create a unique built-up pattern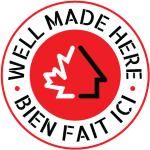 Product specifications
Manufacturer Color/finish
5.5 In. x 8 Ft. Pre-Painted MDF Shiplap
Is this just primed? Asking because i'm not sure if I still need to paint it white even though it is white already. I know dust/dirt sticks more if it's only primed and not painted 
Yes, paint it. Looks great when done.
Date published: 2022-07-01
I need 100 sq feet of shiplap hi ow many of these should I buy? 
Each piece is approximately 3.66 square feet, so you would need about 28 pieces for 100 square feet. Of course you will need to consider waste so add about another 10% or about 3 pieces for a total of 31 pieces. 
Date published: 2022-05-07
Putting shiplap on ceiling and some spots the 2" brad nails are not holding it up tight even with glue,what can I do to get them up tighter.Also if taking popcorn ceilings off do you have to take it all off.
We put our shiplap right over the popcorn ceiling... I was tired of scraping it off the 4 previous ceilings and wanted to try something different. Mark all your joists and use 2" brads on the face then putty the tiny nail holes and paint. Did it 2 years ago in guest suite and it's holding up beautifully!! And gets tons of compliments. 
Date published: 2022-02-11
Could this be glued over a large mirror, about 4 by eight?
Not sure.  Maybe remove the mirror! … I glued and nailed having checked where the joists were
Date published: 2021-11-27
even though this is a painted product .........I`d like to repaint with an off white. does anyone know what type of primer should be used ?Latex or oil?
I used oil primer on all my cut ends.I believe it comes already primed for painting 
Date published: 2021-11-22
How do you prepare the product to protect it from steam/water damage when using in a bathroom? Is painting with bathroom grade paint prior to install sufficient?
Yes, even though it looks good primed white, if you want it to be more durable and stand up better for moisture, we painted two coats of regular bathroom paint and it's been holding up great.
Date published: 2022-03-25
How thick is the shop lap?  Is it 1/2"?
Yes
Date published: 2021-04-17
I want to attach a live edge shelf using a floating shelf kit to the wall that I built with this shiplap (MDF wall plank). Can you hang heavy items on this or would I need to anchor into the wall or stud? The shelf is quite heavy
This is just my opinion, but since the shelf is heavy I would anchor it into a stud. While I am happy with the shiplap (used on a ceiling) MDF does not have the same holding strength as wood.
Date published: 2021-04-09
Metrie Complete(R) MDF Painted Shiplap Paneling - 1/2-in x 5.5-in x 8-ft
is rated out of
5
by
71
.
Rated

3

out of

5
by
JasonM
from
Easy to work with but has its issues
The Shiplap is easy to install and the fact that it is pre-painted is a huge plus. I used the Metrie finishing kit and the color match caulking to finish everything off. However, I was very disappointed to see that a couple days later, the ends of the Shiplap I cut and caulked had absorbed moisture from the caulking and discolored the boards (see pictures). The gaps I caulked were very thin but since this stuff is made of basically paper it absorbs moisture very easily. If Metrie sold a color match paint I might be able to touch the edges up but unfortunately they don't. Overall I really like the way the wall came out, just disappointed with some of the edges.
Date published: 2022-01-02
Rated

5

out of

5
by
Redlizzy
from
Instant Charm
We just installed this on two wall in our basement. At first glance we thought the boards were expensive, but the look you get upon completion is well worth it. No painting required, so a savings there. And no fussing with spacing the boards, just make sure your first piece is level and you are good to go. (we checked level a few times as we went and all was good) We did the two walls in one day. I highly recommend buying the finishing kit to fill and smooth the nail holes as you go. We went with no seams so we had a lot of leftover pieces. We were able to do a small alcove in a bedroom with these pieces. (so a bonus and nothing wasted) We also bought during the no tax event so saved a bit of money there too. Highly recommend this product
Date published: 2018-07-18
Rated

4

out of

5
by
Kimberly
from
I installed on my ceiling last week. Halfway through I noticed some of the end seems were uneven and started using a board with a wash cloth on top to hold the ends up while the glue dried. I have not filled in the nail holes or seams yet but have the coordinating kit, can't wait to see how that looks. I already love it as is though. There was some boards that were damaged and had an uneven paint job that I almost returned. I ended up being able to use them for my shorter pieces. Time will tell if it is durable for the years to come.
Date published: 2021-05-03
Rated

5

out of

5
by
EricW137
from
Is there ever TOO much shiplap?
I have to admit, I thought my wife was crazy when she first talked about this idea. I thought it would be difficult. I was so wrong. It was super easy really. It took us a Saturday & Sunday to complete but it made a HUGE difference in the rooms. They look larger, brighter and NEW! The fake beams are made out of 2x6's. They were distressed, torched and then stained and varnished. They were simple as well. This shiplap is very easy to work with and the baked on paint gives a nice shine, bright white and slick finish.
Date published: 2021-03-09
Rated

5

out of

5
by
ST1970
from
Awesome! Beautiful!
We used this shiplap to update our fireplace. The outcome is so beautiful! It was very affordable for a small space and was easy to install. The most difficult part were adding edging (separate product) at the side and top.
Date published: 2019-05-02
Rated

5

out of

5
by
RWinn
from
Looks great and easy install
Did a laundry room renovation and used the shiplap along the back wall. Started at the top and worked my way down, used two brad nails at each end. Not having to worry about spacing makes for quick going once you get started. Didn't paint as the finish on the boards was great.
Date published: 2019-01-14
Rated

4

out of

5
by
Caso
from
Good product. Looks great. Check for water damage!
Product looks great and is easy to work with. The manufactured ends must be cut off in order to remove less-than-ideal edges. Also, inspect EVERY board before buying. Some had water damage and had to replace. Lowe's was great to work with, it was just a hassle (time) to take them back and replace.
Date published: 2021-05-18
Rated

5

out of

5
by
Erika
from
The best value and quality!
This shiplap was amazing. Already printed and painted white so ready to hang with zero additional work required! Also, as if that's not great enough, these are HALF the price of non painted shiplap at other stores, HALF! Amazing value and amazing product. Ordered 6 bundles and out of all this boards only 1 wasn't perfect.
Date published: 2021-12-21