Description
Charge your tools with this MultiVolt AC adapter. It features a 20 ft L cord for covering far-to-reach places. It comes with an option to choose between a MultiVolt AC adapter and a MultiVolt battery. The power tool battery adapter produces a maximum power of 2000 watts. It is suitable for use with generators and extension cords.
ALL DAY RUNTIME: Use the AC adapter with power cord for all day runtime on MultiVolt tools
MULTIVOLT: Power source option for the MultiVolt power tool platform that offers the power of a corded tool
AWARD: 2018 Pro tool review innovation award winner
CONTINUOUS OPERATION: Provides continuous operation when power is available giving the user the option to plug in and continue working without having to worry about battery charge
USE WITH GENERATORS: Can be used with generators or long extension cords with little to no power loss
CORD: 20 foot cord gives the user more maneuverability when in use
PIVOTING CORD: Pivoting cord position from 90 to 180 degrees to ensure a more comfortable operation for the tool in use
POWER: Input power source is single phase av 120 V/60 Hz and produces a maximum power output of 2,000 W, which results in similar (sometimes superior) power as traditional 15 Amp AC tools
SAVE BATTERIES: When power is readily available, choose to use the MultiVolt AC adapter and reserve the MultiVolt battery for when you need portability to suit the application
Product specifications
Brand/Model Compatibility
Power tool battery adapter kit
Frequently bought together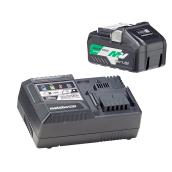 METABO HPT
Metabo HPT MultiVolt Hybrid Li-Ion Battery Charger with Battery - Fast Charging - Built-In USB - LED Light Indicator
Format 36V
Details
Article #37815195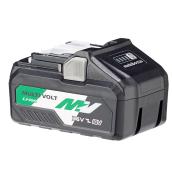 METABO HPT
Metabo HPT MultiVolt 36-Volt 4Ah Lithium Ion Battery - 4-Stage Fuel Gauge - Multiplex Circuitry Protection - USB Port
Format 36V
Details
Article #37815188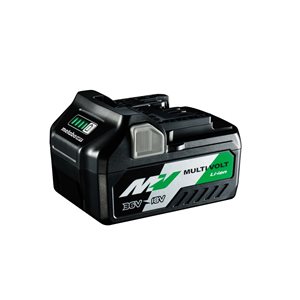 METABO HPT
Metabo HPT MultiVolt 36 V/18 V, 2.5 AH/ 5.0 AH Lithium Power Tool Battery
Details
Article #330989757
Does it work on the old Hitachi 18V tools?
Hi there. No, this AC adapter only works on Metabo HPT 36V cordless tools. It does not work with Hitachi or Metabo HPT 18V tools. Hope this helps.
Date published: 2021-07-30
Metabo HPT MultiVolt 36-Volt Hybrid Li-Ion Battery Adapter Kit with Charger - 20-ft Cord - 180° Pivoting Cord
is rated out of
5
by
89
.
Rated

5

out of

5
by
Joemontague1982
from
Life saver
I've been using this ac/dc adaptor for a few days now and it comes in handy Especially if your in a shop setting where having cords is no big deal!!! I can't believe other companies have not done something like this it's a life saver if your on a job and your batteries are dead you can just plug in the adapter and keep on working it's probably not something you want to use on the drill or impact but for the higher demand tools such as the sds max, circular saw, or the Reciprocating saw it makes total sense you can have unlimited runtime!!! Metabo hpt is kicking butt right now and I highly recommended taking a look at there tools!!!!
Date published: 2019-01-16
Rated

1

out of

5
by
Nomad
from
Really great idea not thought well through
[This review was collected as part of a promotion.] Pros:Extra long cord that I believe no other manufacturer of dual voltage system provides. Cons: Overheats all the time the cooling fan inside the adapter runs almost all the time even if the tool is not running. Which leads to the adapter burn out I had to buy another one cause original burnt out. An it doesn't matter if you using it on table saw for long ripping cuts,or just in miter saw to do quick cuts. In order to prolong the life of it I have to remove it from the tool to stop the fan from running all the time. That's why I use batteries all the time
Date published: 2021-07-20
Rated

5

out of

5
by
Benjamin
from
Great feature!
[This review was collected as part of a promotion.] This is a game changer! I literally have switched to Metabo HPT for the mere fact that they offer the ability to use a cord over battery. Its just a no brainer. To have that option unleashes so many possibilities for so many scenarios, it's unreal. Great tools and great warranty/customer service on top of it all. Absolutely! Buy it, that's all I can say.
Date published: 2019-06-03
Rated

5

out of

5
by
Peteyqq
from
Life Saving If Your Battery Dies
This is the best idea I have seen in years. No other brand has this. It is one thing to have a cordless tool, but now have an option to keep working if your battery runs out of juice.. WOW... Hitachi was great and Metabo is an extension of that. Great quality and performance. Metabo has followed in those footsteps. Now this one battery runs all their cordless tools... Can't ask for better than that. Metabo is offering a variety of tools that run off the same high power battery. The tools that I have bought are high quality and reasonably priced. They look just as good if not better than old Hitachi line. I was hoping this was the case and I was right...
Date published: 2019-03-25
Rated

5

out of

5
by
Johnson
from
Never had to use it!
[This review was collected as part of a promotion.] This adapter is one of the reasons for getting a full line of the Metabo HPT 18/36v tools. The best part about this adapter is that I've yet to need it in the past two years! It sits on my shelf, just in case. I purchased several extra batteries, as well as the ones that came with some of the tools. There was one job that I could have used it but didn't. I was ripping a 3 1/4" x 3 1/4" section out of a 6' long fir beam using my table saw. If you don't want to purchase extra batteries, this adapter is a good alternate option. Also could be useful if pushing the table saw, or grinder to their limits.
Date published: 2021-06-28
Rated

4

out of

5
by
Greg B
from
Amazing Solution to fast Battery drain
[This review was collected as part of a promotion.] I purchased for my 36v 7-1/4 Multivolt saw as the battery performance was good, it wasnt as good as I needed in some situations. This is a game changer if you have AC power available. It has a nice robust cord, and its much more lengthy than most (in excess of 10' Makes the saw available at all times without having to switch out batteries. Only things negative I have to say, and they are minimal, the fan on the battery connection runs pretty much full time and its mildly loud. the Transformer box near the plug in side is a little big and bulky and not very portable
Date published: 2023-07-12
Rated

5

out of

5
by
michael m
from
Turns Cordless Into Corded!!
[This review was collected as part of a promotion.] I allways had to carry a corded version of critical tools in my truck in addition to my cordless ones. The convenience of corded tools is great, but when the batteries run out when Im doing a lot of work, I have to have one I can just plug in and keep going with. The AC adapter changes all that. I can just slap it on the cordless multi-volt 36v tool and keep going. Its the best of both worlds. On top of that, its a lot lighter than a multivolt battery and comes in handy when doing a lot of overhead work. The only downside other than having to plug in is that the tools are slightly less powerful when run off the adapter than off a battery. But most of the time you never notice.
Date published: 2022-02-07
Rated

5

out of

5
by
consumer200568
from
Fantastic option when outlets are available!
Bought this with the 36v 7-1/4" circular saw. This is why I bought the saw. I suspect it would be harder to stall the saw with this versus the 4ah/8ah battery.(2000w output vs 1440+ for the big battery, but now one will confirm or deny..) This works so well with this tool, I am very impressed with the thoughtfulness and engineering behind this piece. It alone makes getting into this lineup. The quality and performance as well as an option that NOBODY else has is a huge plus. Fan for life, go big green!
Date published: 2021-09-10