Description
The Metabo HPT sliding compound dual bevel mitre saw rotates at a maximum speed of 3800 RPM and is designed to deliver a professional finish. It is equipped with a zero rear clearance slide system that decreases the footprint of the saw, enabling the saw to sit flush against a wall or on a benchtop without compromising the range of movement. The adjustable laser marker and LED light give the user accurate cuts and visibility right where it's needed. The saw also features frit upfront bevel lock for quick and easy bevel adjustments along with mitre detent override for faster transitions between mitre angles. This saw is backed by a 5-year limited warranty.
Product specifications
LED light, laser marker, and front bevel lock
Sliding compound dual bevel
Frequently bought together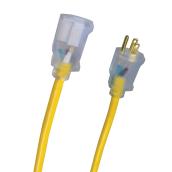 WOODS
Woods 12/3 Extension Cord 25' Yellow
Format 12/3 25'
Details
Article #74045239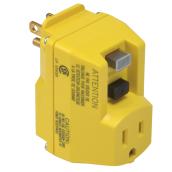 YELLOW JACKET
Single Outlet Portable GFCI Adapter - 1800 W - 15 A
Details
Article #32045050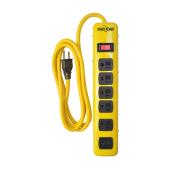 YELLOW JACKET
6-Outlet Power Bar with Surge Protection - 6' - Yellow
Format 1.8M
Details
Article #32045053
Compound Dual Bevel Mitre Saw with Laser - 10" - 3800 RPM
is rated out of
5
by
35
.
Rated

3

out of

5
by
Cwsooner
from
A good saw overall
The saw cuts and works fine. The best part of this saw to me is the bar slides and the placement of them. This is the main reason I bought it plus the price and in the past Hitachi has had a good reputation.There are two problems I have with it though. One, it is not on the spot accurate at 90° within the detents. I can make it square by moving the arm to the right just out of the detent and lock the arm down. The arm can be knocked out of square though. The measuring plate can't be adjusted to bring the factory detent into square. Two, the dust collection is not very good. I don't really use the laser or light.
Date published: 2018-08-29
Rated

1

out of

5
by
NorthernJerseyVic
from
Fence is not square
I just bought this saw within the last hour; March 27, 2019. Got home and based on other reviews I immediately unboxed and checked for square. The machining on the fence causes (or the way the fence is tightened) it to go out of square. I've packed it back up and will be returning it to the store. I'm also not fond of the play in the miter detents. I wanted this saw for a long time. The features are awesome. Bevel lock on the front which is easily accessible; No reaching around the back to make bevel adjustments. The zero clearance slide. Who doesn't appreciate that? I wanted to love this saw. I didn't make one cut with it. Not worth my time. Hitachi is a good name. Too bad they opt for profit over quality. You can have a quality product AND make a profit. If the saw was $100 more, and perfectly square...I'd buy it. Until then, I guess I'll have to purchase another brand. I've got photos of the problem with this saw but no way to attach them to this review.
Date published: 2019-03-27
Rated

5

out of

5
by
Judge219
from
Great Saw
I bought this saw to replace an older model that I can't get parts for anymore. My older saw had been rebuilt/ refurbished three times and I bought it used. I am Thoroughly satisfied with this newer version. I really like the fact that I don't have to reach around the blade to adjust the bevel plus the fact that the saw slides ion the rails...not the saw and rails sliding through the base. As such I don't have to keep the saw so far from what's behind it. The gradual start as compared to the jerking start when I pull the trigger is also a plus. If I had the money I would but another one for home. I thoroughly recommend this product to everybody who is thinking about buying a Good Miter Saw.
Date published: 2019-02-14
Rated

5

out of

5
by
Cody Macdonald
from
Metabo sliding miter saw review
[This review was collected as part of a promotion.] This metabo miter saw is awesome i have been using it for projects around the house. I haven't figured out the laser yet and I have yet to use the dual bevel but that was one key selling feature to me was the dual bevel. Another feature that really sold me on this miter saw is the sliding rails they are stuck in place pointing towards you letting the miter saw slide back and forth on them making it more compact. This makes it to where you can place it as close to a wall as you want without worrying about damaging your wall and miter saw when you slide it back and forth.
Date published: 2022-02-15
Rated

4

out of

5
by
ExtremeZL
from
Honest review from forever Hitachi saw user
First, fence was not of true perpendicular to blade.Easily fixed.Bevel left and right not at a true 45Degree stop, easily fixed.Mine was very rough at swinging the miter with a rubbing noise and feel.I bought this saw as an addition to my C10fsh of 20 plus years which is deadly accurate and has never failed me. The new saw has up front bevel lock / unlock which is my only gripe with my old saw.The rear zero clearance is also a major plus.The laser is as I have read as very finicky and not easily adjustable as my old saw. My opinion is the cheapest part of this saw is the laser assembly, I love the the use of laser alignment and Im disappointed with this feature at this time.Albeit ive only owned it 2 weeks.
Date published: 2019-04-02
Rated

5

out of

5
by
Ozzy Bud
from
Bad reviews making me laugh
Picked this thing yp on clearance, just happened to be in the market for one. First thing i did when i got home was, unbox it and get all gitty for a few. Then start digging for issues. Started checking reviews and found "fence not square" "protruding bolt on fence and not useable" "blade grinding at full bevel". That protruding bolt is actually a set screw to square the fence....... problem solved and actually a nice feature too square the fence. Huge upgrade from my old mastercraft. The zero clearance, dual bevel and laser are great for accurate cuts in tight shops like mine. Definitely preferred mounted or on a miter stand. Im loving this purchase more amd more every day.
Date published: 2021-02-14
Rated

5

out of

5
by
DannyInAustin
from
Great first mitre saw
I am just getting into woodworking and needed a mitre saw. I found this on sale at a very god price. I have not had a chance to use it much yet but so far I am loving it. I especially like the zero clearance feature with the slide toward the front instead of the rear, so that it can be placed against a wall. The only think that I am not in love with is how far the table and miter adjustment stick out the front, but I suppose this cannot be helped and maintain the cut depth. I have not yet used it with a shop vac but the included dust bag seems to do a pretty good job, better than I expected. This saw was a decent buy at the original price but the sale price made it a no-brainer.
Date published: 2018-12-04
Rated

5

out of

5
by
trakpak91
from
Incredible Product With Great Features
I've been wanting a miter saw for several years, and finally bought this Metabo HPT. It was a little intimidating at first, but after I read the owner's manual and started to use it, it couldn't have been easier. I've had a table saw for years, and now I'm kicking myself for not getting a miter saw sooner. This thing is amazing! It's so much easier to use than my table saw for cutting up 2x4's for a project. And I just built a kid's picnic table for my grand daughters, and cutting the pieces for that went so fast I couldn't believe it! I really love the laser and led light on this saw, and it's so versatile in cutting angles. I couldn't be more pleased. I highly recommend it, especially for the price. Even got it one sale!
Date published: 2019-06-18