Description
Thanks to this Maax shower side wall, bathroom renovations have never been this much fun! Whether you're an expert or a first timer, this product boasts a Ulok error-proof system to ensure a smooth effortless installation. This gorgeous soft grey model comes with 1 glass shelf to store all your essentials. It's made of strong durable composite, which means you can add more accessories as needed (sold separately). Lastly, this product is suitable for both corner and alcove shower installations.
Proudly made in USA and Canada by American Bath Group
Installs easily in just 1 day versus 3 days for standard ceramic tile
Wall panels with realistic look and feel of tile and grout
Solid, 1-piece wall panel: sturdy and durable allows for installation of grab bars and other accessories
Direct to stud installation
Mistake-proof Ulok installation system allows you to perfectly align the walls, slip them together and lock them into place
No tile or grout protective sealer required for quick and easy installation
Side walls required; 2 for alcove or 1 for a corner configuration. Must be installed with MAAX acrylic base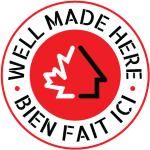 Product specifications
Items Required For Standard Installation
Electric drill, 1/8-in drill bits, hole saw, 24-in level, pencil, screwdriver, safety equipment, utility knife, measureing tape, 18-in square, clear silicone sealant, wood shims and box of #8 x 1-3/4-in screws
Manufacturer Color/finish
Fiberglass/Plastic composite
Utile 32-in x 80-in Fiberglass/Polymer Side Shower Wall in Metro Soft Grey
Finished in a glossy sheen this soft tone shade features 12-by-4 inch horizontal subway tiles in a brick pattern with faux grout lines in light grey
Frequently bought together
I have a 32" x 32" alcove, can I get 3 of the 32" side panels and use one as the back panel? I believe the side panels are the part that come with the corner locking parts.
Unfortunately, no - you cannot combine the side panels in this way because the U-lok system will not work properly. If you have any other questions, we invite you to contact our team of MAAX product experts at 1-877-GET-MAAX (1-877-438-6229). Our hours of operation are Mon-Fri, 8am-5pm Eastern time. Thank you for your interest in MAAX!
Date published: 2022-11-23
Is this product able to be cut to accommodate a 36" shower base?
Hello, we do not recommend cutting this product. This will void the warranty. If there is anything we can do to assist you, please reach out to MAAX at 1-877-GET-MAAX (1-877-438-6229). Thank you for your interest in MAAX!
Date published: 2022-06-14
I have a bulk head above my shower area and the max height is 78 almost 79 inches yet these walls are 80 inch. They are perfect but don't fit. Can they be cut or do you have any suggestions on how I could make them fit?
Dear Karenzedd, thank you for contacting MAAX. Unfortunately No. Utile wall panels can be pierced to add faucets and accessories, but they cannot be cut to change the dimensions of the wall panels or cut to fit around a window. Unfortunately the Utile walls will not work for your application. Best regards.
Date published: 2019-10-23
Can you install the utile in drywall?
Hello Ricky1988, Thank you for your interest towards our Utile shower systems. Unfortunately, the Utile shower system must be installed directly to the studs and should not be installed on the drywall directly. If you require any additional information regarding the installation, please contact us at 1-877-438-6229 OPT 2 OPT 2
Date published: 2018-06-22
do you make this for bathtub surrounds also?
Hello and thank you for inquiring about MAAX Utile products. Yes, we do make Utile walls for bathtubs. MAAX Utile tub wall kits are made to fit selected MAAX bathtubs. Regards,
Date published: 2018-06-13
Can I connect two 48" panels together?
Hey Trish, I've only installed 60" back panels with 30" sides in one application and 32" sides in another application. The sides have a flange at the side allowing attachment to the back panel at one side and the wall studs at the outer edge. The back sections have a flange at the top, allowing it to be screwed to the studs. The side of the back sections have no flange, instead having pre-drilled holes for the hardware to be attached. This hardware, in turn attaches to hardware on the side pieces. So in short, I am 99% sure you can't attach two 48" panels. Bryan
Date published: 2018-04-30
does the 60 inch back wall come with side walls or is this ordered separately
Hello Judy, Thank you for inquiring about MAAX Utile products. The back wall does not come with the side walls. Those would need to be ordered separately. Regards
Date published: 2017-10-27