Description
Turn your bathroom into a real oasis with the sandy hues of this Maax Sahara back wall panel. This natural-stone-like product benefits from a direct-to-stud installation, which eliminates the need for messy grout, maintenance and periodic repairs, this minimizing the risk of leakage. With a solid composite construction and a 10-year residential warranty, you can rest easy knowing this product will last you for years to come! It even comes with its own glass shelf.
Proudly made in USA and Canada by American Bath Group
Installs easily in just 1 day versus 3 days for standard ceramic tile
Polymer surface with multilayer reinforcement; cleans quickly and easily
Solid, 1-piece wall panel: sturdy and durable allows for installation of grab bars and other accessories
Direct to stud installation
Mistake-proof Ulok installation system allows you to perfectly align the walls, slip them together and lock them into place
No tile or grout protective sealer required for quick and easy installation
Side walls required, 2 for alcove or 1 for a corner configuration. Must be installed with MAAX acrylic base
Includes 1 glass shelf, additional shelves sold separately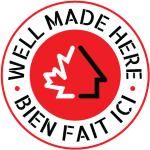 Product specifications
Items Required For Standard Installation
Electric drill, 1/8-in drill bits, hole saw, 24-in level, pencil, screwdriver, safety equipment, utility knife, measureing tape, 18-in square, clear silicone sealant, wood shims and box of #8 x 1-3/4-in screws
In-use image; accessories not included
Manufacturer Color/finish
Utile 60-in x 80-in Fiberglass/Polymer Back Shower Wall in Stone Sahara
Comforting and confident warmth radiates from the sandy hues of Stone Sahara also features a narrow mosaic border with complementary brownish, blue and gray tones
Frequently bought together
Can this material be cut?
Hello, we do not recommend cutting this product. This will void the warranty. If there is anything we can do to assist you, please reach out to MAAX at 1-877-GET-MAAX (1-877-438-6229). Thank you for your interest in MAAX!
Date published: 2022-06-14
We have purchased the Maax Utile Sahara back and side panel for our 5' x 4' shower. The base is a poured concrete base with a Mosaic tile covering. We are waiting for missing parts. Can the panels be installed on this base.
Hello Andy, We thank you for your interest towards our Utile walls. Unfortunately, the MAAX Utile products have only been tested on a few specific MAAX models and we cannot guarantee they would fit on any other shower base or even on a concrete base. If you have any further questions, please do not hesitate to call us at 1-877-438-6229 OPT 2 OPT 2
Date published: 2018-10-19
If going with a shower type 48W x 32D what base options are there or recommended. Would the Sterling 48W x 34D work?
Good day, Actually, we cannot suggest bases made from other manufacturers as we did not tested the walls with them. For the Sahara, we suggest the Olympia Square 4832 (model 106011-001-000) or the B3Square (model 420001-501-001) You can see these models on our website : www.maax.com For more information, please contact us at 1877-438-6229 opt 2 opt2 Thank you, Have a great day
Date published: 2017-10-11
Can 2 60" walls be used with a Kohler Co1161 Tercet corner soaking tub
Hello Addy. We've only tested Utile walls with specific tub models that we produce therefore we can't guarantee that Utile walls will fit models from other brands.
Date published: 2017-08-11
I have a 32x32 shower with one acrylic wall cracked. The base and sliding doors are still in good condition. Can I use 2 panels to form the walls and attach to the studs?
Hello Dony. The Utile walls can only be installed onto recommended MAAX bases and tubs due to the specifications passing compliance tests. Unfortunately we can't recommend using the side panels with your base.
Date published: 2017-06-05
Can they be cut? My tub is not level and the space is only 59 inches?