Description
This tub shower from MAAX's Essence collection is perfect for your bathroom renovation project. It is made of ultra-strong fiberglass with a glossy finish, which makes it easier to clean. It comes in 4 pieces and it includes large corner top shelves, a wide soap dish and a standard acrylic handle. Easy to install, it features the PIN system which makes for a perfect alignment with the walls. This product is backed by a 5-year warranty. Proudly made in Canada.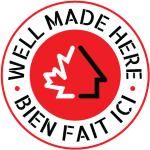 Product specifications
Base Warranty Labor(Months)
Base Warranty Parts(Months)
Manufacturer Color/Finish
bonjour la largeur du bain au centre est elle 30 pouce aussi ou il y a une courbe qui ressort. merci
Bonjour Isabel 607, 30'' est la l'argeur du bain a l'extérieur, l'intérieur est de 23'', Merci!
Date published: 2021-01-29
Les mur sont t'il pareil et peu tu être installer sur une baignoire gauche ou droite
Bonjour Mick20, oui les murs pour une baignoire gauche ou droite sont les mêmes, Merci!
Date published: 2021-01-09
Pourquoi le bain n est il pas profond et pourquoi ya si peu d espace pour le corps ? Le module ye tellement proche que suis obliger de croiser les bras...vraiment pas un bon achat
Bonjour Jean-François..Les bains douches Essence on tous ce profondeur et largeur et c'est un excellent produit sur le marché depuis plusieurs années et on est désolé d'apprendre et de savoir que vous n'êtes pas vraiment satisfait a 100% du produit..vous pouvez toujours contacté le Dep. des Bains Maax au 1-877-438-6229 et parler a un agent concernant votre bain douche..Merci Beaucoup!
Date published: 2020-07-29
Il y a déjà de la céramique au mur. Est-ce que ça peut être posé par dessus la céramique?
Bonjour Ofof, je suis désolé ce produit n est pas fait pour etre installer sur la ceramique juste directement sur les montants. Merci
Date published: 2020-04-29
comment savoir comment commander drain a gauche ou a droite ,,
Bonjour Sici, pour l uniter avec un drain a droite le numero de modèle est 148006000002295 pour un unité avec le drain a gauche le numero de modèle est 148006000002294 Merci
Date published: 2022-04-04
Peut-on installer une porte coulissante
Bonjour, Oui il y a plusieurs portes compatibles. Svp suivre ce lien: https://maax.com/fr-ca/product/essence-ts-6030_148006 Merci et bonne journée
Date published: 2019-11-26
1)Est-ce que le fond de la baignoire est pourvu d'un anti-dérapant ou sommes -nous obligé d'ajouter un tapis de caoutchouc ? 2) Est-ce que les différentes pièces du bain douche (4) s'installent sans scellant? Merci pour votre attention
Bonjour et merci d'avoir contacté MAAX. Non le fond du bain n'est pas pourvu d'un anti-dérapant. Cette unité s'installe avec du scellant (Appliquer du silicone tout au long du dessus de la base ou baignoire et autour des trous des tiges de positionnement et des trous de boulon). Pour plus d'information svp appeler le 1-877-438-6229 OPt 2 + 2. Merci et bonne journée
Date published: 2019-11-13
Maax Essence Tub Shower with Left-Hand Drain - 4-Pieces - Acrylic - White - 60-in x 30-in x 78-in
is rated out of
5
by
5
.
Rated

1

out of

5
by
sean233
from
Not worth the money
I bought one two years ago, after it was installed a part of the tub where you stand felt soft. Finally it cracked and the fiberglass is very thin int the cracked area. If you are looking for something to last dont buy this product
Date published: 2020-08-12
Rated

5

out of

5
by
Gono
from
Adieu la céramique!
C'est la troisième fois que j'achète ce type de baignoire fabriquée par MAAX (évidemment pour trois salles de bain différentes). Très satisfait. L'installation est plus difficile dans une salle de bain existante que dans une SDB en construction. Mais le résultat vaut bien les efforts. Le guide d'installation est clair et précis. Une recommandation: faites le tour des centres de construction, des aubaines vous attendent.
Date published: 2021-11-06
Rated

2

out of

5
by
Chouchoue
from
Ont se cogne les coudes!
Déçu de se sentir a l'étroit et tres difficile de se relever du bain a cause de manque d'appui côté de mur …
Date published: 2022-04-07
Rated

5

out of

5
by
Donald 11
from
Super beau produit.
Très content de mon achat c'est ce donc que l'on voulait poser dans notre rénovation de salle de bain
Date published: 2023-03-14
Rated

1

out of

5
by
Juli78
from
It sucked
Nothing matched up and had to configured the hole shower Suround.
Date published: 2022-11-18