Description
You'll love this Careston interior rug by Korhani Home. This high-quality product is made of microfibres that have a great hand feel. Its stylish contemporary and luxurious design is perfect for any decor. This rug is long lasting.
Luxurious woven micro construction in gorgeous tonal patterns
Durable and soft to the touch
Made in Canada
Antimicrobial protection with two year protection warranty
Inhibits the growth of mold, mildew and bacterial for a fresher rug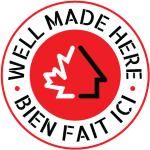 Product specifications
Spot clean with mild detergent
Common Measurement (W x L)
Made from Recycled Material
Manufacturer Color/Finish
What is the pile height on this rug?