Description
Complete your tool kit with this set of 6 mini pliers. Drop-forged chrome nickel steel. Hardened precision jaws for enhanced grip and durability. Over-molded grip.
You may also like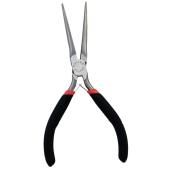 FULLER
Fuller Steel Miniature Needle Nose Pliers - Black/Red - Cushioned Grip - 6-in L
Format 6"
Details
Article #0121569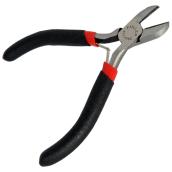 FULLER
Fuller Diagonal Cutter Pliers - Leaf-Spring Mechanism - Slip-Proof Grip - 4 1/2-in L
Format 4 1/2"
Details
Article #0121568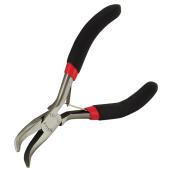 FULLER
Miniature Pliers - Curved Nose - 5" - Black and Red
Format 5"
Details
Article #0121571
Kobalt Mini Pliers Set with Pouch - Steel Pack of 6 - Blue and Black
is rated out of
5
by
90
.
Rated

1

out of

5
by
Nelson
from
Disappointed
After purchasing mini pliers in a four piece set four years ago one pair broke returned them to lowes for replacement only to find out they weren't sold individually had to be replaced as a set. Next problem was the four piece set was no longer available only a six or twelve piece set therefore could not be replaced. The pliers are still offered in both the six and twelve piece sets but couldn't be opened to honor warranty. Don't be fooled by kolbalt LIFE TIME REPLACEMENT warranty if they change set sizes warranty is no longer good? Makes me wander if the numerous kolbalt tool sets purchased over the years was a mistake due to not seeing them on the shelf anymore.
Date published: 2017-02-26
Rated

5

out of

5
by
RAB
from
Great set of small pliers for electronic work
I just purchased this set of pliers for use in electronic assembly and for trimming supports from 3D printed parts. It is exactly what I was looking for at a great price. The spring action of the pliers is also a nice feature. The grips on these are also better than others I have used. The case is an added benefit for keeping them all together. I constantly seem to misplace one or two from a set that I got 40 years ago so hopefully this case will keep them organized and in one place where I can find them.
Date published: 2017-04-23
Rated

3

out of

5
by
TrevJonez
from
Pretty rough product, kobalt is slipping
[This review was collected as part of a promotion.] The finish quality of the tool is pretty bad, the used to polish and seal these small pliers, now they are just rough ground and sold. They don't clean up the gripping face of the pliers, it is raw scale from the forging process. Great materials terrible follow through on the production quality. If you need pliers for precise or delicate work, get something better. if you just need something for tinkering in the garage and don't want bottom shelf quality these are a perfect fit, but not as nice as what kobalt tools once were.
Date published: 2018-09-25
Rated

1

out of

5
by
Wade
from
Poor quality
These were a disappointment. End-cutters (or nibblers) don't work if the ends don't meet when you close them … The finish on several of the pieces in the kit I purchased was exceptionally poor. I noticed the price of the kit recently dropped significantly and I'm curious if Lowe's has switched to a new provider. Maybe they're attempting to reach a price point to compete with Harbor Freight? Personally, I'd pay $10 more for tools that work.
Date published: 2018-06-19
Rated

3

out of

5
by
OldNavy
from
Lightweight toys
[This review was collected as part of a promotion.] Initially I was very disappointed in the quality of this plyer set, but I got a wire brush and file and cleaned off all the milling tracks and debris and they cleaned up nicely. They had a strong resemblance to junk that I have bought at Harbor Freight. They seem to be a good set of pliers for now, but absolutely not for heavy use. More of a crafter type tool than mechanic. I was really surprised that they have the Kobalt name on them considering the quality.
Date published: 2018-11-26
Rated

3

out of

5
by
Kim
from
Looks to be ok but packaging/quality could improve
[This review was collected as part of a promotion.] The set comes in a plastic shell. When you cut it open, you get the bag and six mini pliers. The bag is low quality and already had the stitch undone without me even using it. Also the bag is very small, only way to fit all 6 is to overlay pliers on top of each other which makes accessing things very hard. Also one of the pliers was dirty. Not sure how that happens when it came straight out of plastic shell packaging. The factory must be dirty or soemthing. Didn't give me confidence of the set. Since these problems were not really a functional issue, I just kept it(also it's so cheap...), but wouldn't really recommend.
Date published: 2019-12-18
Rated

1

out of

5
by
E
from
Dissapointed
I had high hopes for these pliers when I picked these up on sale. I was very disappointed when I started to use them. I was using them pliers to take off a clamp and noticed it kept slipping. That's when I noticed the pliers don't have grooves to grip the material, instead it has a flat surface. No wonder the material wasn't gripping. Instead of going in my toolbox, they are going in the trash.
Date published: 2018-07-23
Rated

1

out of

5
by
garett
from
not quality metal
Unfortunately this toolset is not well made. I used the needlenose pliers to grab a carter pin and instead they bent. I am a firm supporter and can firmly tell you that kobalt has great tools all around but these unfortunately were not.
Date published: 2018-08-15