Description
Lawn care has now become easier with this Kobalt® combo 40 Volt MAX cordless lawnmower/string trimmer. The simple electric start makes it easy to use and eliminates the hassle of gas. The 16-in lawnmower paired with a straight shaft trimmer is the ideal equipment for 1/2 acre grounds. Devices powered by a 40-volt lithium-ion battery system offer increased performance and longer life. The mower features 2-in-1 mulching and bagging function, 8-in front wheels and 7-in front for more maneuverability. The straight shaft cordless trimmer/weed cutter features a variable speed trigger that allows users to control speed and power and easily converts to trimmer mode. This trimmer is also equipped with a spool and a 0.80" bump feed line that cuts thick grass and weeds in no time. The set includes (1) battery (1) charger (2) tools. This product is CSA certified and covered by a 5 -year limited warranty.
40-volt lithium-ion battery system for greater performance and run time
The mower has a durable 16 inch cutting deck which offers 2 in 1 mulching or rear bagging capability
The string trimmer has a 12 inch path and uses a dual line

Ecological Attributes
Using an electric tool generates significantly fewer greenhouse gases (GHGs) and air pollutants than a conventional model using gasoline.
Product specifications
Base Warranty Labor(Months)
Base Warranty Parts(Months)
Battery Recharge Time(hrs)
File/Certification Number
40 V 16 In. Lawn Mower and String Trimmer Combo Kit
Number Of Batteries Included
Frequently bought together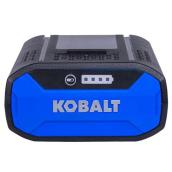 KOBALT
Kobalt 40-V 4 Ah Lithium-ion Battery for Cordless Tools
Format 4.0AM 40V
Details
Article #45595074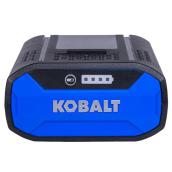 KOBALT
Kobalt 40-V Lithium-Ion Battery - 6 Amps
Format 40V
Details
Article #45595054
How long will the battery last before it has to be replaced 
Under normal usage about an hour before it needs charged 
Date published: 2020-05-18
Does it come with the bag?
Hello there, Yes this lawn mower is packaged with the grass collection bag.
Date published: 2020-05-18
We have a few elevated areas, this lawnmower is not self propelled correct?
Hello there, No this lawn mower is not self-propelled.
Date published: 2020-05-18
Does this come with 1 or 2 batteries?
It came with two when I bought it
Date published: 2020-05-18
Is the free battery extra battery.
No, it comes with only one battery. I can cut my whole lawn with one charge. 
Date published: 2020-05-18
Has anyone used this mower with a power rake blade installed?  Wondering if it has the power for it?
I havn't but for small jobs it should do OK.
Date published: 2020-05-18
How many batteries does this kit come with 
Hello there, This combo includes Includes (1) Lawn Mower, (1) String Trimmer, (1) 40-Volt Lithium-Ion Battery, (1) Battery Charger.
Date published: 2020-05-18
It this a single or dual blade lawnmower?
This is a single blade lawnmower
Date published: 2020-05-18
Kobalt 16-in Lawnmower/13-in String Trimmer - 40 V Max Li-Ion
is rated out of
5
by
62
.
Rated

4

out of

5
by
pilotter0
from
Very impressed
Bought this recently, only had a chance to use it once, but was very impressed, it handled my overgrown and very uneven yard with no issues, the battery lasted to cut the full yard which took about an hour to cut. The yard was so overgrown that I did cut it twice at different levels (charged the battery between cuts) The trimmer worked quite well as well. In all honesty the only thing I would have changed would have been to have a bigger cutting deck, but I go this as a stepping stone to handle a yard that needs a lot of repair (we just bought the place in the fall). I was not expecting much but was very impressed
Date published: 2017-06-16
Rated

5

out of

5
by
badbobastronomer
from
Easy To Use And High Quality
I bought this Combo Kit on sale this spring for less than $300. The quality seems to be extremely good. One battery charge mows my entire lawn, both front and back yards. The lawn mower cuts through long, wet grass (mulching) and is easy to use because it is relatively light in weight. The materials used to construct the lawn mower seem to be very durable. It is reasonably easy to install and remove the battery and to adjust the cutting height (I prefer the middle setting). The string trimmer came with an extra set of spools which is very convenient. So-far, the dual-line feature works very well and does not seem to give me any problems. The trimmer is very powerful and one battery charge cuts an enormous amount of weeds. It is easy and convenient to recharge the battery and the battery seems to retain its full charge for at least several weeks when stored. I have a little trouble using the string trimmer because it is a bit heavy; all that I had to do was figure out where to place my hands on the trimmer to get the most comfortable grip. If I get tired, I simply rest for a few minutes and then return to the trimming job (I am almost 69 years old). The cord seems to be tough and durable and will cut through thick weeds. I really like the entire package, especially for the bargain price that I paid!
Date published: 2017-07-27
Rated

5

out of

5
by
Gargwin
from
Must Easier Than Gas
I purchased the mower because I was tired of paying for the gas mower to be fixed yearly, and fighting with it to start. By the time the Kobalt mower arrived, the grass was very long. Still the mower did very well even with the damp, foot tall grass, only stalling out twice. The battery stays charged long enough to cut with the mower, and use the trimmer in one shot. My patience, and shoulder, are pleased with the purchase.
Date published: 2017-06-19
Rated

1

out of

5
by
LONDONGardner
from
Battery dies every year, NO HASSLE GUARANTEE?
We were very happy with our purchase 2 years ago, worked great. But at the start of each season we have to get a new battery or get it exchanged. We have gone through 4 already. It is the biggest hassle ever! We did everything that was indicated to use when it came to winter storage and yet again the battery will not charge again (only 8 months old!). On top of that you cannot even buy a replacement battery in Canada! BUYERS BEWARE!
Date published: 2019-05-14
Rated

5

out of

5
by
Aleks Z
from
Really happy with it
I bought this half price ($350) and for that money I consider it a great deal. I never used a battery mower before and was expecting to deal with a short charge but I can cut my small backyard and two town home front lawns, then use the trimmer to finish off, and the battery still shows 3/4 full. It's very quiet, doesn't pollute, and just feels smoother and easier to cut. The edge trimmer is pretty heavy on the other hand and takes a bit of finesse and balancing. The mower stows pretty compact, so for a townhome smaller home I definitely recommend it, it's probably even overkill. I think this works for a typical single home. I hope the battery lasts a few years, that's the real test.
Date published: 2020-06-02
Rated

5

out of

5
by
Bogie5
from
Great machine
I ordered this online and it was delivered free before the expected date. It was easy to put together and the battery charged very quickly. I have a large yard (1/4 acre +) and was able to mow everything in one shot.
Date published: 2017-06-16
Rated

3

out of

5
by
KennyA
from
Website misleading!
I just purchased this today in a Lowe's store here in Edmonton and never really noticed until I got home but the picture that's on the website has a different trimmer than the trimmer I got in the box , I was a little upset with that. Seems a little misleading, has anyone else noticed this?
Date published: 2018-04-21
Rated

2

out of

5
by
Steelbowl
from
Mower and Trimmer
I bought this combo today from Lowes, for $349, itseasy to assemble, well packaged, the mower really feels and looks good. I was taken back when unboxing, there was only one battery between the mower and Trimmer. Shouldn't there be two? The point of the purchase is to get two working products, so right now, I'm not really happy. Basically, you move the battery from charger to mower, then mower to trimmer. Hope you don't want one of the kids to help you, only one at a time. It's perfect, drain the battery even faster so you have to buy more. Maybe my box was just missing one? This rating isn't either going up, another battery was missing and will be replaced or it's going back.
Date published: 2020-05-17