Description
This Kobalt table saw has a powerful 15-amp motor that generates 5,000-RPM to get the job done quickly and effectively. It has a right rip capacity of 30 inches and a left rip capacity of 17 inches to support larger pieces. The sliding tab fence system has a single latch to ensure greater accuracy and fast setting, and the locking mitre gauge allows for a wide array of cross, rip, mitre and bevel cuts. The table saw has a 2.5 in. dust collection port you can connect to a vacuum or dust collector, and the entire unit is wheeled with a quick-folding stand to ensure easy portability and storage.
Product specifications
30'' (76.2 cm) right 14'' (35,56 cm) left
19.56'' L x 26'' W x 34 H
Frequently bought together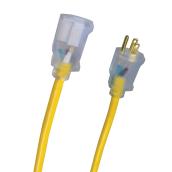 WOODS
12/3 Extension Cord - 25' - Red
Format 12/3 25'
Details
Article #74045239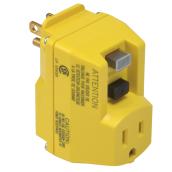 YELLOW JACKET
Single Outlet Portable GFCI Adapter - 1800 W - 15 A
Details
Article #32045050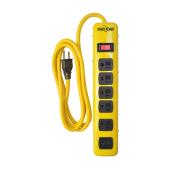 YELLOW JACKET
6-Outlet Power Bar with Surge Protection - 6' - Yellow
Format 1.8M
Details
Article #32045053
Does anyone know the folded down "storage" dimension including the stand?
The folded down storage dimensions for the Kobalt 10" Table saw are: 22" Deep x 24" Wide x 45" High to top of handles.
Date published: 2021-07-21
is the table iron or plastic ?
It's aluminum. This saw is well designed and reasonably well constructed and is excellent value. The mitre is a little loose, but other than that no complaints about it. Don't mistake it for a cabinet maker's saw though, it is what is.
Date published: 2021-03-08
Has anyone tried to use this saw with a dado stack? I notice the manual says you can use an 8" dado stack, but only up to 1/2" wide. It looks a great deal on sale, but I'd need to be able to cut 3/4" dados.
The blade plate is 5/8 wide and would not accommodate your 3/4 dado without modifications 
Date published: 2020-10-15
Is there any of the model of previous Kobalt table saw then the one now? Because the new model I purchase on sale and returned it because it is a lower standards.
KT1015 is the older model with grey color. Google it on lowes.COM website
Date published: 2020-05-09
Is there a zero clearance plate available for this saw?
Can you do fine woodworking with this saw? Does blade arbor have any play in it? I have an 80 tooth finish blade and am wondering if I can get silky smooth cuts or will there be blade marks in the cuts?
Any Rain checks as this saw is out of stock in the entire province? 
Who and where is the Kobalt saw made?
Kobalt 15 A Portable Table Saw - Carbide-Tipped Blade - 10-in
is rated out of
5
by
219
.
Rated

5

out of

5
by
Finishworkguy
from
A well built Saw
I purchased the kobalt table saw in hopes that it would work for the purpose I needed one. This Saw is thus far as well built as a ridged or Maoist counterpart. I've been ripping 2x4 material to 3" widths.Then dado cutting a 5/16" by 3/4" deep channel for installing hog wire handrails for two weeks,and haven't bogged the motor,or had to make extra passes to achieve the desired quality for my rental property. The only issue I had was the stock blade quality.But that blade is for rough finish cuts.As I'm building a fine finish product,I purchased the proper blades and accessories to server the proper purpose.
Date published: 2021-01-20
Rated

5

out of

5
by
Dutch
from
Excellent household saw
[This review was collected as part of a promotion.] You have to be realistic about what your buying and what you expect from a particular power tool. I purchased this saw about three years ago mostly to cut door casings, baseboard and other small projects. As I've broadened my wood working interests and skills, I've pushed this saw beyond what I intended for it and haven't yet come across a job it couldn't handle, though I have to improvise support from my workpiece since the table is on the small side. Assembly was simple and the fold-away legs/handcart make it very portable and easy to store. Apart from my compound miter saw (also a Kobalt, btw), this is the best purchase I've made for my home shop.
Date published: 2019-09-25
Rated

5

out of

5
by
Orzo
from
Light, wide, powerful, compact, accurate and easy
I have a ancient Craftsman in my shop, but it is very inconvenient to use for anything of any size like a sheet of plywood. I tried using a folding table with a skill saw, but that was a disaster (see photo). I needed something I could use in the driveway. This is my first job site saw and I love it. It is very light, but still stable. It wasn't difficult to assemble alone, although I could make a few suggestions to the assembly instructions. I had to rip a sheet of plywood at 24". The fence was absolutely accurate, I set it to 24" and that is exactly what I got. This is a great tool.
Date published: 2020-06-25
Rated

4

out of

5
by
Chuco
from
Great Portable Table Saw
[This review was collected as part of a promotion.] Assembling this product was easy. I love the portability of it, and storing it in a convenient place in my garage. I also bought the Kobalt 60T blade for finer precision cuts. This table saw does a great job for the DIY home projects and the cutting of 2x4s to 2x2s. I like how it can extend the table out for sheets of plywood that need cutting. It does very well cutting boards for corners. My brother-n-law and I did some precision 40 degree cuts with no issues.
Date published: 2019-12-29
Rated

5

out of

5
by
MC269
from
Great New Improved Model Saw
I had the older version of this saw for several years. I'm a wood worker with limited space and have used this saw for way more than what it is designed for. I recently just got the newer model and really like it. The new fence design works really well (that was the one downfall on the older version). Once you lock in the fence to the adjustment pins, it's really easy to move. This design is accurate and solid. The only thing I miss is the outfeed extension. Other than that this saw is light, has plenty of power to cut whatever you throw at it and well worth the price compared to other saws on the market.
Date published: 2021-01-12
Rated

5

out of

5
by
HarietteHomeowner
from
Best option out there for the price
I was in the middle of several small home projects - beds for the granddaughter and new deck surface - and my old table saw was dead. I found this table saw at a great price and immediately picked one up. We were able to cut sheets on it with extra hands and care and the pieces turned out good. The fence works reasonably well for the size of the table. I would want a better (bigger) table for more serious work working, but for the various small projects I do around our house, this is perfect. Even better is that it takes up very little space in my limited work area and can be rolled outside for use - keeping the dust out of the garage.
Date published: 2021-01-04
Rated

5

out of

5
by
JCPK
from
Great table saw
I bought this table saw about a month ago to start doing some smaller projects. I have used table saws in the past but have never owned one. I did a lot of research on line comparing saws and did not want to spend a huge amount of money. This one was $349.00 @ Lowe's. The build was straight forward and unlike other reviews, this saw was in perfect alignment, blade, fence, etc. I have used it a lot since the purchase and am thrilled with it. I did buy a couple of extra blades as the blade that comes with it is a general cutting blade but I needed a better cross cut blade. I would definitely recommend this saw. Glad I purchased it.
Date published: 2021-08-04
Rated

4

out of

5
by
CaptainWood
from
Minor BUT Poor Design
[This review was collected as part of a promotion.] This is the 2ndKobalt saw I have returned under warranty replacement. The saw cuts great. HOWEVER, the one critical part that hold the saw together and prevents collapse during use is GARBAGE. After continued use, The spot weld holding the locking tab broke off. You cannot weld 1/8 steel to light weight tubular framing. This critical SAFETY part of the saw needs to be reinforced. Now the saw looks like a bare bones saw. At least Kobalt could do in provide a hefty locking system.
Date published: 2019-11-08