Description
This Barrington 3-light semi-flush mount made of distressed black metal with a faux-wood tone finish will add a touch of rustic elegance to any room in your home. With its vintage bulbs in a clear seeded glass shade, it lends a unique and rich look. It measures 14 inches in diameter by 10.56 inches high and will fit perfectly in any vintage or eclectic decor. This product is covered by a 1-year limited warranty. Bulbs and hardware are included.
Distressed black and wood semi-flush mount light from the Barrington collection has an industrial feel
Clear seedy glass shades enhance the retro look
Includes three 60-watt vintage style starter bulbs
Detailed instructions and mounting hardware are included
Simple and elegant way to update your room decor
Great for transitional style decor
ETL certification demonstrates that this product has met the minimum safety requirements of widely recognized testing organization
Product specifications
Color Temperature (Kelvins)
File/Certification Number
For Use in Kitchen/Dining Rooms
Accessories are not included
Manufacturer Color/Finish
Distressed Black and Wood Tone
Recommended Light Bulb Shape
Shade Color/Finish Family
Small (13-22 inches wide)
Frequently bought together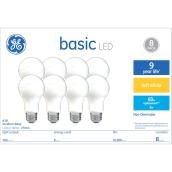 GE
GE Soft White 60W Replacement LED General Purpose A19 Light Bulbs (8-Pack)
Format 8.5W-8/PK
Details
Article #32285281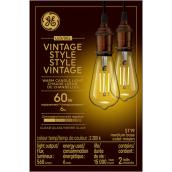 GE
GE Vintage 60W Replacement LED Edison Style ST19 Clear Glass Medium Base Light Bulbs (2-Pack)
Format 6W-2/PK
Details
Article #32285241
Is this product dimmable
Probably, if you use the proper bulbs. I don't think all LED bulbs are dimmable
Date published: 2022-04-20
What brand of LED (non amber) Edison bulbs can be used? All the ones we keep finding are too large and can't fit. We want it brighter and be LED.
I don't think it takes a special size bulb. Any standard size should work There are lots of clear LED bulbs available. Look at the colour temperature. 5200 is bright white (blueish). 3200 is warm white (more yellow)
Date published: 2022-01-20
Can this fixture be used without the glass?
Yes, the glass is one piece and shaped like a bowl and easy to remove. 
Date published: 2021-12-26
Can you get / use extension rods to hang the fixture lower?
Electrician did installation, he did not ask what length I wanted installed so I am assuming there was no extension rods included, but best to contact the manufacturer or a lighting stores. Sorry not too much help with your question :)
Date published: 2021-07-22
Are non-tinted bulbs available? I would like clear glass not the amber. 
Put any bulb in you want
Date published: 2021-06-15
How far does the light fixture comes down from the ceiling?
Around 10 inches
Date published: 2020-10-06
Would this light be enough on its on for a typical size guest bathroom? 
Yes, it would be perfect. Maybe switch out the lights to a brighter bulb as the ones provided are soft glow.
Date published: 2019-10-17
Can this fixture replace a ceiling fan light?
I would say yes!
Date published: 2019-01-16
Barrington Faux-Wood and Black Metal 3-Light Semi-Flush Mount by Kichler - 14-in
is rated out of
5
by
330
.
Rated

1

out of

5
by
Holly
from
Returned
My husband and I wasted two nights trying to install this light. The screws included were too large so after finally getting the light connected, it couldn't be secured to the ceiling. I bought shorter screws and tried the process again. And the screws were still too long to be secure on the ceiling, the light was crooked, and the glass globe was too tightly spaced to get one of the bulbs in the socket. I am packing this light back up and returning it. We had previously installed the matching chandelier and had some difficulty but it was installed in a couple of hours and looks great. Never expected to have this much of a problem with this light.
Date published: 2017-07-19
Rated

3

out of

5
by
Chris
from
LED bulbs won't fit.
This is a cute light, but tough nuts if you want to replace the incandescent Edison bulbs (that come with the unit) with LED Edison bulbs. I've tried both Philips and Feit LED Edison bulbs and the glass cover won't fit with either option. I've searched other brands, and no one seems to make LED Edison bulbs that are ~5 in long (like the bulbs that come with the light); they're all at least 5.5 in long. It's fine if you don't use the glass cover, but that's one of the reasons why I bought the darn thing! So I guess I have to get incandescent bulbs, which is dumb, because it's 2022 and this light should accommodate modern tech. Grr.
Date published: 2022-01-12
Rated

4

out of

5
by
Wolf
from
Beautiful Addition
It is very beautiful and worth the work, however the glass shade takes some manipulation to get it to hang even. It is also heavy so second person would be helpful. Put glass shade on last after wired up and mounted. Hint: clean glass and where latex gloves to keep finger prints off glass. The lights that come with them are warm/candlelight (2200K) and amber instead of white. If you want soft white or daylight white then led Edison bulbs look nice. (2700K soft white or 4000-5000k daylight white). I kept warm lights in it and put daylight white led's in pendants. I added 10" beauty ring due to old light.
Date published: 2018-07-18
Rated

4

out of

5
by
DIYLady
from
As described
The fixture arrived in excellent condition with all parts included and intact. The installation went smoothly with only one hiccup; the instructions were a bit hard to interpret regarding part names and sizes. I am a DIY middle aged woman who assembled and installed it by myself. I would recommend two people when doing the final mounting to the ceiling as it was a bit difficult to hold the light AND tighten the screws. I will definitely be ordering a companion piece to hang over the dining table. Another quality product from Lowes!!
Date published: 2016-02-09
Rated

4

out of

5
by
EJ
from
Love the look
We have been steadily replacing lights in our house and these instructions were neither the clearest nor the worst instructions we've encountered. They could have been better. The glass, as others have stated, doesn't want to hang level. We fixed this by sliding clear round bumpers up next to the glass in two places (see photos). Installation left the glass with many fingerprints so be prepared to clean the glass off before climbing down from the ladder! All of that being said, it's a great looking fixture that lets off a bright but gentle light when used with the included bulbs.
Date published: 2017-04-17
Rated

5

out of

5
by
JP
from
Looks great and installation wasn't that bad
I've seen a lot of negative reviews on the installation for this light fixture, but I didn't have any major issues with installing it. I did have some difficulty with getting the rod adjusted so that all the washers would fit and allow room to secure on with the screw, but that was pretty minor. I got it figured out eventually. I also ended up (accidentally) waiting to install the glass until everything was installed. Probably made doing the connections a lot easier without the added weight and also seemed to work just fine. If I can install this, I'd say pretty much anyone can.
Date published: 2017-10-28
Rated

1

out of

5
by
empireinc00
from
Very disappointed in quality and functionality
My husband installed this light about a year ago. It looked really nice in the store. However this one was very difficult to install and he installed dozen of light fixtures before. The problem we found was the glass did not want to lay flat it looked like it tilted all the time. My husband managed to make it as level as possible but it still like it has a slight angle to it. The next problem is the glass collect dust and has this whitish film looking after a few months. It's very difficult to take down to clean as well. I would not recommend. If I can take back to the store I would.
Date published: 2017-09-02
Rated

3

out of

5
by
Cupcake
from
Somewhat disappointed
So, we bought this light a few months ago. Yes it was a challenge to hang it, but what was challenging was to get it to hang level. After awhile, we gave up. It bothered me and I kept trying to adjust the screw tension, rubber spacers, etc. I gave up. The other day, I took the glass off to wash it and found the problem. The glass is not the same thickness all the way around which makes it slight heavier on one side. Surprise. I removed the glass and for now, it looks ok, until I find a different lite. Check your glass.
Date published: 2018-07-07