Description
The InsulFloorBoard system consists of OSB panels (agglomerated particleboard) laminated to an insulating panel of high-density expanded polystyrene to let cement breathe. The polystyrene has drainage slits. Each panel includes an iLock joint, which consists of a unique dual joint system featuring tongue and groove, preventing moisture from altering the integrity of the wood. The two "Flex-Grooves" grooves provide the panel with the flexibility to easily compensate for uneven slabs of concrete. These multifunctional panels must be installed fixed for all floor covering surfaces. For a floating floor, they can be glued to the joints with carpentry glue. Each box contains 4 panels and covers 20.5 sq. ft.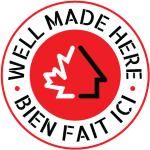 Product specifications
OSB panel with expanded foam
Combiens pieds carrés 1 boites ca couvre
Big mistake in my previous calculation - 20.5 sqft per box as each panel is 15.5x48 inches making the panels cover 5.16 sq/ftt. Sory about that
Date published: 2021-03-17
R Factor?
A similar product (insufloor) has the rating at R3.
Date published: 2019-12-30
How many pieces in one box? How many boxes do I need to buy if 1200qt.
20.5 sq ft per plank, there are 4 planks per box, thats 82sq/ft per box. 1200/82=15 boxes.
Date published: 2022-05-15
il en a combien par boite
4
Date published: 2019-08-25
Comment l'installation se fait avec le bois d'ingénierie?
j"ai de la céramique de collé directement sur la dalle de ciment...Je dois l'enlever avant de mettre ce produit ou si je peux le mettre par dessus la céramique ?