Description
Imperial exhaust vent for kitchen and bath fan venting. Vents moisture and odours to the outside. Designed with butterfly damper for maximum airflow and energy conservation. Mounts under soffit. Adapts to 4-in and 6-in round exhaust duct.
Paintable to match your home's exterior
UV-resistant plastic resists fading and discoloration from the sun
Adapts to 4-in and 6-in round exhaust duct
Vents moisture and odors to the outside
Mounts under the soffit and adapts to 4-in and 6-in round exhaust duct
Mounts under soffit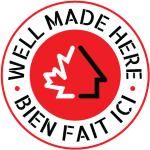 Product specifications
Manufacturer Color/finish
Imperial 4-in to 6-in Round Soffit Exhaust Vent, White
Rough Opening Length (in)
Is there a step on the hose conection to recieve a 5 inch duct hose?
How much CFM do these take?
I bought an imperial soffit exhaust vent, it will not fit in the soffit will this exhaust vent work on an exterior wall?
Imperial 8.5-in L White Plastic Soffit Vent
is rated out of
5
by
34
.
Rated

5

out of

5
by
GaryAR
from
Good vent!
I purchased 2 of these to vent the exhaust on new install bathroom fans and they work perfectly. The flapper opens easily and they look good in the soffit. I had no problem attaching 4" flexible ducting though I don't think you will have much luck if you use the cheap rigid stuff. The ducting I used (bought it on A****n so I can't tell you the brand name) seems to have a more flexible foil and it was relatively easy to use a fingernail to pull the wire coils over the tabs, one at a time, without tearing anything up. It seems like they should be less expensive but hopefully they are a onetime purchase and I am happy with them.
Date published: 2013-12-22
Rated

3

out of

5
by
Ledlightguy
from
Good idea, but needs modification
Right out of the box before installation, I have found that pressing on either flap causes it to pop out of one of the holes that it pivots in. The tabs that snap into the housing are too short on both flaps. I'm going to drill a small hole in all 4 tabs and insert small screws just far enough to keep the flaps centered in the housing. I probably just got one from a bad batch because no other review mentions this problem. I like to tinker with things so I'm not too upset about it. By the way, this thing is bigger than in looks in the picture. I can see now why they recommend a certain size soffit.
Date published: 2017-04-18
Rated

5

out of

5
by
Debcg
from
Great product but one thing to add to it..........
This looks great and sits flush with the soffit. One area that could be improved on (we just added our own) it that some screen placed inside the cap would keep the spiders and the bees out. We needed to replace our old style ones because of chronic wasps nests inside the vent flap. I would like to see these with a built in screen one day.
Date published: 2015-03-14
Rated

4

out of

5
by
martinezrw
from
Strong baffle
I tested this thing on the bench before I installed it. I used a manometer to measure the back pressure as my fan had a specification of 80cfm @ .25" H20. Out of the package it produced .30 - .32" H20. The spring was simply too strong. If you are going to do your own testing you must hang the vent in the same position it will be installed in as gravity helps to open the flaps. I solved the excessive back pressure problem by using aluminum HVAC tape to attach a coin (quarter) on each flap. If you are going to do this 2 pennies are about the same weight as a quarter. This resulted in .20" of back pressure which should work out to about .25" when the 4 foot of duct is attached to it. If your duct run is longer you will likely have to attach more weight to open the flaps more. The springs will loosen up with time so its probably best to keep it a little tighter than it should be.
Date published: 2015-07-17
Rated

3

out of

5
by
Chris
from
Baffle a little too strong
I attached this vent along with a new 110 CFM fan, and the baffle barely opens. As a result, my air flow doesn't seem any better than it was before with the old 50cfm fan and vent. As others have mentioned, the spring will certainly loosen up over time, but I wish I had seen the comments about adding some weights to the baffle so that it opened better now. I did not like the absence of a pest screen, so I added 1/4 inch hardware cloth behind the plastic grill. I don't think this hardware cloth is fine enough to be significantly impacting the flow. I wish a screen came as a standard offering.
Date published: 2021-07-21
Rated

5

out of

5
by
HandiDad
from
It works
After reviewing several soffit vents, I selected this one. Reasonalble price. It has a decent damper on it that works. Adaptable to either 4" or 6" is a plus. I will use this again instead of going thru the roof with a vent.
Date published: 2012-07-28
Rated

5

out of

5
by
Maddplumber
from
Super Nice
This was easy to install and works very well. I would recomend this to anyone who wants quality. My bathroom fan vents so much better now.
Date published: 2011-10-31
Rated

5

out of

5
by
AxeGryndr
from
Worked for me
I have used 3 of these so far, 2 for bath exhaust and 1 for fresh air intake. I had to modify a little to work with metal ducting, but no problem. I cut aluminum screen to keep out the bugs, and after roughing the surface with sandpaper, applied a plastic primer, and then a dark Bronze paint to match my color scheme. I used metal 6" duct and locked the elbow turned down into the soffit vent with metal bracing so it can't move. I screwed the soffit vent into the cedar soffit board, which fit tight. I did not tape that last joint so I can remove the vent to clean the screen, or service the dampers, even replace it entirely. The fresh air intake is passive for the woodstove combustion air; I just removed the dampers and added screen, and installed a manual damper to block it off for the summer.
Date published: 2017-09-05