Description
Outlet box. 4 in. x 4 in. x 1 1/2 in. Made of galvanised steel. Octogonal junction boxes with BX clamps or with KO conducts are mainly used for commercial lighting and juction applications using BX, EMT or rigid conducts. KO conduct boxes require the use of proper connectors. Extensions are used to add extra capacity to a box, or when installing new wall surfaces.
To install a light fixture or to serve as a junction box
Mount with screws on the side or on the bottom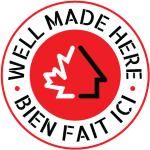 Product specifications
File/Certification Number
Maximum Weight Supported(kg)
Maximum Weight Supported(lbs.)
Octagonal Box 1-1/2 IN Deep Knockout
Number of Knockouts/Holes
What is the maximum weight of a luminary could be secured with this box?
What is the depth of this box?  Thank you.