Description
This hollow back round shovel from Garant has a long, varnished wooden handle with an anti-slip end-grip, giving strength and comfort to the shovel. The tempered steel blade and the steps allow the shovel to easily sink into the soil to plant or uproot trees and shrubs, or for any other task around the yard. The shovel is backed by a limited lifetime warranty.
Industrial-grade round point shovel
Hollow back tempered steel blade, forward-turned steps, premium varnished hardwood handle with a premium anti-slip end-grip
Textured steel sleeve adds resistance to the handle
Ideal for digging holes, planting trees and shrubs, digging up roots, and dividing perennials. limited lifetime warranty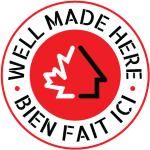 Product specifications
Industrial Round Point Shovel
Industrial Round Point Shovel
What kind of wood is used for the handle?