GE Gas Cooktop - 5 Burners - 30-in - 15,000 BTU - Black
Article #23085462
Model #JGP5030DLBB
Format 30"
This item is not currently available for immediate purchase, but can be ordered by visiting the selected store.
Description
This GE cooktop features a modern, deep-recessed enamel design. Its 5 burners are fully sealed so you can easily clean the surface using a simple cloth. Its most notable feature is the 15,000-BTU Power Boil burner that delivers high heat right when you need it. The continuous burner grates are removable and dishwasher-safe. You can slide pots and pans from one burner to the other for added convenience while you're cooking. It's also equipped with an electronic ignition system, so you don't need to maintain a pilot flame on, which makes you save on energy as well. On top of that, the flame is automatically reignited if it turns off, for an ideal cooking experience.
15,000 BTU Power boil burner delivers high heat when needed
Deep recessed cooktop helps contains spills to avoid a messy surface
GE Fits Guarantee ensures an exact fit when a similar cooktop is being replaced
5 Sealed cooktop burners help make clean-up quick and easy
Heavy-duty dishwasher safe grates for your cleaning convenience
Product specifications
Base Warranty Labor(Months)
Base Warranty Parts(Months)
Convertible to Liquid Propane
File/Certification Number
Glass Cooktop Warranty Labor(Months)
Glass Cooktop Warranty Parts(Months)
Hot Surface Indicator Lights
Installable Over Wall Oven
LP Conversion Kit Included
Manufacturer Color/Finish
Maximum Assembled Height(cm)
Maximum Assembled Height(in)
Maximum Assembled Height(mm)
Minimum Assembled Height(cm)
Minimum Assembled Height(in)
Minimum Assembled Height(mm)
Power Burner (15,000 BTU+)
Works with the Google Assistant
Useful information
DELIVERY AND INSTALLATION
Our experts are dedicated to ensuring your new appliance is delivered with the utmost care.
Learn More
PROTECTION PLAN
Enjoy exclusive privileges.
Learn More
RETURNS AND REFUNDS
We stand behind every product we sell.
Learn More
Payplan by RBC
Credit available
Frequently bought together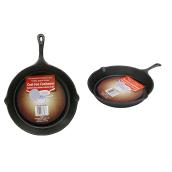 Cast Iron Frying Pan - 12"
Details
Article #97737726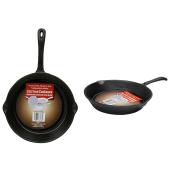 Cast Iron Frying Pan - 10.5"
Details
Article #97737723
GE Gas Cooktop - 5 Burners - 30-in - 15,000 BTU - Black
is rated out of
5
by
585
.
Rated

1

out of

5
by
dg
from
The Knobs MELT
Used this for the second time today. Had a square pan on the bottom left burner. Left it on the stove to cool as we had dinner and came back to a melted knob. The pan wasn't over the knob, just close. And these knobs are unicorns. Can't find a replacement. Just returned the companion dishwasher after a couple uses as it no longer pumped out water. What's up with GE/LG appliances? I'm done. This goes back tomorrow.
Date published: 2018-06-01
Rated

1

out of

5
by
maggie
from
knobs are plastic
Knobs are plastic and melt easily. Poor design. Bought in Jan 2019. 3 knobs have melted now. GE doesnt have a correction for this problem. We're stuck with melted knobs until they do.
Date published: 2019-06-10
Rated

4

out of

5
by
Debbie12345
from
Love my new cooktop
I waited a long time for my new cooktop. Overall I'm very happy with it. However I do have a couple of suggestions. One is what I consider a design flaw. The knobs stick up further than the grates. You have to be very careful not to slide pans over them because the finish on the knobs scratch very easily. Shorten the knobs. The second is about the instructions for install. It doesn't mention that the gas supply is very specific to each burner and once you find that out, you will need a magnifying glass to read the necessary codes. Just put it in the instructions. But again, I'm happy with it.
Date published: 2020-04-23
Rated

4

out of

5
by
Barth
from
Black Color Cooktop has a Polished Black Shine
FYI...the Black Cooktop has a very Polished Black Shine to it, which stands out. I wanted the Black Color of this Cooktop, but they had no examples on the showroom floor so I had to order the product. The picture shown looks like it is a Dull Black Color, however, it has a very high Polished "Shine" finish, which I was disappointed because I wanted the Dull looking color of Black to match my other Slate Color GE Appliances that I purchased. Also, the knobs are dull and look somewhat like they are a Dark Brown color. Otherwise, if you want a high polished black shine then it's all GOOD! I do love that it has FIVE gas burners.
Date published: 2019-07-23
Rated

4

out of

5
by
DBGA
from
Worth it so far.
I love the 5 burners, and ample space on the stovetop for many pots. I have a pro series set of pans that took forever to heat on conventional 4 burner; the BTUs this puts out boils my largest pot in 1/2 the time. I take extra precautions to not scratch the stainless moving the heavy grates to clean, as I read this in a previous review. I haven't had problems with melting knobs yet or discolored burner bases. I gave only 4 stars as it's tricky to clean edges around the rubber grate bumpers. Plus I'm paranoid about staining the stainless (as stated in previous reviews) so trying to keep spills and excess food, spices to spill over is a nuisance. All in all I've had it 3 weeks and I'm pleased so far.
Date published: 2021-09-10
Rated

1

out of

5
by
Jonesy 2022
from
cheaply made product
I brought this model after reading the reviews. I would like to know who are these people writing the reviews. It is very cheaply made. My range has scratches on it from the day one. The knobs are made of out plastic even though they look like steel. The result little hot water spill on it and the knobs burn. I brought this flattop because it was GE. I would not recommend anyone buy this even if they give you for free. Apart from the high BTU there is nothing good about this product. Next time I would never buy any GE product.
Date published: 2022-02-21
Rated

3

out of

5
by
Samantha
from
Why the cheapy knobs?!
The people complaining about these knobs are not kidding. I wanted to upgrade my 4 burner GE cooktop (which has top quality knobs we have been extremely happy with) to a 5 burner, but the knobs are this model are cheap, lightweight, melting plastic. What's more, the knobs are higher than the cooking surface, which virtually ensures accidental contact with hot cookware and therefore, melting knobs. I will not be purchasing any new GE cooktops until this knob issue is resolved. In a premium cooktop, this is mind blowing and unacceptable. I'm sad to be stuck with my 4 burner though.
Date published: 2022-02-20
Rated

3

out of

5
by
Nick A 2022
from
Mostly fine.
The burners operate well enough, I like the look and the solid feel of the grates above the burners. The biggest issues I have are that the knobs are plastic, an incomprehensible choice by the manufacturer on a devices that produces high levels of heat . What's more, the finish on them is very fragile and unless you are very careful (or don't use the cooktop at all) you'll scratch them or wear through thin paint in under a year. It's maddening that a brand like GE would use such cheap knobs on an expensive appliance. Further, the small rubber pads are unequal to the task of protecting the stainless steel where the grates rest and unsightly scratches quickly accumulate.
Date published: 2022-10-07