GE 25.6-cu ft French-Door Refrigerator with Ice Maker and Fingerprint-Resistant Stainless Steel Finish
Article #23085893
Model #GFE26JYMFS
Format 25.6CFT
This item is not currently available for immediate purchase, but can be ordered by visiting the selected store.
Description
GE 25.6 cu. ft. capacity refrigerator is subdivided into 3 full-width shelves, 2 humidity-controlled drawers and full-width drawer. This means you have options for storing bulky items, fresh fruits and vegetables and wider items such as party platters or sheet cakes. Spill-proof shelves are adjustable to provide additional options for food storage, while Quick Space shelf quickly slides out of the way to make room for tall items. External controls conveniently display settings for temperature, child lock and door alarm. Space-saving icemaker is located on the door with integrated bins to create more usable storage space. Advanced water filtration uses XWFE replacement filter that removes up to 98% of trace pharmaceuticals that can be found in drinkable water. LED lighting is perfectly positioned throughout the interior so every fresh and frozen food item can be found quickly. Stainless steel finish is fingerprint-resistant: easily wipe away smudges and fingerprints for a look that's always sparkling clean.
Built-in water and ice dispenser features an advanced pharmaceutical filtration system to provide the freshest and most refreshing drinks
Energy star qualification saves you money on your electricity bill and helps to save the planet
Ramp up LED lighting provides a bright view into everything your fridge holds
Full width pantry drawer makes great use of the space and is perfect for storing smaller items often lost in the fridge
In-The-Door icemaker frees up valuable space in the fresh food section
Product specifications
Base Warranty Labor(Months)
Base Warranty Parts(Months)
Cabinet Liner Warranty Labor(Months)
Cabinet Liner Warranty Parts(Months)
Custom Door Kit Compatible
Depth (Excluding Handles)(cm)
Depth (excluding Handles) (in)
Depth (Excluding Handles)(mm)
Depth (Including Handles)(cm)
Depth (including Handles) (in)
Depth (Including Handles)(mm)
Depth With Door Open (in)
Filtered ice and water dispenser
Dual Evaporator Cooling System
Electronic Temperature Control
File/Certification Number
Height to Top of Case(cm)
Height To Top Of Case (in)
Height to Top of Case(mm)
Height to Top of Door(cm)
Height To Top Of Door (in)
Height to Top of Door(mm)
Height to Top of Door Hinge(cm)
Height To Top Of Door Hinge (in)
Height to Top of Door Hinge(mm)
Humidity-controlled Crispers
Manufacturer Color/finish
Fingerprint-Resistant Stainless Steel
Matching Air Filter (model #)
Matching Replacement Water Filter Model
GE 25.5 Cu. Ft. French Door Bottom-Mount Refrigerator - Fingerprint-Resistant Stainless Steel
Refrigerator Capacity(ft3)
Refrigerator Interior Lighting
Sealed Refrg Sys Warranty Labor(Months)
Sealed Refrg Sys Warranty Parts(Months)
Adjustable spillproof sliding glass shelves
Temperature Controlled Drawer
Works With Google Assistant
Useful information
DELIVERY AND INSTALLATION
Our experts are dedicated to ensuring your new appliance is delivered with the utmost care.
Learn More
PROTECTION PLAN
Enjoy exclusive privileges.
Learn More
RETURNS AND REFUNDS
We stand behind every product we sell.
Learn More
Credit available
Frequently bought together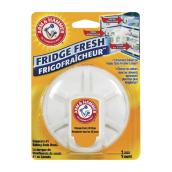 ARM & HAMMER
"Fridge Fresh" Refrigerator Air Filter
Details
Article #53975000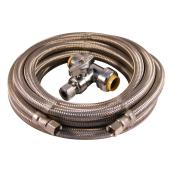 AQUA-DYNAMIC
Ice Maker Connector Kit
Format 1/2x1/2x1/4" 10'
Details
Article #01735520
GE 25.6-cu ft French-Door Refrigerator with Ice Maker and Fingerprint-Resistant Stainless Steel Finish
is rated out of
5
by
1634
.
Rated

4

out of

5
by
Berti01
from
So far so good
I got this refrigerator about a month ago and so far it's doing it's job. Nice features especially the retractable shelf so that you can fit tall containers and bottles of wine. The only issue I noticed so far is the freezer door it's not closing all the way I have to give it an extra push to close it or else it won't. I went back to the store where I bought it to see if this is normal and found the exact model and the freezer door closed easily without the extra push on its door. So maybe I need to call GE to fix this issue. Other than that we are happy with this purchase. I hope it will last as long as (20 yrs.) GE refrigerator that it replaced.
Date published: 2021-10-22
Rated

1

out of

5
by
DislikeMyFridge
from
Not enough space
Vegetable/fruit bins too small - I can't fit all the vegetables/fruit that I buy in a week for a family of four into the bins. The shelves are too close together. If I leave enough space on the top shelf for common items like 2 liter bottles of soda, or wine, the bottom shelves become too narrowly spaced to be useful. The advertised "adjustable shelf" that can be retracted to store tall items is flimsy. It doesn't feel reliable to store heavier things (such as a gallon of milk), and it's difficult to retract and pull out. The ice maker doesn't store enough ice. There is no shelf to store butter, and the door shelves are so narrow as to be useless.
Date published: 2021-09-13
Rated

1

out of

5
by
DStep1231
from
Incredibly Unhappy
Two things make this refrigerator incredibly frustrating. First of all, the water dispenser. It does not work for larger cups or water bottles. The water spout angle causes you to have to use two hands. One to press the dispenser and one to line the cup up with the spout. If you don't, prepare to spill the water everywhere. Incredibly poor design. Second, the freezer handle is so cheaply made and does not actually lock into place once secured. The amount of times it falls off when pulling, or if you barely brush against it, it falls off, will drive you mad. I have bruised feet from the bar landing on them constantly. The installation technician came back and even tried to re tighten. I should have returned it when I had the chance.
Date published: 2020-12-20
Rated

3

out of

5
by
KenC123456
from
noisy
the fridge is a little noisy, constantly hums. the ice and water dispenser are also a little loud. There is a lot of plastic, service had to come out and fix the plastic filter holder, which was not in its position, the freezer door is tough to open, the handle already came off its plastic holders once while opening it. There are also small crease dents in the stainless steel on the left door. We have checked all floor models every one of them have the wave/dents in the door, believe it is caused by the install of the ice maker. we refused the first delivery only to find we had to wait months for another, and they all have the blemish anyway,
Date published: 2021-12-16
Rated

3

out of

5
by
mtisham
from
Looks nice but is VERY NOISY!
Good looking fridge with some nice features, but we just couldn't get over the noise. Every time we'd shut the door, a fan would kick on that was very loud and distracting. Eventually it would turn off (after say 10 minutes), but then if you open the door again...the noise comes back on! Since we have an open floorplan, the refrigerator is right near the living area so this became very distracting. Reading through the manual it looks like this is not a bug but a feature - its part of how GE handles their energy efficiency in this model. Eventually we couldn't take it any longer and had to return it. Got an LG instead and have been much happier.
Date published: 2020-12-20
Rated

1

out of

5
by
P33t02
from
Avoid buying GE refrigerators with door ice maker
My GE french door refrigerator with ice maker on door is less than five years old and suffers from numerous problems, including a frozen internal drain that causes condensation water to leak out of the left door, the deli drawer is now basically an extension of the freezer (with everything rock solid inside), the temperature at the top is luke warm and down low is near freezing (with no apparent way to adjust), and the front panel doesn't recognize the chip in the new filter I just installed so I can't get water out of it anymore -- so there's nothing they can do for me without an expensive service call since it's out of warranty. Amazingly poor quality all the way around. I will never buy another GE appliance again and will spend the rest of my life trying to spare others the miseries I've had to deal with.
Date published: 2020-12-08
Rated

1

out of

5
by
Anonymous
from
Whirring Sound Heard Throughout The Great Room.
I grew up on GE and bought GE Products over the years. Our new GE refrigerator is sad to say Disappointing. Our home builder (Fischer Homes) bought it and had it delivered and hooked up. It makes constant whirring noises that go up and down in pitch. It's also slow making ice. There is barely enough ice for 6 people much less 8. I have to go buy ice, which doesn't fit well in the bottom freezer. The interior design of the shelving is lacking in thought. If I could get rid of the annoying sounds, I'd deal with the rest. Like I said, I've been a huge fan of GE kitchen products over the decades...until now.
Date published: 2020-11-09
Rated

3

out of

5
by
Patjj
from
Not sure
Just got delivered a few hours ago, so far can't keep frig from moving back and forth on tile. I open doors it pulls forward, I close them it moves back. I asked the installers if wheels could lock, didn't know. Told me to put rug in front. It moves the rug, put door stopper underneath, it still moves. Also I touched the control panel and it moved temps up on freezer and frig. Dont want to touch again in case I move temps up from factory preset. Don't know how to move temp down. Does not say anything in manual. Went online to see if there was more info in the manuals, didn't see anything to help me. Not sure about this frig.
Date published: 2021-12-30