Description
Proudly made in Canada, this Stirling(TM) trailer feature galvanized construction offering a corrosion-resistant finish that is long-lasting and maintenance-free. The torsion suspension gives a smoother ride with increased trailer rigidity. The expandable design allows for the transportation of a wide range of loads. E-Z Lube hubs offer ease of maintenance and added bearing protection. The galvanized finish will give many years of maintenance-free use. 1-year limited warranty. (Note that the availability of this product may vary from store to store)
* Trailer license and registration are required when picking up this item.
Product specifications
Fully sealed upgraded lighting
4 In-floor recessed tie-down points
Availability of the product may vary from store to store
Frequently bought together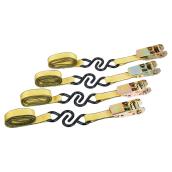 ERICKSON
Ratchet Tie-Down - 1'' x 10' - 900 lb - 4/PK
Format 1"x10' 900LB 4PK
Details
Article #16425000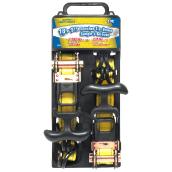 STINSON
Stinson T-Handle Ratchet Tie-Downs - Rubberized Handle - Vinyl-coated J-Hooks - 1 1/4-in W x 16-ft L - 2-Pack
Format 1 1/4"x16'xPK2
Details
Article #0033335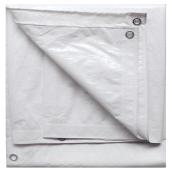 PROJECT SOURCE
Project Source Polyethylene Tarpaulin - 8-ft x 10-ft - White
Format 8'x10'
Details
Article #19595012
Is there delivery option? It says it's only free store pick up. 
The utility trailers are sold fully assembled at the store for pick-up. Delivery option is available in some cases when shipping in bulk.
Date published: 2022-06-07
Does it have the tilt/dump capability?
Hello, Derekai, Thank you for your question. Our trailers do not have a dump or tilt feature. If you have further questions, you can reach us at 1-866-857-1445 or at support@westbrooktrailers.com. -Your Stirling Team
Date published: 2022-05-27
Est ce que cette remorque nécessite un assemblage ou est livré assemblé?
assemblée
Date published: 2021-05-06
What's the dry weight? Empty trailer 
Does a 4' x 8' sheet of plywood fit inside the 5' x 8' trailer without having to lower the front panel?
est-ce que cette remorque nécessite un assemblage à faire soi-même ou est livré assemblé?
Galvanized Steel Expandable Trailer - 5' x 8'
is rated out of
5
by
8
.
Rated

4

out of

5
by
WeekendHauler
from
Great trailer
THis is a pretty good trailer. It is fairly light for a steel trailer of this size and is generally well built. I have hauled a lot of stuff in mine with no problems. I use it mostly to haul my dirt bike to the track, so use the ramp a lot for loading and unloading. THe steel bes is a bit slippery for this purpose so I had to make a wheel holder. Shortly after I got mine, the electrical connector lost a pin. The Canadian distributor sent me a new plug which I had to attach myself. My only other complaint is that the "completely sealed" lighting system means you can't replace bulbs when they burn out. You would have to replace the entire light module. I wish it came with LED lights at this price. The Rona I got mine from completely screwed up the paperwork and it took a week and several visits to get the VIN and manuals sorted out.
Date published: 2019-05-19
Rated

5

out of

5
by
GreyOwl73
from
Very handy and reliable trailer
I'm happy I bought this trailer. I've towed it on the highway at 105 kms/hr with no issues or problems (total towing time in one direction was 2 hours). It is very stable to tow. I use it for hauling items to the dump. I found it handy moving my snowblower and other household items from the lake to the house (e.g. bikes and other toys). The ramp is very useful. I just recently used it to do some lake cleanup and the lower height, as compared to a truck, was handy so that many people can load it from various angles. It is very handy to use and basically I use it like a removeable truck bed behind my mid sized SUV. I've had it for a year and it has weathered one Saskatchewan winter very well. Just be careful that the trailer bed can be a bit slippery when wet. I bought it on sale and after another year of usage it should have paid itself off in use.
Date published: 2019-06-03
Rated

3

out of

5
by
STEPHEN428
from
NOT 8FT LONG! MORE LIKE 7.25 FT.
I bought this online last night. I needed a true 5x8. When I showed up this morning I took measurements. All the other trailers are as described. This model was different. They advertise it as a 5x8. This is TOTALLY FALSE AND NOT EVEN CLOSE!! THE REAL LENGHT IS 7.25 FEET. (IT DOES EXTEND BUT THE EXTENSION ISN'T PART OF THE ADVERTISED 8FT.) WHAT A WASTE OF MY TIME. I NEEDED A TRUE 8FOOT. WHY ALL THE OTHERS HAVE ACCURATE MEASUREMENTS AND THIS ONE IS Different? As for the rest, their typical Stirling trailers. Light and galvanized. Not too sturdy on the side panels but good enough for occasional use. PERHAPS A MANAGER CAN OFFER ME A SOLUTION, BCZ THIS WAS A TRULY FRUSTRATING EXPERIENCE AND WASTE OF MY TIME. THE SALE WAS AN CANCELLED
Date published: 2020-06-22
Rated

4

out of

5
by
Garth
from
Great trailer
Awesome to tow and well built. BUT, it's 5x7 inside. NOT 5x8!
Date published: 2019-05-06
Rated

4

out of

5
by
Deano123
from
Too bad Rona is a dealer
Rona.......the worst big box.....yeah the trailer is fine but buying it from this chain was a typical Rona nightmare.. ..I would suggest Sterling look into this because I'm sure they're missing sales....it was the exact type I needed but I almost had to beg and prompt them the whole process....I hope Sterling gets someone else to sell them....Rona in my town is horrible.... I'm on my own with this trailer and I hope there are no problems......
Date published: 2021-03-09
Rated

5

out of

5
by
Prezbot
from
Convenient and easy to use
Bought this trailer for random tasks around the house and it has been great. Everything from loading up some manure for the garden or taking small loads to the dump. Used to help move multiple couches around and what not, great little trailer.
Date published: 2021-01-17
Rated

5

out of

5
by
Bowchar
from
Tel qu'annoncé
Roule très bien plein comme vide , suspension ne sautille pas
Date published: 2020-12-04
Rated

4

out of

5
by
micbed01
from
compact
have only used it a few times, but so far so good...it pulls nicely on the highway
Date published: 2022-07-28