Description
Proudly made in Canada, this Stirling(TM) trailer feature galvanized construction offering a corrosion-resistant finish that is long-lasting and maintenance-free. The torsion suspension gives a smoother ride with increased trailer rigidity. The expandable design allows for the transportation of a wide range of loads. E-Z Lube hubs offer ease of maintenance and added bearing protection. The galvanized finish will give many years of maintenance-free use. 1-year limited warranty. (Note that the availability of this product may vary from store to store)
* Trailer license and registration are required when picking up this item.
Front fold down gate expands length to 11-ft 3-in
Corrosion-resistant galvanized coating offers increased protection for prolonged trailer life
Front expandable gate providing the ability to extend the trailer bed by 15-in for longer loads
The rear gate is a ramp style for loading motorized vehicles and provides the ability to adjust the ramps to 1 of 4 designated locations
Recessed in-floor tie downs allow for convenient load security
Torsion suspension offers a smoother ride with increased trailer rigidity and independent suspension
Easy lube hubs offer ease of maintenance and added bearing protection
Product specifications
Galvanized steel construction
Stirling 5-ft x 10-ft Steel Utility Trailer with Ramp Gate
Frequently bought together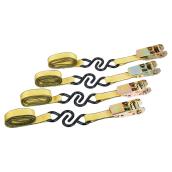 ERICKSON
Ratchet Tie-Down - 1'' x 10' - 900 lb - 4/PK
Format 1"x10' 900LB 4PK
Details
Article #16425000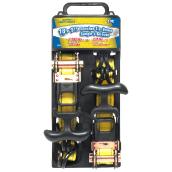 STINSON
Stinson T-Handle Ratchet Tie-Downs - Rubberized Handle - Vinyl-coated J-Hooks - 1 1/4-in W x 16-ft L - 2-Pack
Format 1 1/4"x16'xPK2
Details
Article #0033335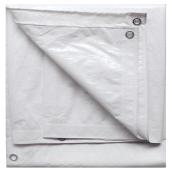 PROJECT SOURCE
Project Source Polyethylene Tarpaulin - 8-ft x 10-ft - White
Format 8'x10'
Details
Article #19595012
What is the total width with the trailer from outside of the wheel well to outside of the wheel well.  For the 5x10 trailer.   
Hello, AD86 Thank you for your question. The total width of the trailer from outside wheel well to outside wheel well is 79.25 inches. If you require anything further we can be reached at 1-866-857-1445 or at support@westbrooktrailers.com -Your Stirling Team
Date published: 2022-11-29
What is the size of the tire? it only shows rim size 13in.
Hello, Innisfil, Thank you for your question. The 5' x 10' trailer comes with 13" tires. -Your Stirling Team
Date published: 2022-11-07
Does this trailer tilt?
Thank you for your question. There is no tilting option on this trailer.
Date published: 2022-08-25
I noticed that the axles are 3500, the UVW is about 600lbs, yet the cargo rating is not 3500-600lbs = (2900), rather 2100lbs. Typically that is the math- GAWR less the dry weight = the cargo. Help me
Hello , we went to purchase this trailer but ended up purchasing the black mesh trailer with the wood floor. This is a much better trailer and we love it. We found this galvanized trailer to be a bit flimsy and it did not have a stand like the black trailer. Hope this answer helps.
Date published: 2022-11-15
What is the height of sides above the floor?
Thank you for your question. The sides are 15" tall.
Date published: 2021-01-13
What is curb weight of 5 x 10. trailer
It has a gross vehicle weight of 2720 lbs with a payload capacity of 2100 lbs so I'm assuming the dry curb weight of this trailer is only 620 lbs.  It's a nice light weight trailer with a good capacity and its a breeze to move around by hand in my driveway, and tows very nice loaded or unloaded.
Date published: 2021-01-21
Are the ramp toes adjustable or are they fixed in one spot?
They slide! 
Date published: 2020-11-25
whats the difference between the 5x7 vs 5x10 2,000lb axle vs 3500lbs vs how does the tounge weight get disturbed ?
Axle is adjustable and can be moved forward or backward to help distribute the load/tongue weight
Date published: 2021-05-31
Galvanized Steel Expandable Trailer - 5' x 10'
is rated out of
5
by
29
.
Rated

5

out of

5
by
Outlander
from
Très heureux
une remorque 5x10 très légère avec des roues de 13'' et une capacités de charge utile de 2100 Lbs
Date published: 2019-05-03
Rated

4

out of

5
by
Jos55
from
Fabrication bien pensée , pratique, et fonctionne
J'ai acheter cet article sur le WEB en janvier 2021. Bonne description du produit. Mais, les papiers pour l'enregistrement ne correspondait pas au numéro de série de la remorque, alors ça crée des problèmes. Mais, j'ai eu un très n bon on service de la part de jean- François de chez Reno dépôt Québec, qui a régler le problème!
Date published: 2021-01-30
Rated

1

out of

5
by
Trailer boy
from
Well the good and bad
Easy pulling it is so light. But it is a light trailer. Alright for easy loads not capable of doing any kind of hard work. If you are not going to be working the trailer hard itay last awhile but if you use it to its design specifications it will not last long
Date published: 2019-10-29
Rated

5

out of

5
by
Trailer4me2020
from
Great Trailer
Great trailer for light to medium duty. Hauling sled or ATV is great. Super light easy towing and tracks perfectly. Rear ramp can also fold inward so a new sled with 146 track can be loaded, front gate up as a rock guard and rear open...
Date published: 2020-04-25
Rated

1

out of

5
by
kmoo
from
Poor quality
Frame twisted within first month under far less than maximum load rating. Most of the rivets that hold the frame to box have let go. Signal lights no longer work. Not built for longevity.
Date published: 2019-11-21
Rated

1

out of

5
by
Mart666
from
Pas content
J'ai acheté la remorque et 6 mois après déjà tout brisée
Date published: 2021-02-13
Rated

5

out of

5
by
Ronadix10
from
Awesome trailer
I was questioning wether to buy this size of trailer and if it would get in the way on the driveway? I am so glad to get it, so versatile, loaded fridge, stove , washer and dryer, earth , trash to the dump, helping neighbor move and pick up materials. Max weight is 2000lbs limit……… to answer it plainly …..yes 100%!
Date published: 2021-10-03
Rated

1

out of

5
by
cprovost
from
incredibly cheap
I bought this trailer last July for my work, but after only 2 days of use it was all broken, the side panels are very badly made, the whole construction of this trailer is a disaster. If you want to use it only for your home, to go the the hardware store pickup some construction material, it could be OK, but don't expect to do any serious work with that thing.
Date published: 2018-04-16
Rated

2

out of

5
by
Smx45
from
Trailer endommager
Jai ete chercher le trailer a premiere vue il etait deja endommager prise 4 brin ecraser barre sous lattache remorquer plier et les passage de roue aussi plier le commis a prit un petit tournevis et a deplier la fiche 4 brin et a forcer la fiche de ma voiture pour la rentrer et le reste il ma dit que cetait pour sa que javais un rabais la jai pas un trailer neuf
Date published: 2022-11-02
Rated

3

out of

5
by
Dan67y
from
Looks to be a good trailer
I went and bought a 5X10 trailer today and was astonished that half the nuts and bolts were loose and yes even the wheel lugs were hand tight I was going to pull this with a load of appliances on it Just so everyone knows make sure everything is tight so no one gets killed with flying parts I'm not impressed with the assembly part of it
Date published: 2021-09-13
Rated

4

out of

5
by
Lemaire
from
Bonne remorque
Acheter à l'halloween utiliser 3x à date vas très bien bien balancer 2 seul point négatif 1: le plateau du tracteur a gazon accroché dans la remorque car la rampe est trop abrupte et 1 d ring est dur à utiliser car il sort mal du plancher mais à part cela tout est parfait en liquidation a 1500$ plus taxes ....avait rien à perdre
Date published: 2022-11-23
Rated

5

out of

5
by
Dan67ny
from
Great response
I bought my 5X10 trailer yesterday and had a lot of concern on the way it was and said my findings on here today I received an email from the company itself and they were very very great with costumer service they made my buy well worth it would definitely tell people to buy one
Date published: 2021-09-15
Rated

4

out of

5
by
Lrine
from
Fit our need.
Good lightweight trailer. Can tow with SUV. Only issue is ramp toes slide to middle as you drive so you can't see behind you in rear view mirror....couple bungee cords fix that. Also when you remove lables at purchase all the glue stays...ugly. Gotta dig out my glue gone.
Date published: 2021-08-30
Rated

5

out of

5
by
COMPUDUDE
from
EXCELLENT ALL AROUND HEAVY DUTY TRAILER
I BOUGHT THIS A WEEK AGO. I ABSOLUTELY LOVE THIS TRAILER. QUALITY, AND FINISH ARE ABOVE NORMAL. VERY USEFUL WITH THE EXTENDABLE FRONT PORTION AND IN FLOOR TIE DOWN POINTS. WOULD BUY ANOTHER IN A MINUTE. WOULD RECOMMEND THIS TRAILER TO ANY/EVERYONE WITHIN EAR SHOT.
Date published: 2020-08-11
Rated

4

out of

5
by
the goto guy
from
Good solid trailer
Great utility trailer with solid structure, features and engineering. Easy to customize with wooden frame. for kayak transport. Like that the ends can be folded inside for an open bed. Wait until they are on sale!
Date published: 2020-06-26
Rated

5

out of

5
by
Sydi
from
Excellent light/medium duty trailer
Bought it a month ago for my ATV. The trailer is perfect for that purpose. It is light weight and the ramp is well built making loading my ATV really easy. Really satisfied with it. Got it on sale for 1100$.
Date published: 2019-04-09
Rated

5

out of

5
by
Dwied
from
Great features
I've had mine for about 15 years I love it. Galvanized is minimal maintenance at Pulls fantastic the versatility is awesome From Bl 7 feet to 11 feet up in the adjustable ends.
Date published: 2021-11-09
Rated

4

out of

5
by
Mark110
from
Features as expected
Only have owned a few weeks. Seems good so far, but bed floor is terribly slippery
Date published: 2022-03-18
Rated

4

out of

5
by
nonenonenone
from
value trailer
shopped hard for trailer all over vancouver - this was best deal
Date published: 2019-04-10
Rated

5

out of

5
by
.....6⁶66
from
.
Everything worked as it was supposed to. Works well.
Date published: 2022-04-08
Rated

4

out of

5
by
Guchio
from
Great trailer, Rona did not put together well.
I have had this trailer for about a year now. I bought it to haul a 10 ft Jon boat as well as other friends inflatable Zodiac style boats on to of that. It works very well, even when loaded with about 1200 lbs of goods. I see some comments about the trailer having issues and I can see they received trailers that were not assembled well by the vendor. When I picked my trailer up the guy handed me a bag of bolts that he said were extra!!! I took them and the trailer and drove it home. It rattled horribly and I learned few of the bolts were tightened and there actually are NO EXTRA BOLTS,,,,,. I read the directions and after about 40 minutes took the trailer out now that it was properly assembled and all the bolts properly tightened. It's was quiet!! It tracks well and if used as it's intended, it's perfectly fine. Bias ply tires are no big issue. If you want radials go get them, but wear the bias ply tires out first. You have to remember this trailer cannot haul 2,000 lbs, but closer to 1400 lbs or a bit more. The weight of the trailer is part of the payload like any vehicle/trailer that is assigned a payload. I suspect some people have loaded the trailer up with about 2,000 lbsof goods and then damaged the trailers. Read the reviews, make sure every bolt has been used as per the directions, make sure everything is tight and use it as designed. You shouldn't have any problems.I even back mine partially into the water to help loading and unloading. No issues. I recommend buying one, just do your research and match your needs. I bought the trailer on sale just before they increased the price. It is now $1,000 more than I paid for it a year ago!
Date published: 2022-05-19