Description
Proudly made in Canada, this Stirling(TM) trailer feature galvanized construction offering a corrosion-resistant finish that is long-lasting and maintenance-free. The torsion suspension gives a smoother ride with increased trailer rigidity. The expandable design allows for the transportation of a wide range of loads. E-Z Lube hubs offer ease of maintenance and added bearing protection. The galvanized finish will give many years of maintenance-free use. 1-year limited warranty. (Note that the availability of this product may vary from store to store)
* Trailer license and registration are required when picking up this item.
Front fold down gate expands length to 11-ft 3-in
Corrosion-resistant galvanized coating offers increased protection for prolonged trailer life
Front expandable gate providing the ability to extend the trailer bed by 15-in for longer loads
The rear gate is a ramp style for loading motorized vehicles and provides the ability to adjust the ramps to 1 of 4 designated locations
Recessed in-floor tie downs allow for convenient load security
Torsion suspension offers a smoother ride with increased trailer rigidity and independent suspension
Easy lube hubs offer ease of maintenance and added bearing protection
Product specifications
Galvanized steel construction
Stirling 5-ft x 10-ft Steel Utility Trailer with Ramp Gate
Frequently bought together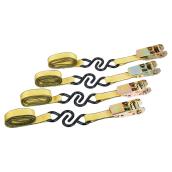 ERICKSON
Ratchet Tie-Down - 1'' x 10' - 900 lb - 4/PK
Format 1"x10' 900LB 4PK
Details
Article #16425000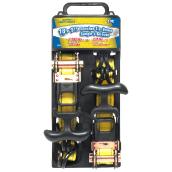 STINSON
Stinson T-Handle Ratchet Tie-Downs - Rubberized Handle - Vinyl-coated J-Hooks - 1 1/4-in W x 16-ft L - 2-Pack
Format 1 1/4"x16'xPK2
Details
Article #0033335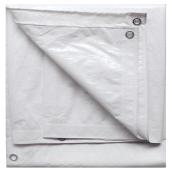 PROJECT SOURCE
Project Source Polyethylene Tarpaulin - 8-ft x 10-ft - White
Format 8'x10'
Details
Article #19595012
do these come assembled
Hello, Yes, Stirling trailers are fully assembled at time of purchase. They are shipped 95% assembled, then a store associate will complete the final assembly. Thanks, Stirling
Date published: 2018-10-11
Just to confirm: do both the front and the rear gates fold inside the bed for those extra long loads, such as lumber or just the front gate?
Just the front gate folds down for extra long loads. The ramps on the rear slide manually. You can hang material out the back on top of the rear gate if necessary.
Date published: 2019-07-25
Can i haul a Smart for two car with this trailer.
This trailer was not designed to haul a car, nor has it been tested for such a function. We do not advise using this trailer to haul a car.
Date published: 2018-09-06
Can you drill into the trailer to make more tie downs?
You can add additional tie downs as long as your install them using the same method as we do during the manufacturing process. It is important that you drill into the floor support channel and not in between, allowing for proper support. If you have any additional questions, contact us at 866-857-1445 and we would be happy to assist you.
Date published: 2018-10-05
I purchased this trailer just over a month ago, and right from the moment it left the store, the left license plate light is inoperative, How do I go about getting this fixed?
Mike, I am sorry to hear you are having an issue with your license light on your new trailer. Please contact our service department with the vehicle identification number (VIN) of your utility trailer and a Service Representative will be happy to assist you. Customer Service: 1-866-857-1445 Email: trailers@westbrooksystems.com
Date published: 2018-07-19
What size ball does it take. 
The 5' X 10' Stirling trailer is equipped with the 2" coupler.
Date published: 2018-07-02
how about liceincing
When the trailer is purchased the New Vehicle Information Statement (N.V.I.S) should be filled out by a store associate. To license your new trailer you will need to take your bill of sale and the completed N.V.I.S to the Ministry of Transportation. After paying the provincial fees, they will issue a license plate and your trailer will be registered.
Date published: 2019-03-24
what is the speed rating of trailer with 13 inch wheels versus 12 inch
Both the 12" and 13" tires are excellent at high speeds and have been designed for highway towing.
Date published: 2018-12-06
does the rear tailgate have a chain to secure it when lowered to extend the bed length
This model is not equipped with a chain allowing the gate to be lowered inline with the bed of the trailer, however the gate folds inside the bed for those extra long loads, such as lumber.
Date published: 2019-03-27
What is the weight rating for the ramps? Will they handle a 1500lb side x side without collapsing?
The ramps are rated for 50% of the payload. This is because there are only two wheels on the ramp at any given time, the others would be inside the bed of the trailer or on the ground. The 5' X 10' Stirling trailer is rated for 2100 lb, therefore the payload of the ramp is 1050 lbs.
Date published: 2019-04-01
Are there tie down loops on the 698380 utility trailer, and where are they located? how high are the side walls?
There are four recessed tie-downs in the bed of the trailer; they are located near each corner. The side walls of the trailer 15".
Date published: 2018-08-28
I could use a trailer to haul my handy cap scooter, 6x10 is too large require narrow and shorter with a ramp(s) approx 7x5 do you even make any thing that small and would it meet DOT standards.Vehicle comes with hitch and wiring
Lowes carry's a 5' x 7'3'' Stirling trailer model 60-084-TLR that is equipped with a ramp gate; each ramp is 10" wide and fully adjustable. If we can assist you further, give us a call at 866-857-1445.
Date published: 2018-05-20
Are sides and tailgate easily removed and can trailer be used without? Is trailer welded or bolted? Could trailer be welded. Thanks.
The top 6" portion of the side panel can be removed easily by removing four bolts and the lock nuts that hold them in place. The bottom 9" portion of the side panel cannot be removed at all because it is part of the floor of the trailer. The tailgates are riveted in place; therefore, not easily removed but doable with the proper tools. The trailer is bolted and riveted together. For information on safely welding your galvanized trailer, please contact the manufacturer directly.
Date published: 2018-05-30
What kind of wheel here? Size
The 5' X 10' trailer is equipped with ST175/80D13 LRC tires.
Date published: 2018-05-20
How long is the ramp? Is it long enough to be able to drive in a lawn tractor?
I bought it with that intent for my lawn tractor ,but won't go on without the deck hitting top of trailer as it reaches the top of ramp and the two ramps don't line up with wheels on the tractor either
Date published: 2020-05-19
Does it come with a DOT lighting kit?
All our Stirling trailers meet Transport Canada and DOT requirements.
Date published: 2018-05-20
Can you put bigger tires on and what size? Also, how hard is it to get part or add accessories like rails or is this aftermarket? Thanks
The 5' X 10' Stirling trailer is equipped with 13" tires which is the maximum size that will fit with the fenders. Stirling does offer accessories for this trailer, please see you local store for details.
Date published: 2018-05-20
Does this trailer have a wooden floor?
No, it's study corrugated galvanized  metal
Date published: 2018-03-20
Galvanized Steel Expandable Trailer - 5' x 10'
is rated out of
5
by
30
.
Rated

1

out of

5
by
AJT613
from
Poorly made, poor support from Stirling.
I bought this trailer 18 months ago and bits have been falling off it since day one. The electrical plug was barely attached to the wiring and the frame started bending almost immediately. unfortunately I was slow to do anything about it. Eventually, I called Stirling for help and had to leave a message that they returned 2 days later and then they said my warranty was expired so there was no support and that was that. The attitude was totally unapologetic. I just sold it to a guy who says he has time to fix it but I took a big loss on it to get it out of my driveway. It doesn't matter what the price is when when it's low quality.
Date published: 2019-03-09
Rated

5

out of

5
by
DOSinLindsay
from
It's well made in Canada!
1 First you can't complete an on-line purchase of a utility trailer, the store will call you soon after your purchase to come to a store and hand pick the trailer you want (they refunded my un-completed on-line purchase at the store, store said that my online purchase did not secure me a trailer as they have to add the trailer's VIN to the purchase) 2 After picking out the trailer with an associate, they wrote down VIN of my trailer choice, I paid in-person at the store and they gave me the manual package along with a N.V.I.S/D.V.N form that I had to take to Service Ontario license bureau, and they put a "pickup later sticker" on my trailer 3 I drove to the nearest Service Ontario with my paperwork (you need the N.V.I.S. along with the Lowes bill of sale showing that I paid required tax on the trailer) and I paid $20 to transfer my existing trailer plate to this new trailer and I got an ownership showing the new trailer info with the plate number(Service Ontario kept my N.V.I.S) I'm not sure what it would have cost in total if I didn't have an existing trailer plate with plate portion of the plate 4 I returned to Lowes and showed the Hardware Dept my new trailer ownership and they unlocked my trailer from their locking system and the employeee helped to hitch my new trailer to my car and checked the lights (all were fine!) They also gave me a nut and bolt to secure the hitch coupler to my ball (I didn't have one with me) Overall a very good experience BUT this info above should have popped up when I tried to buy the trailer on-line and it would also be nice to see this info on the trailer web page
Date published: 2016-12-01
Rated

5

out of

5
by
Dob232
from
Awesome Trailer!
I bought this trailer a few months ago to haul around my large ATV and I love it! It's a nice lightweight trailer that is good and sturdy and has plenty of capacity (2100lbs) for cargo. I was lucky enough to snag one at a great sale price I couldn't turn down! These Stirling trailers are very well made and awesome quality! Plenty of room for cargo and very versatile with both a front and rear gate that fold down to extend the length of the trailer for lumber or something. Galvanized steel will last a long time without rust and the trailer tows so smooth! So glad I bought it and would definitely recommend it!
Date published: 2019-06-18
Rated

5

out of

5
by
PiperCherokee
from
Happy
I purchased the 5x10 trailer to haul our Polaris side-by-side UTV and for general utility use. The trailer is made in Canada, and build quality is good. One of the aspects of the Stirling trailers is they are very lightweight. While some may consider this a disadvantage , in fact this why I picked the Stirling unit. It's possible to easily pick up the trailer by it's tongue, and its very easy to move around by hand while having a decent payload capacity. Something those of you with high clearance trucks should know about : When I brought the trailer home, I used a hitch with a 2 inch drop - the safety chains worked well with this configuration, but when I hitched up to my 4x4 with a 8 inch drop, I found the safety chains too short, the solution was to add another 12 inches of chain to accommodate the drop. I found I had a defective marker lamp, no big deal -- Product support from Stirling (Westbrook) is excellent, and they where immediately available to help and had a replacement warranty part on my doorstep in 48 hours. Overall, a nice trailer, very versatile, and reasonably priced with great support from the manufacturer.
Date published: 2017-10-05
Rated

2

out of

5
by
Gazoo
from
Very cheaply made.
Bought this last year. Initially I was content but after I got the trailer home I noticed the lights were not working. The fuse blew on my truck so I changed it and plugged the trailer back in...fuse blew again. Inspected the wiring and found the harness had been pierced with a bolt in the manufacturing process. Sterling wanted to give me to get it fixed at a trailer place and they'd pay 1 hour. How am I to get it there without lights? Risk a ticket? No, I don't think so. So I told them to send me another wiring harness. Got that fixed but this year the coupler started acting up and wouldn't let go of the ball without having to take it apart, guess that'll need to be changed. Not impressed. I should have spent a bit more and went with a local manufacturer.
Date published: 2018-10-20
Rated

4

out of

5
by
Trailerguy
from
Happy overall
I've had this trailer for almost 5 years and I think it's great. It's true that's it's not a heavy-duty design - the side panels in particular are fairly flimsy - but for most tasks it is more than adequate. The electrical connector failed early on so I replaced it myself (that's why I gave a 4 star review), but otherwise everything works well on it to this day. I've hauled furniture, building materials, firewood, a riding lawn mower and lots of other stuff with it and it works great.
Date published: 2020-07-18
Rated

3

out of

5
by
Commeetman
from
Price is good, but service is not.
I ordered on line. It says it only takes 1-2 business days to get ready. But I waited a week after numerous reminding calls. The side mark and license lights aren't working even before I leave Lowe's parking lot. But I was told to call manufacturing to address the issue. I still haven't got time to call them yet. Unless you are handy and patient, don't buy it.
Date published: 2017-07-26
Rated

4

out of

5
by
Rooney007
from
All round great trailer
Have a cabin that requires travleing sevral moiuntian passes. The trailer travels well in all conditons even with heavy load.Would only suggest upraging wire harness.
Date published: 2019-10-06