Frigidaire Reversible Swing Door Pocket Handle Top-Freezer Fridge - 18-cu ft - 30-in - White
Article #10355212
Model #FFTR1814TW
This item is not currently available for immediate purchase, but can be ordered by visiting the selected store.
Description
This Frigidaire top-freezer refrigerator has a large-capacity size that makes it perfect for larger families. Its adjustable shelves and 2 Store-More humidity-controlled crisper drawers, as well as its dairy bin and large storage shelves in the door, grant you all the space you need to store your favourite ingredients in ways that suit your needs. The top full-width freezer is equipped with door bins and a convenient shelf to help you keep your frozen foods organized. Plus, the doors are reversible and can easily be switched to fit in all types of kitchen. This fridge is ADA compliant, meaning that it is designed to be accessible to people with disabilities or limited mobility.
Keep your fruits and vegetables fresh in our humidity-controlled crisper drawers
Store-More Gallon Door Shelf gives you room for larger items like a gallon of milk
Door can be installed to open left or right based on your needs
Full-Width Wire Freezer Shelf gives you a way to organize items in your freezer better so you can find food quickly
Clear Dairy Bin keeps foods like butter, cheese and yogurt organized
Product specifications
Base Warranty Labor(Months)
Base Warranty Parts(Months)
Cabinet Liner Warranty Labor(Months)
Cabinet Liner Warranty Parts(Months)
Compatible Ice Maker Model Number(s)
Custom Door Kit Compatible
Depth (Excluding Handles)(cm)
Depth (Excluding Handles)(in)
Depth (Excluding Handles)(mm)
Depth (Including Handles)(cm)
Depth (Including Handles)(in)
Depth (Including Handles)(mm)
Dual Evaporator Cooling System
Electronic Temperature Control
Height to Top of Case(cm)
Height to Top of Case(in)
Height to Top of Case(mm)
Height to Top of Door(cm)
Height to Top of Door(in)
Height to Top of Door(mm)
Height to Top of Door Hinge(cm)
Height to Top of Door Hinge(in)
Height to Top of Door Hinge(mm)
Humidity-Controlled Crispers
Optional (sold separately)
Manufacturer Color/Finish
Matching Replacement Water Filter Model
Refrigerator Capacity(ft3)
Refrigerator Interior Lighting
Sealed Refrg Sys Warranty Labor(Months)
Sealed Refrg Sys Warranty Parts(Months)
Temperature Controlled Drawer
Works with the Google Assistant
Useful information
DELIVERY AND INSTALLATION
Our experts are dedicated to ensuring your new appliance is delivered with the utmost care.
Learn More
PROTECTION PLAN
Enjoy exclusive privileges.
Learn More
RETURNS AND REFUNDS
We stand behind every product we sell.
Learn More
Payplan by RBC
Credit available
Frequently bought together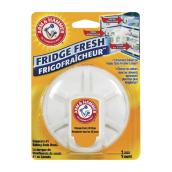 ARM & HAMMER
"Fridge Fresh" Refrigerator Air Filter
Details
Article #53975000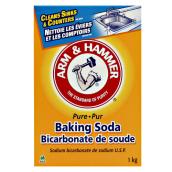 ARM & HAMMER
Arm & Hammer Baking Soda Household Cleaner - Natural - Powder - 1-kg
Format 1KG
Details
Article #53975001
How do you raise the doors on the fridgeaire fridge.  It's a single door with single freezer door on top.  Neither is sealing 100%
Hi, Kelley67! Thank you for your inquiry. To make any adjustments to the doors, we do recommend view, and following the instructions in the Use and Care Guide, with the following link, https://images.atgstores.com/pdf/5328/012505644481_ca_use.pdf on page 6. We certainly hope this information was helpful to you. -Ciara
Date published: 2019-06-12
what is the EnerGuide rateing on this frige
Hi Bobby. Although the refrigerator is not rated EnergyStar the appliance has an estimated yearly energy cost of $43. Kindly, Anna
Date published: 2019-05-12
what is the temp of recommended on the fridge ?
Hi Julys. Factory suggested temperature settings for refrigerator is 37 degrees and freezer is 0 degrees. Acceptable operating temperatures for the refrigerator is 33 degrees to 47 degrees and the freezer is -6 degrees to 6 degrees. If needed, our team can be reached by calling 1-888-203-1389 Mon - Fri, 8am - 8pm (EST) Sat, 9am - 6pm (EST) Kindly, Anna
Date published: 2018-11-15
Is there a light in the freezer section
No, there is not.
Date published: 2018-10-22
Is this fridge suitable for a low temperature environment. This is for a seasonal cabin where temperatures in the cabin can drop to below 40 F?
No fridge is designed to work in a cold environment. It would have to be fitted with a special device.
Date published: 2018-11-15
Is it free delivery and haul away old fridge?
It was for mine because it was a special offered that week - otherwise I think you have to pay a fee. This counts as truck delivery, not free shipping. They will set up the fridge. They did haul mine away.
Date published: 2018-08-20
Does it have an ice maker?
Bo
Date published: 2021-12-30
what is the heigthof fridge?we have the 30 inch width available
Hi Brown1472! We see the height is 66-5/8". Hope this helps! -Thanks!-
Date published: 2018-04-11
Frigidaire Reversible Swing Door Pocket Handle Top-Freezer Fridge - 18-cu ft - 30-in - White
is rated out of
5
by
12084
.
Rated

3

out of

5
by
traveler
from
Might have gotten a partial lemon
The refrigerator arrived on the day promised, The delivery person was by himself and as such was running late. When he put in refrigerator and turned it on, it was super quiet. It has been 3 days now and the freezer has still not frozen a pack of ice pops. Now the refrigerator sounds like it is in pain when the motor comes on. Also, the refrigerator was NOT leveled, so it leans forward and I have to make sure and push door closed other wise it stays open. I will be calling Lowes to see what can be done, but last time I had a problem with an appliance purchase, I was told that I had to call manufacturer to get it fixed, even though I had it only a week.
Date published: 2015-05-31
Rated

1

out of

5
by
JJ
from
They Don't Make 'Em Like They Used To
This refrigerator puts the Frigidaire name to shame. The glass shelves keep falling down. The attachments that hold the food in on the door shelves fall off on a regular basis when we open the door, so we are forever cleaning up food off the floor. As soon as our 1-year warranty was up, the handle broke off the door. Then the runners broke for one of the drawers broke so we can't use the drawer, and the plastic broke on one of the door shelves. We are a family of 3 and are not hard on refrigerators. This is a piece of garbage, and though it is only 3 years old, we will likely soon be replacing it, and it certainly won't be with another Frigidaire!
Date published: 2017-05-30
Rated

1

out of

5
by
Steve
from
Want an extra fridge in your garage? NOT THIS ONE
I purchased this fridge to use as a 2nd fridge that we would put in the garage. Basically, this unit DOES NOT WORK properly if it is located in any space where the temperature drops below 60 degrees F. HOW WAS I SUPPOSED TO KNOW THAT?! So what happens? When winter comes, and the temp drops, the freezer stops working - and everything in there will go bad. Did Frigidarie care? NO. They said I had to order an extra part - a "garage warming kit" that would solve the problem for an extra $25. Did they offer to send that to me free of charge, due to all the lost food and hassle this problem caused me? NO. Will I ever buy another Frigidaire product again? NO!
Date published: 2015-03-05
Rated

3

out of

5
by
DLG4
from
Good price, not a great refrigerator
There are a couple of things I like about it: the finish is nice, and the layout of the refrigerator door storage was intelligently thought out and useful. It isn't terribly loud and so far it functions well as far as keeping a steady temperature. The cons? No meat drawer. The chimes don't work if the door is left open. The Frigidare tag on the front was glued on crookedly - not a big deal, but it shows a lack of quality control. But to me, the biggest drawback is the tiny, almost toy-like freezer. It's so small I removed the ice maker just to provide more room. For the price it's okay, but more suited to a garage then to a kitchen.
Date published: 2015-08-04
Rated

1

out of

5
by
Steve
from
Brand new refrigerator lasted less than a week....
I bought this refrigerator for a rental home on a Sunday, and had it delivered the following Wednesday. By the next Sunday, my renters called to say that the food was not staying cold. I went back to our local Lowe's, explained the situation, and bought a similar-sized Whirlpool to replace the defective Frigidaire model. Unfortunately, neither Frigidaire nor Lowe's will reimburse my renters for the food that spoiled. It is disappointing to pay over $500 for such an inferior product. As a landlord, I will never purchase a Frigidaire product again under any circumstances, and would recommend that their products be avoided.
Date published: 2015-05-15
Rated

3

out of

5
by
inslady
from
not a "great" refrigerator, but basic only
We bought this in October 2015 because our older frig quit, so we didn't have a lot of time to shop around and mainly bought this because of the price. Now, a year and 1/2 later, the bottom shelf in the door is split so I had to tape it with duct tape to keep it together; the handle broke; the handle initially "split" a while back but now it's gone. Trying to find the replacement has been a real chore. It does keep food cool but I have come to really dislike the bins in the bottom because they are so small--they appear a lot bigger until you open one and see the back side is slanted in and upward, taking all the space out of it.
Date published: 2017-04-17
Rated

2

out of

5
by
CountryGirl
from
Finish is substandard
Most reviews are from people who have refrigerators 3 months or less...you may have a less-than-rosy picture when you have had it 3 or 4 years.... both front doors are becoming covered with rust. It's in the tiny grooves on the pretty finish, and expanding daily....Maybe I'm expecting too much, but shouldn't a refrigerator stay white at least 5 years??? And then I looked at the homeowners' manual...they don't even guarantee from rust ON ANY PART OF THE REFRIGERATOR for ONE year! How's that for confidence in your product?? Goodbye, Frigidaire. I've had that brand for over 50 years....never again.
Date published: 2015-11-13
Rated

3

out of

5
by
Ifixit
from
Textured surface and rounded side edges
The doors can open from the right or left (delivery guys switched it for us). The textured white finish is lovely, and I like the rounded edges on the sides of the doors. The automatic ice maker was optional, and I did not order it. I was a little disappointed there wasn't a small shelf in the freezer for ice cube trays, and it was difficult to move the shelf in the freezer (no instructions in the manual on how to do it). Also, the shelves in the doors (top freezer and lower refrigerator) were not solid, so a lot of the small items I put in the shelves slipped right through between the bottom of the shelf and the rail, and fell to the floor when I opened either door.
Date published: 2016-06-13