Description
Never run out of electricity thanks to this P03501 Firman portable generator. This gas-powered device has a tank capacity of 19 L (5 gal.). Ideal to provide power to your campsite, job site or simply for your house in case of a power outage. It offers 4450 starting Watts and 3550 running Watts. Its 208cc engine, equipped with a Phoenix Fat Head block for enhanced efficiency, can run for up to 14 straight hours. This generator features a Whisper Series muffler, a Power Stream alternator, a Volt Lock automatic voltage regulator, and a 4-in-1 data minder. It offers one TT30R outlet (RV ready), one L530R outlet, and two 120V standard outlets (5-20 Duplex).
208Cc engine with low oil shut down and cast iron sleeve
5 gallon tank provides 14 hours runtime
RV ready multi feature control panel with covered outlets
8" heavy duty never-flat wheels and high leverage single folding handle
Includes engine oil, funnel and FIRMAN assembly tool kit
3 Year warranty
Product specifications
Automatic Voltage Regulation
Engine Displacement (Cu. Centimeters)
Engine Warranty Labor(Months)
Engine Warranty Parts(Months)
File/Certification Number
4450/3550 Watt Recoil Start Gas Portable Generator cETL Certified With Wheel Kit and Cover
Osha Required Gfci Outlets
Other Component Warranty Labor(Months)
Other Component Warranty Parts(Months)
Run Time at 1/2 Load(hrs)
Frequently bought together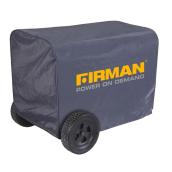 FIRMAN
Firman Large Generator Cover for 5000W Generators
Format LRG
Details
Article #32019890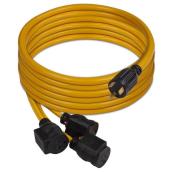 FIRMAN
Firman Power Cord - 25-ft - 30 A - TT-30P to 5-20RX3
Format 25'
Details
Article #41535274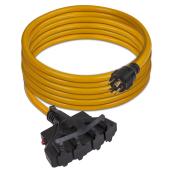 FIRMAN
Firman Power Cord - 25-ft - 30 A - L14-30P à 5-20RX4
Format 25'
Details
Article #41535275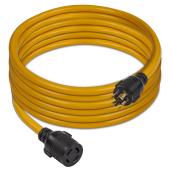 FIRMAN
Firman Power Cord - 25-ft - 30 A - L14-30P to L14-30R
Format 25'
Details
Article #41535276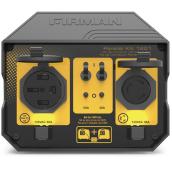 FIRMAN
Firman Parallel Connections Kit - 30 to 50 A
Details
Article #44005001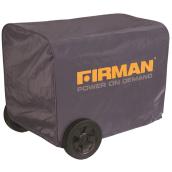 FIRMAN
Firman Inverter Generator Medium Cover - Double-Insulated
Details
Article #41535150
What is the DB output.  Decibel Output.  Noise number. 
I'm not sure but it's not that loud. Somewhere around 80??
Date published: 2021-09-08
How noisy is this generator?
I just used it yesterday to run a water pump and it does make noise. If it was the only noise it would be loud but with kids playing and neighbors cutting grass it isnt crazy loud. Louder than a push mower but quieter than our riding mower. Its a great machine, starts on 1 pull. Glad we bought it.
Date published: 2021-06-06
is the Firman P05706 unit 220 volt.
No. It's a 120 volt unit.
Date published: 2020-11-29
Combien choses je peux brancher avec
Avec l'extension 30amp twist lock..je branche 2 frigo et 1 congelateur (25ans d'age)..et 1 bloc batterie secour pour wifi et routeur
Date published: 2021-09-14
What brand of engine does it have?Specs saw OEM
As far as I know no name marked. Most likely a generic Chinese made motor which is common to all these lower output generators. Champion, Firman etc all use a very similar OHV engine on their generators. It maybe a copy of some other company.
Date published: 2020-11-17
What are the DBS level when running?
Our whisper series muffler keeps the P03501 running at a quiet 67 decibels
Date published: 2022-06-12
What would the dB rating
Our whisper series muffler keeps the P03501 running at a quiet 67 decibels
Date published: 2020-01-27
Quel est le poids de la génératrice?
100lbs
Date published: 2021-07-26
Firman Gas-Powered Portable Generator - 5-Gallon - 3550W-4450W
is rated out of
5
by
338
.
Rated

5

out of

5
by
Dailypix
from
Excellent Value
Purchased on sale at incredible $300 price. Honestly generators with comparable features in the $1000 + range. Very easy to set up. Started on the second pull. I have a 10,000 watt machine but it is hard on gas, noisy and very difficult to start when below -10C. This little guy sat out all night at -25C up at my camp and started on first pull. Runs relatively quiet, all day on 5 gallons of gas and effortlessly powered my cottage while charging my solar batteries to 100% through a 90 amp smart inverter. Wish I bought one two years ago would not have lost 4 big batteries that froze and split their cases. Great investment.
Date published: 2018-01-19
Rated

5

out of

5
by
FirGreg
from
Best thing ive bought in a long time
I bought this generator to replace a Generac that performed horribly. I was leary of the cheap sale price figuring I would just be bringing the Firman back as well and biting the bullet to purchase a Honda. I am taking the time to write this review because after putting approximately 150hrs on this unit that at times have been in the -30C range this unit has been incredible! it fires up first pull every time and offers smooth running performance! FIRMAN you have proven yourself to me and our cold Canadian winters! ... *Note* after 10 hours I replaced the factory break in oil with Amsoil Synthetic.
Date published: 2017-01-11
Rated

5

out of

5
by
Haulmark
from
Great little Gen!
I own a trucking company and my semi doesn't have a webasto or generator. I've wanted to buy one for awhile, something powerful enough to run a heater, microwave, TV and fridge but also small enough to bolt down to the catwalk behind the can. This generator fits all my requirements. When I first set it up and did the initial startup, the generator fired up in the very first pull. It was very quiet and the dcb level between idle or on a load is hardly noticeable which is nice. I tested it out buy connecting my air compressor and a 10" circular saw. The genaerator hardly bogged down
Date published: 2017-04-07
Rated

4

out of

5
by
casey_89
from
Worth the price!
So far I have only used the generator for my circular saw and chopping up a pile of wood pallets for our yard fire pit, and it worked great. My goal is to use it for camping in areas where there are no power since it has the 30A hookup. Camping season is over for 2017, so given the noise I am not yet sure if it will annoy our campsite neighbors or not until I try. I figure if you run a long extension cord and chain the generator to a distant tree this would ensure no noise pollution. It is certainly not as quiet as an inverter generator would be, but looking forward to testing it out with full A/C running, microwave, TV, speakers, etc to push the limits. Seems strong and durable
Date published: 2017-09-20
Rated

5

out of

5
by
Dave
from
Generator PO3501
The PO3501 I recently purchased to run a heat dish,microwave and furnace if needed.This generator will boil a kettle of water and run 2 skill saws at the same time as I tried it.This is what I need for a backup when the power may go out.Its got a lot of features my bigger generator doesn't have like the fuel gauge,volt meter and running time meter that I like.I was impressed that a wheel kit,cover ,funnel and accessories came with it also.I tried a few things to run on it and it works great.Its still new but so far what it does and works great. People make the mistake not knowing exactly what type of generator they really need before buying one.
Date published: 2020-01-10
Rated

5

out of

5
by
Hgshjguk
from
Awesome deal when 300$
I got this generator a few weeks ago and was immediately impressed by the quality of the packaging and the fact that they include real wrenches and even the throw away bolt's that hold the motor during shipping are high quality. This generator fires up no problem, even in minus 20. And it's powerful enough to run a small welder. I used my dynasty 200 dx on it and it has no problem doing stick at 108 amps . I haven't tried and higher but I won't be surprised if I can go a lot higher. This unit impressed me so much that I told my girlfriend I would buy another if it ever went on sale again. I checked online later that day and it was back on sale so I picked up 2. This generator is light enough than a decnt sized man can put it in a truck by himself, is quiet, has lots of power and a really big fuel tank. What's not to like.
Date published: 2016-12-29
Rated

5

out of

5
by
Doublestorm
from
A little workhorse
In anticipation of the snow storm that just came though Manitoba, I picked this generator up and I am SO glad that I did! I was without power for 31 hours and this generator kept me going throughout the power outtage. It ran my fridge, freezer, a couple of LED lights along with the TV and DVD player with no problem at all. With the large gas tank on it, I filled it up and only had to add more gas once through the entire time. Quality product!!!
Date published: 2019-10-13
Rated

4

out of

5
by
ONRguy
from
Nice unit so far
Bought because we get some longer local outages. Out of the box I put on wheels, front bumper mount, and handle using tools provided. Added oil provided. Added gas and unit started up quickly. Ran for 30 minutes, shut down and once cool, put on supplied cover. Noise while running was certainly acceptable. CON: Firman should include a short 25foot extension cord for the 30A to 15A. Needs a multi-end cord to gain more 15A receptacles. I tried to buy one from RONA but they could not supply it. Had to go to another online supplier to find one
Date published: 2020-12-07