Description
The OASIS bathroom fan heater will provide you with the comfort you deserve while remaining discrete and quiet. It features a highly accurate electronic thermostat, an integrated timer and a Heat Boost mode and an optimum heat output which allow you to easily and rapidly control the comfort of your rooms. In addition, its refined look and its high-performance polymer finish blend in with any decor.This product is covered by a 5-year warranty and 3-year on electronic components.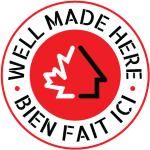 Ecological Attributes
This convector has a built-in electronic thermostat, which is less sensitive to temperature differences for improved comfort and up to 10% in energy savings.
Product specifications
5-year warranty / 3-year on electronic components
How do I order the one without a thermostat? I can't seem to find it online although it says that it is available without.