Description
This Exchange-A-Blade is a cabinetry circular saw made of carbide. Uniquely designed to provide splinter-free cutting of hardwood, pale wood, particleboard, plywood and veneers. This metal cutting saw blade features an antikickback shoulder design and zero-degree hook angle to reduce jamming, tooth breakage and overfeeding.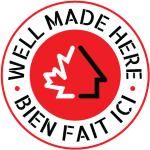 Ecological Attributes
This product is made from recycled alloy steel to reduce the use of raw materials. It is also part of the EAB Exchange Program which gives a credit toward the purchase of a new accessory when it is returned in stores for recycling.
Product specifications
For Steel Roofing, Metal Siding and Steel Studs up to 0.062 Gauge