Description
The EAB mitre saw carbide blade is used to cut plastics and non-ferrous metal. It is compatible with handheld and stationary circular saws. This professional saw blade is designed to make dry cuts. One 10 in, 80-tooth saw blade comes per package.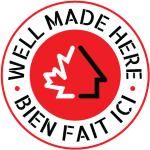 Ecological Attributes
This product is made from recycled alloy steel to reduce the use of raw materials. It is also part of the EAB Exchange Program which gives a credit toward the purchase of a new accessory when it is returned in stores for recycling.
Product specifications
For cutting plastics and non-ferrous metals (aluminum, brass, copper, etc.) with miter, sliding compound and radial arm saws