Description
This Dremel 4000 rotary tool kit has everything you need to tackle a wide range of different projects. It provides variable speeds up to 35,000 RPM, along with electronic feedback that maintains consistent speed under load, to give you optimized control and precision handling. The rotary tool has a quick collet for fast accessory changes and an ergonomic style that offers a 360-degree grip zone for superior comfort in any position. The kit comes complete with rotary tool, four attachments, thirty-four accessories, a carrying case, and a accessory case.
Two year warranty
High-performance motor for maximum performance at all speeds
Electronic feedback for consistent speed under load
Variable speed (5.000 - 35.000 rpms) provides precision with maximum control
Separate on/off switch and speed control dial for the perfect speed every time
Can be used with all Dremel rotary tool attachments and accessories
Quick collet lock for fast accessory changes
Cool-running ball bearing construction for smooth and quiet operation
Replaceable motor brushes extend tool life
Product specifications
Base Warranty Labor(Months)
Base Warranty Parts(Months)
Battery Warranty Labor(Months)
Battery Warranty Parts(Months)
In-use/lifestyle images-tools/accessories not included
Frequently bought together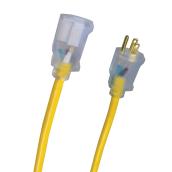 WOODS
Woods 12/3 Extension Cord 25' Yellow
Format 12/3 25'
Details
Article #74045239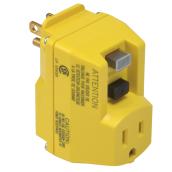 YELLOW JACKET
Single Outlet Portable GFCI Adapter - 1800 W - 15 A
Details
Article #32045050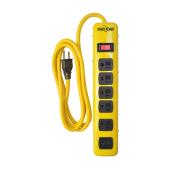 YELLOW JACKET
6-Outlet Power Bar with Surge Protection - 6' - Yellow
Format 1.8M
Details
Article #32045053
Electric 4000 Rotary Tool Kit - 1.6A - 41 Pieces
is rated out of
5
by
258
.
Rated

5

out of

5
by
Greg
from
Does what every rotary tool should
I bought this to replace an older "knock off" brand (non-Dremel) rotary tool. The Dremel 4000 works great. The best feature (not present in any of the Dremel cordless models) is its ability to maintain a constant speed under load, even at lower RPMs - no more guessing at what speed to set the tool before starting (tools without this feature will slow down, or stop at slow settings after starting jobs like grinding or sanding). I also like the sanding/grinding guide attachment. This makes it much easier to sand or grind the side of a flat piece of small stock and maintain a 90 degree angle on the side.
Date published: 2015-12-04
Rated

5

out of

5
by
Elkmom
from
How did I live without this?!
I have just begun dabbling in the world of miniatures: dollhouses, dollhouse furniture, etc. Even though there are many terrific kits available and I don't have to cut wood from scratch, the Dremel makes it possible for me to finish the edges and carve pieces to fit together better, etc. I've even gone ahead and played with customizing kits by switching doorways and windows, because the Dremel slices through the wood so easily. There is a learning curve and the instruction booklet is not very helpful, but overall it is not that hard to figure out. It makes a fun hobby even more fun!
Date published: 2016-02-21
Rated

4

out of

5
by
Shelley
from
Handy Tool For My Weekend Projects
I recently purchased this to replace a cheap generic one that was not cutting it. Get it? Anyway... I needed something with a little more power and that wouldn't slow down mid cut. This is an amazing well made too!! I can see myself using this for all my little projects. It comes with many accessories for many different jobs. I did find the bits to be on the cheaper quality side, but for the price of the kit I didn't find this a big deal. The only negative thing I can say about this is that I do wish the cord was a little longer. I feel like this is so many tools in one!
Date published: 2017-11-22
Rated

4

out of

5
by
tm9782
from
Great Tool!
I'm still amazed on how many things you can do with this model. The motor is a lot more powerful than the previous models I owned. If you need a job done, this is the tool to buy. I bought my first Dremel 4000 about a month ago; it died on me. By died I mean that the power switch and the lock button are so close together that I pressed them interchangeably until one day it just locked up and died. Is this Dremel's fault? Not really, I'm the one who kept accidentally pressing the lock button with the tool running. That being said though, they should have considered that when designing it. Overall, I highly recommend this tool. Just keep an eye on that lock button; it's like the Pandora's box of Dremel tools.
Date published: 2011-12-04
Rated

5

out of

5
by
GERALDINE
from
ADDITION TO MY OLD DREMEL
I HAVE A 25 YEAR OLD DREMEL THAT NEEDS A NEW VARIABLE-SPEED SWITCH (which I plan to get), BUT WAS IN THE MIDDLE OF A PROJECT, SO HAD TO BUY A NEW DREMEL. I'M HOPING THIS NEW MODEL 4000 WILL GIVE AS GOOD SERVICE AS MY ORIGINAL MODEL 395. THE NEW ONE IS LARGER AND HEAVIER, SO I DON'T KNOW YET IF THAT'S GOOD OR BAD FOR MOST PEOPLE - HOWEVER, I HAVE ARTHRITIS, AND THE LARGER, HEAVIER 4000 MODEL WORKS BEST FOR ME BY USING A FLEXIBLE-SHAFT ATTACHMENT (which I used on my model 395, and it fits the new Dremel also). ONLY TIME WILL TELL IF THIS TOOL IS "HIGH QUALITY" AND "DURABLE", SO I CAN'T COMMENT ON THAT YET.
Date published: 2015-11-14
Rated

4

out of

5
by
MWwjm
from
Updated classic, versatile, poor storage of parts
Bosch corporate ownership shows. Nice improvements in ease of use and versatility (grips, attachments/accessories). Solid feel and nice quality of fit and finish - looks quite durable for hobbyists and the lighter craft uses. Impressive little motor easily handles the precise tasks the tool is intended to do. Not a pro tool for heavier uses, but not priced like one either. As a combo kit, needs to include a nicer storage case that holds tools/bits individually so you can see them and keep track of them. Rummaging in little bins for every single piece you need, every time, is tedious.
Date published: 2012-06-19
Rated

5

out of

5
by
JBeverett
from
Excellent workhorse for projects
I had a pencil grip rechargeable Dremel for years, but got annoyed with draining the battery. Bought this one in a fit of frustration on an electrical project and was blown away by how much stronger and reliable this 4000 model is compared to the other Dremel. Only complaint on this model is the location of the on/off switch relative to the collet lock switch. I have accidentally nudged the lock button while trying to turn off the tool, and that grinds some internal parts a bit.
Date published: 2011-01-18
Rated

5

out of

5
by
dannyUSA
from
Another quality product from Bosch family
Great tool - comes with case and a nice assortment of bits, polishing and cutting discs and 2 adapters. I used mine to cut some openings into steel panels used for roofing/siding. It cut thru like it was butter. Its a great addition to my garage arsenal. I highly recommend!
Date published: 2016-05-22