Description
The Eccotemp L5 portable tankless water heater is great for heating water while camping, hunting, tiny homes, RV's, poolside, washing pets, and equestrian. Attach a garden hose and 20 lb propane tank and you can enjoy the luxury of hot water anywhere. This model includes an electronic ignition powered by 2 "D" cell batteries and a manual gas and water flow adjustment, perfect for any location where electricity is not available. The ideal operating range for the L5 is 20~80 PSI with a 1.5 gal./min flow. For low water flow/pressure situations, Eccotemp recommends the Eccotemp EccoFlo 12-volt pump (purchased separately) and strainer.
Lightweight, easy to carry, and compact
Runs on a standard 20 lbs liquid propane tank and is equipped with an electronic ignition powered by 2 "D" cell batteries, making it ideal for on-the-go
CSA certified
Features a safety shutoff that is activated when the unit runs longer than 20 minutes or is tilted more than 45 degrees in either direction
Low pressure activation of 20 PSI and is easy to connect to any standard garden hose
Rated at 1.5 gallons per minute (GPM) of hot water output with an achievable temperature range of 50 – 140°F
1-year product warranty
Product specifications
Maximum Gallons Per Minute
Remote Wireless Thermostat
Frequently bought together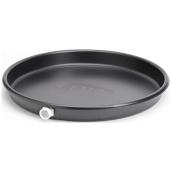 OATEY
Oatey Water Heater Pan - Plastic - Black - 24-in dia
Format 40GA 24"
Details
Article #11205155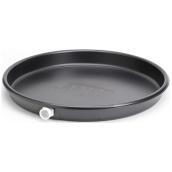 OATEY
Oatey Water Heater Pan - Plastic - Black - 26-in dia
Format 60GA 26"
Details
Article #11205156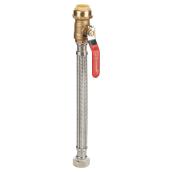 AQUA-DYNAMIC
Connector-Water Heater - 3/4" x 12" - FIP x Push Valve
Format 3/4"x12"-1/PK
Details
Article #01735485
When using the product it kept shutting off and we had to flick the switch to relight it. Why would it be doing that?
Burp" the propane line...you have an airlock...shut off bottle, disconnect regulator, reconnect, repeat sometimes 3-4 times esp when propane bottle is low!
Date published: 2020-10-23
Can this unit be mounted directly to the outside of a trailer
Sure. Need water and propane supply but have it on an outside wall on a single 2" screw
Date published: 2020-10-23
Can this unit be hooked up to natural gas ? and has anyone used it in the winter ?
We have used it in 12C below....take it inside right after. In minus 2-3 we leave it outside but make sure to disconnect water supply and drain and drain the handheld unit....catches water so disconnect and let the hose hang vertical to drain, take handle inside or shake all wster out of it
Date published: 2020-10-23
will this unit work with a 45 gallon drum of water elevated to supply water.
The tank would need to be elevated about 100 feet to make the required 40 psi. I needed a 12 v pump to increase the pressure coming from my elevated 200 gallon tank. Works beautifully now though.
Date published: 2020-10-19
Would this heat my pool 2500 gallons ??? Plumbed with a pony pump ?? Thanks
This unit is not recommended for pool heating.
Date published: 2020-07-11
Can this unit be used strictly for an indoor jacuzzi tub?
No, it is not designed for any indoor use.
Date published: 2020-07-11
can i use this tankless water heater with my camper as long as i install it outside thanks
Yes
Date published: 2020-06-11
Ce produit n'est pas homologué CSA, donc ne peut pas être brancher à la bonbonne de 420 lbs de gaz propane de la maison ?
Le chauffe-eau Eccotemp L5 est un produit de la catégorie des chauffe-eau portatifs de plein air et conçu pour un branchement à une bonbonne de 20 lbs.
Date published: 2020-05-19
Eccotemp L5 1.5-GPM 37,500-BTU Outdoor Liquid Propane Tankless Water Heater
is rated out of
5
by
33
.
Rated

4

out of

5
by
Jeremy
from
great cheap water heater
I have a portable hot tub with a slow heating source. I built a rig with a water pump and this portable hot water heater. So far this thing has worked great. Instead of it taking 48 hours to heat 250 gallons of water from 64 degrees to 97 degrees, this hot water heater does it in 3 hours. I have had a few issues with the pilot light going out but that is about 1 out of 100 usages. Other concern i had, my house water is ICE cold for some reason. This hot water heater could only get it to about 85 degrees, not too bad but if i was using it for showers i would be upset. Because its heating warm water it works great.
Date published: 2020-05-13
Rated

1

out of

5
by
Tom38
from
Not built for cold weather
Do not use this thing in cold weather. I have a number of small complaints that would normally give it 3 or 4 stars, but this thing breaks pretty easily. I love camping a lot, and being able to shower while camping gives me enormous flexibility. I want to love this thing, but I have bought 2 now and both died. I followed all directions and drained the water out when the weather gets cold, but even without water in the line, if the temp drops too quickly after use the change in temperature cracks the pipe like an egg. I went to refill the thing the day after a cold snap and was rewarded with a geyser of water and flame. Very exciting, not very useful.
Date published: 2022-01-13
Rated

1

out of

5
by
Stan
from
Lukewarm garbage
Just got this, was stoked to use it in my outdoor shower. Running it in 40 degree weather, hot all the way up, cold all the way down, flame is lit and visible. Calling the water lukewarm is generous. Absolute trash product. One suggestion the company has to fix this is to reduce the flow rate. However the screw you are supposed to tighten does not fit any of the 5 driver bits I tried to use, they say its "Phillips head" but it is absolutely not. The screw got damaged as I tried to tighten it, and even tightened all the way the flow wasn't reduced enough to make the water hot. Also the shower nozzle it comes with is a piece of crap.
Date published: 2022-01-20
Rated

4

out of

5
by
Papa Spen
from
Heats water better than expectations!
We recently installed this heater on our outdoor pool shower room. It does take a little tweaking (adjustment of water flow and propane level) to get the water temp. to the right comfort level. Once set you will enjoy a great shower. The unit itself seems well made. We did have a problem with the shower hose and shower spray supplied with the unit. The hose burst on the second day and the shower head on/off switch is difficult to turn off and on. If not for that we would have given this unit a full 5 stars. The manufacturer seems to have chintzed out (see photo) on the shower head and hose assembly. I plan to replace the hose with one of better quality and will install a ball valve between the heater unit and shower head. A ball valve will be easier to turn on and off allowing for the supplied shower head to be left on or replaced with a better quality head. Once completed we are hopeful this heater will provide us with our pool side shower needs.
Date published: 2018-05-17
Rated

1

out of

5
by
Trammell2021
from
Have purchased 2 both have busted.
Although I love the concept behind these tanks and they work well WHEN they work, I have purchased 2 and each one has busted, we have cut the water supply each winter but when we go back to use them in the spring they have froze and bust inside. Complete waste if money as the last one I purchased was installed but never even used.
Date published: 2021-04-30
Rated

1

out of

5
by
Redpolecat
from
Save your money
Even with the correct and recommended pump, could not get the heater to perform properly. Flame constantly went out. We troubleshooted everything, took it apart, achieved some funxtionality, then the regulator failed. We wasted a huge amount of time on this instead if enjoying our weekend. Do not recommend.
Date published: 2021-06-20
Rated

5

out of

5
by
Arturdv
from
Got to love ❤️ it
Bought this water heater roughly about seven years ago. had to replace it this year great product, was the first at the trailer park to install one . Now everyone has one... summer park...
Date published: 2017-05-04
Rated

5

out of

5
by
Melissa
from
AWESOME
[This review was collected as part of a promotion.] Really hot water instantly. We are using it for showers in a RV. WORTH EVERY PENNY
Date published: 2020-04-25