Description
The Eccotemp L10 portable tankless water heater is great for heating water instantly while camping, hunting, tiny home, RV's, poolside and equestrian. Attach a garden hose and a 20 lbs propane tank and you are guaranteed to enjoy the luxury of hot water anywhere. This model includes an electronic ignition powered by 2 "D" cell batteries and a manual gas and water flow adjustment to give you the exact amount of hot water needed. The ideal operating range for the L10 is 20~80 PSI with a 3.0 gal./min flow. For low water flow/pressure situations, Eccotemp recommends the Eccotemp EccoFlo 12-volt pump (purchased separately) and strainer to give you that extra boost.
Lightweight, easy to carry, and compact
Runs on a standard 20 lbs liquid propane tank and is equipped with an electronic ignition powered by 2 "D" cell batteries, making it ideal for on-the-go
Features a safety shutoff that is activated when the unit runs longer than 20 minutes or is tilted more than 45 degrees in either direction
Low pressure activation of 20 PSI and is easy to connect to any standard garden hose
Rated at 3.0 gallons per minute (GPM) of hot water output with an achievable temperature range of 50 – 140°F
1-year product warranty
What's included: Eccotemp L10 portable tankless water heater, 3 1/2 CSA certified gas regulator and hose, mounting hardware, and quick connect and adapter
Product specifications
Remote Wireless Thermostat
Maximum Gallons Per Minute
Frequently bought together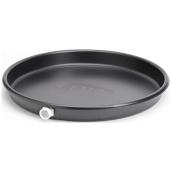 OATEY
Oatey Water Heater Pan - Plastic - Black - 24-in dia
Format 40GA 24"
Details
Article #11205155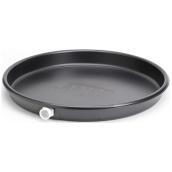 OATEY
Oatey Water Heater Pan - Plastic - Black - 26-in dia
Format 60GA 26"
Details
Article #11205156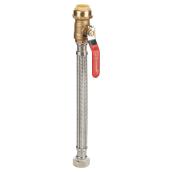 AQUA-DYNAMIC
Connector-Water Heater - 3/4" x 12" - FIP x Push Valve
Format 3/4"x12"-1/PK
Details
Article #01735485
Would this work for a pool?
This unit is not recommended for pool heating.
Date published: 2021-01-12
Does the L10 and the L7 automatically fire up when flow is sensed?
Yes.
Date published: 2020-07-11
Hi is the unit CSA approved?
I had the same question and finally got the manufacturer to answer this question last fall. It is not, but they told me they were working towards CSA approval. Your insurance company would not cover you if this device ever caused the need to file a claim. 
Date published: 2020-05-11
What type of pump is recommended? I have a 120v generator.
I am using the heater for a guest house at our cottage which is being supplied with water from a submersible well pump at the main cottage. This pump supplies water at 30-50 psi. Your generator will likely limit the size of pump you can use as the starting current of the pump will be higher than its steady state current, The flow rate you require for your application would also influence the pump capacity
Date published: 2018-08-13
Can this unit be used in a situation where glycol is added to the water for example for hydronic floor heating?
I would definitly check with the manufacturer of this product not the retailer as what your suggesting is slightly different from the manufacturers intended use. Things such as back pressure and boiling point may be above there design specs.
Date published: 2021-01-12
I have an outdoor shower stall at my cabin on a lake, the shower stall is quite open at the top and bottom and is not enclosed. Can this unit be used in this application?
Hi Dawn & Ron. We have not installed our heater yet but purchased it for the same reason as you (we just received it yesterday). We are having a family reunion and need hot water for showers etc. It is installed in a well ventilated closet to keep children away from it. We understand it has to be removed before winter and brought inside which we plan to do, then install it again for the summer months. We honestly cannot say it is going to work but feel it is the right unit for the use it is going to get. Hope all goes well for you.
Date published: 2018-07-21
We draw our water from Georgian Bay and we find sand and sediment in the screen on the taps. Would this affect the the tank less water heaters.
Yes of course it would. Just like any device that would use water with impurities such as sand. This would most definitly void any warrenty I'm sure and would be classified as user damage. You would want to put a inline water filter before the unit to filter the sand. Any pool supply place should have the necessary hardware for you. In addition adding a inline water filter will problobly hinder your water pressure as well. Check the gpm usinh a 5 Gallon pale and a timer to figure out what your getting. If it's under 3gpm you should grab a inline pump as well which they sell for these types of units
Date published: 2018-05-14
can it be used in doors
The Eccotemp portable tankless water heaters such as the L10 are outdoor portable tankless water heaters and are not designed to be used indoors even if vented. They don't include forced air venting and as such cannot be safely used indoors.
Date published: 2018-05-03
Eccotemp L10 3-GPM 75,000-BTU Outdoor Liquid Propane Tankless Water Heater
is rated out of
5
by
4
.
Rated

5

out of

5
by
Anonymous
from
General comments - excellent and cheap hot water!
Exactly what internet reviews suggest. Works very well, hot, hot water on demand. Easy to install and operates and heats water quickly. Negatives, 1) burner does not always ignite if water pressure falls below 30psi (ignites fine when water pump finally cuts in at 20psi), 2) difficult to blow out if not being stored for winter in a warm environment (had to add a pipe and valve to water feed line to make for convenient access to blow out), 3) suggest it be installed against a metal heat shield if being placed on a flammable surface, 4) unit should come with two extra fittings to connect to pex or copper water input or output lines.
Date published: 2020-09-11
Rated

5

out of

5
by
Pieter
from
Endless hot water for our RV
I was on the Lowes web site looking for a small electric or possibly propane hot water tank for our 32' park model trailer as our existing one quit. I came across this tankless one and thought Eureka-problem solved! Amazingly, it was delivered the day after I ordered it! Installation was simple. I hung it on the side of the trailer and - I used two 1/2" to 3/8" flex lines with a 3/8" coulpler (used to connect kitchen faucets) for both hot and cold to tie into the pex lines. Connected a propane tank, set both controls to max and voila- endless hot water! The little 6 gallon effort we used to have was only good for one shower if you were lucky and we have a family of 5! Very highly recommended!!! We love it.
Date published: 2017-05-10
Rated

4

out of

5
by
Allan27
from
Works wonderfully
Got the unit installed for my trailer. It will heat the water to almost steaming. Very easy to adjust to your temperature range.
Date published: 2019-07-12